Day 12, Oct 10: Carrion de los Condes to Bercianos, 30mi
The forecast is calling for rain on Sunday, Monday, and Tuesday, and it remains clear and warm today, Saturday, so I walk on.  I would love to make it to Leon, the next big city, by Monday so I can have an off-day, especially if it's raining.
The man I met yesterday, Jose Antonio, told me that the climate here in fall is very stable.  He said weather changes slowly, so if there is no wind and no clouds in the distance, you can pretty much rest assured that the next day will not be dramatically different than the present day.  And while you are walking, take notice of changes that might signal a difference for the day to come- mostly clouds and wind.  This was helpful to me.  Today is peaceful and warm, but by the late afternoon, there was a strong breeze and low clouds on the horizon.  I had covered a large distance, and there was change in the air.
I began the morning just before dawn, about 7:50.  Many people were leaving Espiritu Santo at the same time, so I felt safe to walk in the sort-of-dark.  Today's route included a stretch of 17k (10mi) right off the bat with no towns, cafes, water, or supplies available.  I filled my Camelbak bladder, made sure I had snacks (that is a no-brainer for me…always, even at home lol!), and stopped at a bakery on the way out of town and bought the most delicious chocolate croissant I've ever had.  I ate it about 2 hours in, and it was heaven.  A reward!
The walk was monotonous.  You get into a rhythm, but even still, I was having a hard time feeling motivated today.  I just…walked.  I said some prayers and I certainly felt grateful and good about everything around me still, but nothing was really standing out.  Which, I told myself, was totally ok.  Isn't it life to feel great and grateful and happy some moments, sad and down others, and still others have not much feeling at all.  Just be.  Just walk.
10 miles passed, the sun was out, and I stopped in a very small town to fill up water and buy another snack.  Not because I didn't have any with me, because I just wanted to stop!
At one point, I was walking along and noticed a bus pull over ahead of me.  I thought it was a tourist bus, but it let out just one person – Anita, from Australia, whom I had met at the Parador in Santo Domingo!  She walked toward me and we recognized each other, calling out and running and hugging each other!  It's so funny the happiness you can feel to see someone out here that you met just once!  We caught up on our past several days, and said we'd email each other in another week or so.  We are both planning to be in Santiago around the same time, and maybe we can purposefully meet up.  It was fun to see her.
Walk on….I stopped at a small park for lunch and to look at my map.  It was about 1:30 and I figured out I had time and energy to walk a long day again, getting that much closer to Leon.
My last 2 hours were tough; my feet were doing ok but they were just plain sore and I was just plain tired of walking.  I had listened to a few sermons which were really great and though-provoking, had stopped briefly many times to take photos and stretch my legs and ankles, but I really just wanted to BE there!  A small town called Bercianos was my destination.
The weather was changing.  Clouds the had been on the distant horizon were thickening and lowering, there was a cool breeze, and I didn't need my sunglasses anymore.  I  trudged into town and found the single Albergue in the back of the town (extra steps…noooo!)  This place was a "donativo" (like candlelit San Nicolas, two nights ago), but had a totally different feel.  "Donativo" just means for whatever reason they don't have a price.  You truly could stay there for free, if you couldn't affort (or refused to give) any money.  I think most people pay probably around the same as they do for other places 5-10 euros.  Some give more, for sure, as a contribution.  Dinner and a very simple breakfast are included.
This place was packed, but not "completo" (full to max, and closed; this does happen).  I was so lucky because for some reason I got assigned a bed, whereas others arriving right around my same time were assigned to a mat on the floor in a big room.  I met 3 Brazilians cycling the Camino who were very polite and it was fun to speak Spanish (Latin American version!) with them.
Dinner was at 8pm, and it was a blast!  It was kind of like summer camp; about 40 of us in one cozy room at long tables.  Before we ate, everyone was asked to stand up and introduce themselves and identify their country.  It was just so interesting and touching to me to see so many countries represented in one small room in a tiny random town along the Camino.  This happens day after day, year after year…and all for common causes; the way this journey brings people together touches my heart.  The countries that I can remember who were represented there included:  Germany, France, Spain, Italy, Greece, Lithuania, Poland, Canada, US, Hungary, Ukraine, Brazil, Venezuela, New Zealand, Australia, and Egypt.
There were 3 volunteers that work there for 2-week stints.  One was from Spain, one from Venezuela, and one from Italy.  They gave a blessing, thanking God and then giving thanks for the Pilgrims the day before who donated in order that we might have meals today.  I loved that – it's true!  And inspired my donation that I left the next day.
As dinner was finishing up, we were asked to participate in one more thing – each person or group of people from each country (whether you knew each other or not), were supposed to sing a song in their language.  If you didnt want to or didn't know one, then your default would be the "Macarena" and everyone would sing with you.  It was humorous and also, again, touching to hear some of the songs that were sung.  There was one young woman from the Ukraine, a petite, soft-spoken girl.  She explained that she wanted to sing a song that was about freedom and love, that she has liked since she was a child.  She sung it all on her own, a little wavery, but so proud and brave, I thought!  It almost brought me to tears.
A full and wonderful day.  All starting with a "boring" 10 mile walk where I didn't have much inspiration.  I am so blessed!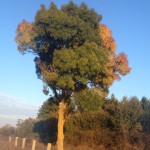 Love the fall colors!