Return to Spain; Oct 19, 2016
Barcelona to Girona!
October 19, 2016
After an unfortunate mechanical delay which required over 3 hours and an unplanned plane change in Newark (though with gritted teeth I reminded myself to be thankful that a malfunction is caught before the plane leaves the ground..), I was finally en route to Spain.
The excitement has been building over the past month as I've been reminiscing about my journey in this welcoming, colorful country last year when I walked the Camino de Santiago during the month of October. That pilgrimage made a big impression in my life, and began growing an internal desire for more contact with the big world…with other countries and cultures and people that speak different languages than I. I've been working to keep my Spanish tongue alive by attending a conversation group at the Boulder public library on a somewhat weekly basis. It's a pathetic route to becoming bilingual but was all I could muster with my job and other obligations over this past year. It's kept my interest and practice at a minimum at least! Through the group I've met some well-traveled people with a wide variety of backgrounds, and have begun informal research (mostly involving talking to people about their experiences) about which Spanish-speaking countries I would like to visit.
Spain came back onto my radar with ease, though, when an acquaintance I met through swimming at my gym suggested a running tour to me. Sally Anderson and her husband Chad had taken a similar Moroccan running tour last year, and now this one we embark upon. They booked this trip with a group called "Running Costa Brava" which takes small groups of runners on planned routes (almost all trail, I'm told) in a beautiful part of northeastern Spain called Costa Brava. After my Mt Rainier trip in August, I was pretty sold on this kind of "travel". Heck, I was sold on it after the Camino. I love to adventure, move, walk, run, be outdoors; and I love to see new places and eat good food. Put all that together and it's an ideal trip for me. And this time the logistics and lodging are all planned; easy peasey I just get to run, look around, and eat! #heaven  So I decided to join this trip at Sally's suggestion.  We did not travel together, but it will be so fun to meet up and doing some running and exploring together each day.
I landed in Barcelona at least 4 hours later than I had counted on. Fortunately I had not booked or planned anything specific so I was relatively stress-free, just a bit bummed that I wouldn't have much time to look around this eclectic, artsy and unique city. I had gotten some suggestions about all the Gaudi architecture to view, as well as cathedrals, museums, past Olympic venues, markets and eateries. I'm pretty good at fitting a lot in a short amount of time but hmmm, I now had about 4 hours total. Two of which then got eaten up by waiting for luggage to arrive, finding the bus, finding the train station, speaking my trying-to-get-back-into-the-feel of actual Spanish conversation where I try not to sound too much like a friendly 4 year old. The friendly part does help, though. People respond very well to a somewhat embarrassed smile and an attempt at their language. This is Catalonia, though, which has it's own distinct flavor and spin on the language (part French, part Spanish, part totally unique and definitely filled with pride)
Anyway, I finally got from the airport by bus into the heart of Barcelona. I navigated the bano (bathroom) situation which was more dire than any train ticket or sight-seeing quest at that moment and well worth the 0.5 euros it cost me to get into the stall. I had 1 hour and 45 minutes to see Barcelona. HAHA! My only choice was to just walk. And I can do that. Without shame I donned sunglasses and dragged my rolling suitcase along the streets that fanned out from the Train Station.
Though a completely different part of Spain than I had been in on the Camino, there were plenty of familiar sights and smells of a Spanish city. Cafes and mopeds lined the avenue I walked along. Well-marked streets and venues lay before me. I kind of got back into my Camino mode and chugged along, taking in the sights as I carried my luggage with me (I did wish for a backpack instead of the noisy wheels of my suitcase, though). I snapped a few photos, got to the top of a curved hilly street and took in a great view over part of the city. Then made myself turn around so as not to miss the train I had booked to my evening destination and where the Costa Brava Run will start tomorrow: Girona.
I didn't stop for any more photos and made it back down almost to the Sants Estacion realizing I had a good 30 minutes till my train would depart. Enough time for a cafe con leche – one of my favorite things here. Their coffee is strong, mixed with steamed whole milk, and served in a miniature cup compared to our American Venti/Grande/XXLL coffees. There were times during my time on the Camino that I ordered two cafe con leches in a row, because the darling little should-be-enough cup of goodness just wasn't enough!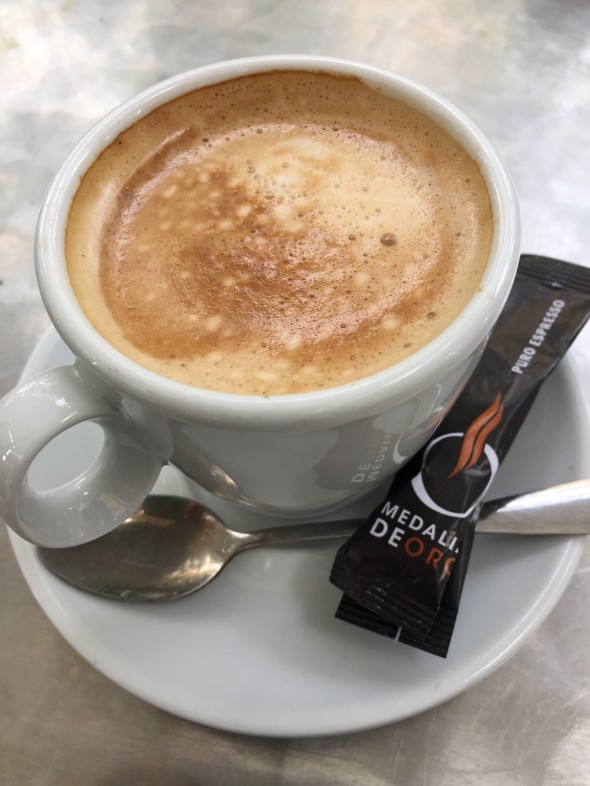 I finished the coffee and felt like my second venture to Espana really had begun. This happens when I step out of all the transportation settings – airports, train stations, etc – and take in some of the world where local people are coming and going, eating, visiting, doing business.
The train ride was a nice way to see a little countryside over approximately 65 miles from Barcelona to Girona. I got a taxi from there to my hotel, spoke Spanish with the driver, and to my chagrin he made some comments on the America election. Oh my, the spectacle we seem to be to the rest of the world! Though my vocabulary couldn't do this kind of conversation justice anyway, I made a couple general remarks and then fortunately we had arrived – phew!
The steps of travel can be seemingly endless when headed to a new destination so far from home. I thought back over 25 real-time hours ago to when I was leaving my house in Louisville, CO and marveled how it seemed like a few days ago. And then marveled again at how we can have our bodies transported a quarter of the way around the world – WITH delays! – within about one full day's time. It's amazing where we can go and what we can do!
My first return-to-Spain blogpost wouldn't be complete without a photo or two of food; it's such a special and enjoyable part of the culture here. The Plaza de Independencia in Girona is a short walk from my hotel and this is where I ended up for dinner at "El Boira", after browsing the menus on several fronts.
The Plaza clock clangs 9:00pm as I finish writing and into my mouth am still spooning Suprema de Corballo (roasted pork cheek…I think….with a rich brown sauce).  I am strangely not that tired after a scant 5 fitful hours of sleep on the plane and a full day of travel. I am energized by being here again; it's quite literally soulfood for me to come back to Spain and eat, drink, and RUN over the coming week. I am not quite sure how the daily running agenda and routes will go… the group (5 other runners) all meet up at 9am Thursday morning in the lobby of my hotel. I am excited to see more of this country by foot!
As always, thank you for reading! It brings me great joy to not only to get to do these things, but to share them through writing.