Dali, Inspiring landscapes, Eastern-most point of Spain
Oct 25, 2016
Cadaques to Port d' el Selva
Cadaques is a small, beautifully-preserved city on the northern coast of the Costa Brava area of Catalonia.  Tourism and specialty restaruants are important here.  It is also well-known for being the home and inspirational landscape to surrealist artist Salvador Dali and his muse and wife, Russian "Gala" (Elena Ivanovna Diakonova).
Pablo jogged us through town, showing us points of interest – tourist-y ones as well as local spots that he knows well because he is indeed a local of the entire Costa Brava.  He's an expert, having run through these places so many times over the past 6 years of running this company.  He also has an amazing gift for remembering details, history, and relaying stories (in many languages, as I've mentioneed  before).  I have not met someone so enthusiastic about sharing a history and culture, particularly by traveling on foot as a business, as he is.  It's really fun to listen and learn from him.
This whole area is "new-ish" compared to many parts of Spain, meaning many of the buildings were re-built in the 16th venture after RedBeard and the Turkish army swept through eastern Spain and demolished evertying they could.  So the Cadaques church we visited is not nearly as old as many others I visited along the Camino last Year.
We could have toured Dali's house but opted to keep running and just look over the trees and small line of people who were there to visit it.  The two silver-plated heads atop the entrance to the house reminds us of Dali's eccentriic and thought-provoking style.  Pablo shared some aspects of Dali's art and personality with us as we ran.
Our first stop was a lighthouse, at the top of a point of course overlooking the sea.  The rocky coast winds in and out so much, forming pockets of pebbly beach and tiny inlets of water everywhere.  I loved this trail; it was technical, rocky, with great views, and run-able.  I had a great time.  Pablo met us at the lighthouse with water and snacks.  He showed me on a map that this point, the Cap de Cruz is the eastern-most point of Spain.  Knowing that I did the Camino last year and walked all the way to Finisterre, said "now you've been to the westernmost and easternmost points of this country".  I was taken aback; oh my goodness he's right!  That is so cool!  I felt somehow honored to have covered this much ground in Spain, a country I have come to cherish even after just two visits.  I pictured myself metaphorically spreading my arms in a big hug of the country and reaching my fingertips to both edges of the land.  Since I couldn't actually do that, instead we took pictures of me running on a stone curve leading up to the lighthouse.  I felt so happy!
We continued on through the "Parc Natural Del Cap de Creus" (Natural, protected, park of the Cape of the Cross) which is a wonderfully preserved area of unique rock formations and shrub-like trees and foliage surrounding many a single-track and jeep-trail path.  Pablo had pointed out how Dali was inspired by the landscape here, and it lead to many of his artistic backgrounds and subject matter.  I began to understand that better as we ran through the almost moonscape features – severe, desolate, yet beautiful and intriguing.  The textures, colors, and sometimes creature-like shapes of the uplifted rocks were quite thought-provoking.  My photos don't even do it justice; as they cannot capture the huge span of landscape surronding us from all sides as we ran through on a path.
We crossed more terrain inland and wound around the Natural Park till meeting up with Pablo again and finishing today's miles at the Port De la Selva (port of the jungle) at almost the northernmost tip of Eastern Spain.  Across the harbor you can see the hills and mountains of Southern France.  Pablo says they speak Catalan as well.  We sat down for a well-deserved snack of papas bravas and aioli, tuna croquettes, and calamari.  I even got a real coke which tasted amazing, along with the food.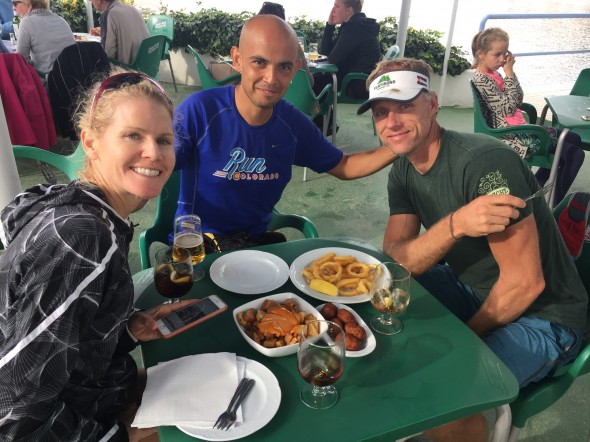 We made one stop on the way back to Cadaques where we would spend one more night (we drove back, about a half an hour).  We stopped at a local boutique winery, Cellar Martin Faixo "Mas Perafita", where Pablo knows the owner and some of the wine-makers.  We had a tasting and a short tour which was really fun!
Upon arriving back "home", Sallly and Chad and I went walking through the town of Cadaques once again to buy more man he go cheese, Iberian ham, olives, anchovies, fresh bread, and more wine.  Instead of going out to dinner tonight, as was planned, we invited Pablo to join us for a heavy-appetizer dinner where we spread out all our goods and enjoyed one more night of a variety of local snacks;  I just love doing this with friends – and new friends!