Colorado Road Trip with Leetle Brother – Labor Day week 2017
I often call my youngest brother Jay "Leetle Brother", or sometimes "Leetle" or sometimes just "LB".  I think it came from a silly Christmas package label one year a long time ago. He's the Little Brother and I'm the Big Sister. But of course we must say it silly so I'm "Beeg Sistor".  Otherwise abbreviated as "BS".  Now you are informed.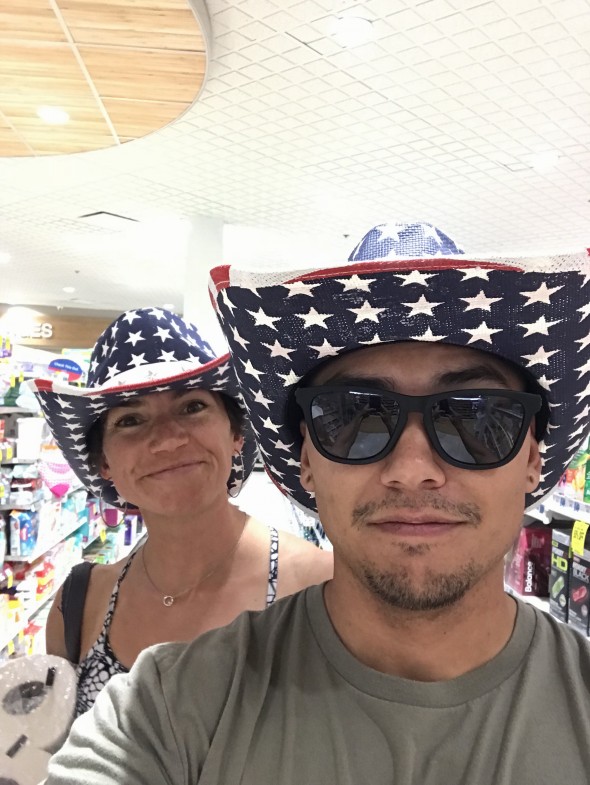 Jay and I are 7 years apart.  We've always gotten along well and enjoyed each other.  I will be forever indebted to his patience and endearing 3-year-old innocence & humility when he let me dress him up in my doll and costume clothes and make him into "Jaylene".  Followed by a photo shoot, as that's what 10-year-old Whitney would have been doing.
But I left the family home for college while Jay(lene) was in junior high.  Then went on to do my semi-adult things and move to Colorado and would see Jay at holidays but we didn't have a lot of regular interaction with each other.  Just the way life and ages go.
In 2014, Jay came by himself to Boulder to visit for several days in early December.  I realized it was the longest we've ever spent together, just us.  And we had so much fun!  Though by the last day, I remember my Leetle Brother of not-so-many-words (he's on the quiet, thoughtful side) had quite likely run out of words so our last meal together before I took him to the airport was a little sparse on the conversation.  I think we had just basically covered everything by then! But I also want to point out that I have always – even when he was pretty young – felt a sense of peace and happiness around Jay.  Being the youngest of three, he's gotten to observe me and our middle brother Jeff live our lives in the ways we have: both Jeff and I are pretty driven.  Jay's gotten to see maybe what's worth it and what's not worth getting worked up about.  Jay's personality is also just simply more laid back and seemingly content with circumstances in general.  A trait I always would like to have a little more of.  So I've gotten to learn from him over the years.
In 2015, Jay went back to school to ultimately earn his Bachelor's of Nursing Degree.  When he graduated in August 2017,  I planned a short road trip to take him on as a graduation gift.  The original thought was for us to backpack to Machu Picchu but hey, portions of Southwest Colorado is a close second!
He flew in on the Saturday evening of Labor Day weekend and as I picked him up from Denver airport, I described the plans I had made for our trip.  Jay had been super-busy with school, finals, and graduation prep so I had basically said I'd plan the entire thing if he'd just get himself out to Denver and bring his own shoes.  Somehow being responsible for providing his own footwear seemed a most reasonable request.  I figured he'd step up and pack his own clothes as well, but if not I knew we could buy some pretty cheap on the way. 

We drove to Durango on Sunday, which took most of the day.  Especially because our proposed "early start" quickly became after 11am due to neither of us wanting to wake up before 7…ok, 7:30…and then go on a local trail run by my house, then make coffee and omelettes for breakfast.  Hm, where does the time go??  But it was all quality time and we didn't actually have a tight schedule so it was all good.
The drive was fun, in fact, because being contained in the small cabin of my toy-car-sized Honda Fit (the "Itty Bitty Fitty", to disclose her full name) for hours with good music, snacks, and silliness is totally fun!  LB isn't super talkative but it's nice to have space between conversation to listen to tunes, open the windows and let cool air rush through the car, just look out at the scenery passing by..
We also amused ourselves with the ginormous bag of gummy bears he had brought, as well as the random assortment of healthy and totally-not-healthy snacks that I had packed.  Jay thinks it's weird that I eat raw spinach out of the bag, but I argue that it counteracts the 7 chocolate chip cookies I eat right after.  And did you know that Costco mixed nuts have this one huge toe-shaped one called a Brazil Nut?  And I recalled that for some not-politically correct reason, our dear sweet Grammy once told me another name those nuts were called when she was young.  I shared that with Jay and now he refers to this snack of mine as "the racists nuts".  See the things that come out of road trip time in the car? So random.
We found our Air BnB at the south end of Durango which was a converted condo unit garage.  It was creatively set up, with its own entrance and additional roll-up (er, garage) doors. The main room in the space was mostly filled with a great big ping pong table.  We utilized it for a couple hours after dinner; playing ping pong together in our lodge-garage was super-fun and definitely memorable.
We headed back into town for dinner, starting with beer samplers and appetizer at a place called Carvers, followed by laughably-huge single slices of pizza for dinner.  All the while we were compiling a list of questions that had arisen during our drive like "How many 14ers are there?" and other things that just crossed our mind like "How old is The Rock (Dwayne Johnson)"? (btw, he's 45)
Monday morning we headed out for the 2-hour rafting trip on the Animas River I had booked.  I had not given any thought to the time of year; I mean, if rafting trips are available I assume the river is running and rapids abound, just like the photos on the webpage.  Come to find out, rivers are very seasonably-dependent entities, and by Labor Day there just isn't that much water flowing down from the mountains so the measurement of "cfs", or, "cubic feet per second" is quite minimal.  Let me give you some perspective:  our guide told us that in June of this year, the Animas was running at about 3000 cfs , and that during his years as a guide he'd seen it as great as 5000.  Oh, we asked, "well what is it today?" (Sept 4, 2017)  Hmm, he said, well, it's currently about 500.  And we might need you to get out and push if we get high-centered on some rocks, which will surely happen.
So Nevermind on the super-river-adventure I was going to treat Jay to.  We had a very pleasant…float, shall I say, with yes a few actual rapids before we got out, but I am pretty certain those were completely man-made within the water-feature park we went through toward the end. He was such a good sport, and we really did have a nice time just being outside and on the water.  We were with a couple who were from Long Beach, ironically (because that's where all my siblings were born and where Jay lives currently).  They were nice and fun to have along.
About an hour after our raft "adventure", an SUV shuttle was to pick us up and drive us to Silverton, a tiny back-in-time town that sits in the basin formed by huge surrounding rock-studded mountains.  They get like 127 inches of snow in the winters.  There are days, weeks, when no one/nothing is going in or coming out.  Silverton residents are rugged and adventurous and they definitely own snow mobiles just to motor around town, as well as go into the backcountry for recreation.  But in the summers, and still now on Labor Day, the sun shines and the mountains are right there but they are not ominous and it literally looks like a movie set.  We walked around taking it all in and snapping silly photos, many with the selfie stick Jay bought us for this trip.
We boarded the train around 2pm, the infamous Silverton-to-Durango coal-powered train that's been running since 1881.  It shuttled coal and other goods back and forth between the two cities.  In 1972, a bicycling race called the Ironhorse Bicycle Classic was created where the cyclists try to beat the train; the train takes a shorter and easier route, but with limited speed, so it is truly a race between man and machine  one way from Durango to Silverton.  I had actually participated in this race in 2005 with a friend who was from Durango, not long after I moved to Boulder.
Jay and I had fun on the train…for about an hour and a half. Maybe two full hours would have been fine.  But 3.5 hours of this train ride was too long.  We were getting so antsy and by the time we finally pulled into the Durango station, we practically leapt off and ran to my car.  Also, Jay had gotten an ember in his eye almost right at the beginning, which was pretty uncomfortable.  The train attendants actually pass out eye drops at the end of the trip.  Remember that it's a coal-burning engine so the smoke and soot travels back over the open-sided train cabins the entire time.  Besides in eyes, a fine layer of soot covered our arms and Jay's white t-shirt was a bit of a dingy grey when we finished.
All in all, though, we were both glad we had done it.  The train has a great history and it's certainly a unique experience.  Not to mention the seriously beautiful scenery we had gotten to see, off the beaten path, for well over 3 hours.
We moved locations every night, to a different lodging at each place, and the next one was my favorite.  We drove about an hour and a half to Pagosa Springs (famous for their 20 plus hot springs right by the river).  This Air BnB was a studio apartment right above the Pagosa Baking Company.  It was mostly used as an office by day, but after 5pm doubled as a living space, with a bedroom and bathroom in the back.  A cute little kitchen rounded it out.  And the place smelled divine; like bread and fresh coffee.  A breakfast voucher came with our stay, so in the morning those delicious wafting smells weren't just tempting, we could go down and partake.  There was a thoughtful bowl of earplugs by the bedside, since bakery production does start around 4am.  I did notice it, but it didn't bother me.  Probably because fresh, quality  baked goods are worth a little noise in my book!
After a delicious fresh breakfast, we headed out on a hike which turned into a trail run and was so much fun!  We found a few waterfalls, Jay went exploring and ended up with two soaking wet feet, we scrambled over rocks, admired beautiful views, and took some fun photos.  I was impressed and glad Jay was up for some running; parts of the trail were excellent for running – and we all know I love trail running!  Glad to get to run some CO trails with my LB.
It was about 2:30pm when we finished; we headed back into town along a very bumpy dirt road, and at one point a small black bear ran across our path!  We drove to the famous Pagosa Hot Springs.  There were 23pools of varying temperatures.  I think the "coolest" one was about 83, and the hottest was like 114.  My favorite one was named The Lobster Pot.  In between some hot dips I went down into the river which was running right next to some of the pools.  It is a healthy skin practice to alternate hot and cold soaks, or there is relief in just jumping into the cold water in order to cool yourself down!
Jay makes a face at the natural mineral build-up near one of the hot pools. It's interesting and beautiful in a way, and also kind of gross-looking!
We showered (a bonus of paying the sorta-steep entry fee to use the pools), and went to Thai Food for dinner.  We hit the road around 9:30pm, our next destination being 2 hours away…the Great Sand Dunes!
The moon was full, and Jay drove the whole way.  We chatted and enjoyed the night drive, especially with the light the moon was providing.  As we neared the Dunes, we were amazed at how massive they are!  We were maybe even getting a tad bit nervous about going up on them the next day.  How do you climb something made of sand thats that big?! we asked ourselves… Come to find out in the morning light, we had been looking at the shadowy Sangre de Cristo mountain range, of which many are 14ers that sit in the backdrop to the Dunes.  The sand dunes are very impressive, but unfortunately not quiiiiite as impressive as a 14,000 foot pile of sand would have been!
We stayed this night in the Great Sand Dunes Oasis cabins that I had reserved.  It would have been cool to camp there, and the camping sites were not full though I'm sure its near impossible to get a site in the high season of spring and summer.  However, I currently don't have much camping gear, and I had only assigned LB that he had to bring his own shoes so I knew we were not going to have a good shot at a successful camping trip. Success was found in a one-room cabin that was very clean, equipped with bunk beds (we brought our own sleeping bags), and even had electricity and access by a 5 minute walk to fully-equipped bathrooms with flushing toilets and heated showers.  Cush!!!
And come to find out, traipsing up sand dunes  is hard work and we would have never made it were we were to have been trying to actually hike on sand mountains.
After a couple hours, we were weary of the sand so we walked at the base of the dunes in the seasonal river, which, if you were paying attention earlier means that it was not flowing very high.  In fact this one was pretty much a trickle so very lovely to walk along in bare feet on the soft warm sand.
After lunch we drove to a totally different type of trail still within the Park, and did an 8–mile trail run.  After that we were beat, hopped into Fitty, and dr0ve to our final destination of Crestone, CO.
 Crestone is a tiny community at the base of the Sangre de Cristo Mountains, which rise up almost directly out of the little town.  It had been recommended to me that we stay there because of the beauty and access to great hiking.  By that point, we were hiked-out so we didn't utilize much of Crestone except for enjoying its beauty.  A local market, some beverages, a backyard and some camping chairs to flop into, combined with the peaceful mountainous setting was really all we wanted at that point anyway!
The next morning we headed to Denver to drop Jay off at the airport.  It was about a 4 hour drive, and we re-hashed our favorite parts of the trip and listened to some more playlists.
Off into the world of nursing boards and job interviews for LB, back to work and all my extracurricular activities for me… What a fun oasis of a time we had for several days in Colorado.  This state has so much to offer!  And in good company of family, it's the best.