Arrival in Cuba: 11/24/17 Friday
The day began with a 5:30am wake up call in our LAX airport hotel room.  I had met up with my amazing octogenarian friend Charlotte so we could travel together to Cuba.  If you aren't an "older adult" yourself, or work in the field of aging services like I do, you may want to know that term means "in her 80s".  I met Charlotte through my work in the Wellness Center at Frasier.  She doesn't live there but began attending my water classes about 5 years ago and we've become very good friends.  She's a beautiful, sharp, smart, spit-fire at times, Italian woman who has lived in Spain, Colombia, and Chile to name a few places.  She has a really interesting personal history, and one of the best attitudes I've ever come across.  And she's a badass traveler.
Last December she invited me to get in on a great deal for a small-group trip to Cuba that was extended to her by a good friend.  So I paid for it then, believing I could make it happen sometime during 2017.  After the hurricane season this year with some real devastation in the south Atlantic, followed by a bunch of political weirdness and tightening down on the restrictions of travel by Americans to Cuba, there were several times I thought I'd not be able to take this trip.  But, here we are.  5:30am and though I dislike early mornings I kinda feel that "It's Christmas!" excitement this morning.
We met up with another traveler Anita, and our trip leader Cleve Ford, owner and guide for TCF Adventures who's been taking people on trips to Cuba for 17 years.  His life story is interesting, and I'm just barely getting to know him.  But he's not short on words so it's not too hard to get to know him pretty quickly!  He was born in Barbados, grew up in Brooklyn – poor and surrounded by all types of ethnic transplants.  This is important to his story because it seems to have started him on the path of open-mindedness and compassion towards all types of people and all types of situations.  He is Episcopalian-Buddhist which is not really a thing, at least by definition, but it is him.  He claims he's 83 and why would he lie about that but I swear he's the youngest, sharpest, ladies-man tour guide I could imagine.  Without trying to spin any opinions about him, I just have to tell you that he shared with us today he has 7 children, and the youngest is 5.  Yeah, do that math.  Another badass octogenarian.
The five hour flight to Havana from LA was pretty smooth.  And sooo empty.  I couldn't believe it, and was a little saddened by it.  The 180-seat plane had about 40 people on it.  I counted during one of my in-flight walks.  (I get antsy sitting for hours at a time, aren't you surprised? 

  The three lady flight attendants were great.  I went to the back of the plane to ask about something and we all ended up chatting for a while.  One of them, who loves Cuba – according to the pin she was wearing on her blouse as well as how she speaks about the country – told me, disappointedly, that Alaska Airlines will likely be stopping their flights to Cuba in late January due to greatly-lessened travel.  She said it began after the hurricane season this year, and then as we know was exacerbated by the politics of the current administration. I felt really grateful to be on this flight and getting to visit a place that may, or may not, have many more access-restrictions in the near future.  Who knows.
The passage through security and customs was thankfully uneventful.  I noted that almost all the attendants/workers in this area were young women and their uniforms were unique and curious to me:  drab khaki short kilt-y type skirts, with white blouses and knee-high white stockings with tennis shoes.  With all due respect…these outfits seemed silly and sort of insulting.  But… I was just off the plane in a new country, one which the US doesn't have an awesome history or rapport with, and I have no platform or reason for judgment.  It just struck me odd…as a first impression.
Cleve hailed us a taxi (just an old taxi, not one of the quintessential 1950s cars; we'll get that later in the week though!), and our super-nice driver Hector drove us around a bit before dropping us off at our place of residence, a 18-story apartment building where we would occupy various rooms.  Charlotte and my deal-of-a-trip included us sharing a room which has it's pros and cons but after one night so far, we are giggling like two little girls at all these different stupid and silly things that happen when you're traveling.  It's certainly a great way to get to know someone pretty well…share a bathroom and a bedroom for a week.  Yikes!  Fortunately we will be out and about all day every day, so it really is a nighttime situation only.
We'll have a more thorough city-tour tomorrow with our driver Amauri, but this evening's little jaunt in the taxi, directed by Cleve, took us through some of central Havana's "real" neighborhoods and wow that was an eye-opener.  There are some AMAZING buildings here that must have been so stately and beautiful in their prime, but now they are shells of their former selves.  They are still unique and honestly beautiful in a different way now, but it's sad to see so much dilapidation in a city.  However, even upon the very first impression within an hour or so, the people seem happy and active and engaged with each other.  In the rubble in some of the run-down streets there were lots of kids playing and kicking soccer balls.  Music flowed through the block, as dusk set in and the breeze feathered through the palm trees.  There's definitely a spirit of joy here, as well as anticipation, culture, art and sensuality.  I cant wait for tomorrow when we get to see more!  The Latin American culture stirs something in me; I really appreciate it and want to learn more and feel it..
Our group of four had an excellent dinner at a place two blocks up the street from our apartment called "Al Idilio International Food"; mine included a delicious rum-and-Coke (when made with dark rum it's called a Cubata).  Afterwards, Charlotte and I walked several blocks to the infamous Presidente Hotel just to sit on the veranda for 15 minutes as a small group of women began to play music and sing.  The Cuban rhythm is inviting and puts a smile on your face!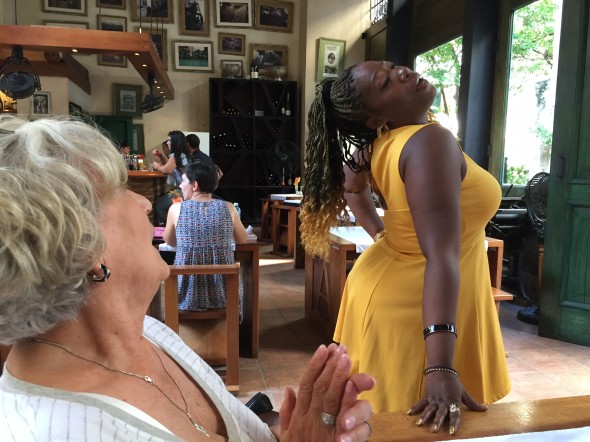 This singer was actually from another day, not the first night, but she was such a character I had to include her when I mention the live music you see/hear everywhere around Havana. There is lots of talent.