Anniversary of Fidel Castro's death: 11/25/17 Saturday
…of note because this is the background reason I'm even on this trip.  Fidel passed away last November just as one of Cleve's travel groups were flying out to Havana.  When they arrived, their whole itinerary was altered because the country  pretty much came to a standstill.  Many places were closed, and no alcohol was being served.  They made do, but Cleve offered each of the people on that trip plus up to 2 friends of each of them to receive a really good deal on a trip in 2017.  I was the friend-of-a-friend recipient of this deal.
Today, I began the day a little early rising at 6:45 and hitting the road for a run in the morning light.  Our room had air conditioning which is really a treat; once I opened the door to the rest of the house it was very warm and humid.  I ran several blocks to get to the seawall, which is called El Malecon.  It helps protect the highway and the buildings across the road from ocean swells, including when hurricanes pass through.  When Irma hit in early September of this year, there was some damage.  I saw a few signs of that, and some re-building.  There wasn't that much to be seen at this point though.  The wall and a path alongside it goes for miles, and there were many people out walking, running, strolling, taking photos, and fishing.  A combo of locals and visitors.  I had been told by our leader Cleve it was very safe to run here, and I felt this to be true.  I love running in new places.  Yes we know, you say; you love running.  But, I exclaim, it's such a great way to see things and get a sense of where you are!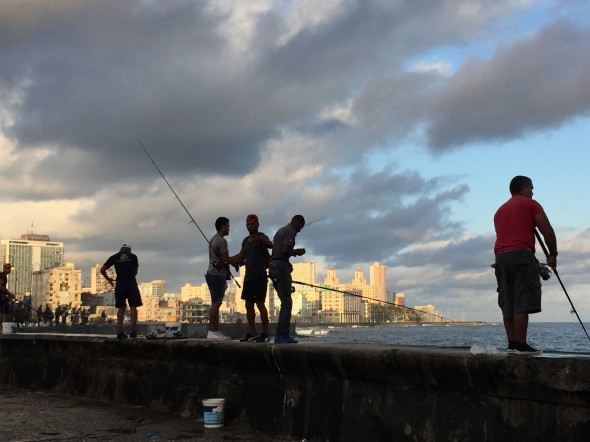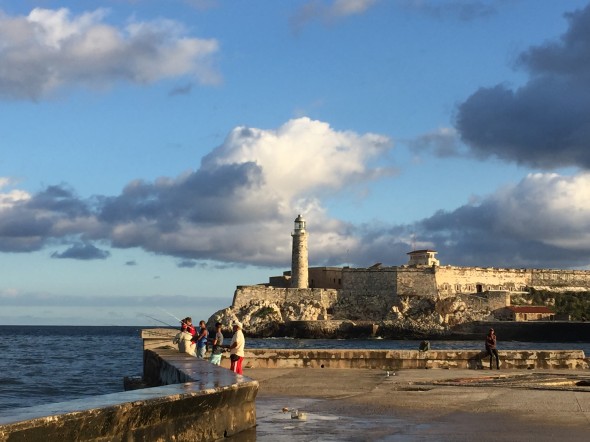 I did stop many times to take photos, I especially enjoyed watching men fish from the wall.  I do know there is some great seafood here, so I wondered if one of my future meals was being caught there in the morning sunlight.
I took in all the colors, smells, impressions;  I snapped some photos and tried to start getting my bearings by navigating on foot this morning.  I returned to find dear Charlotte still sleeping, which made me happy because I knew some extra sleep would benefit my strong, determined traveler-friend.  I woke her because we both needed to get ready a for breakfast at 9-ish.  We were meeting Cleve and our group downstairs at 10:30-ish, so there was plenty of time.  I write the "ish" because Cleve said it and explained it:  Latin American time is always ISH, he said, partly because things constantly have the potential of happening that make one a bit late.  AHA! I thought, so being late is in my blood!  (Not a legit excuse for my non-punctuality, but still.  But still!). Breakfast was served by our apartment hostess named Norky.  She explained it was a nickname given to her by her father and just stuck because her real name is "Maria de la Incarnacion" followed by a few middle names.  She's a lovely, gracious, beautiful person with decent English and patience for me practicing my Spanish.  There is also a cook and cleaner-helper employed by this bed-and-breakfast-style establishment.  We had a tiny pot of coffee, fresh fruit, toast, and scrambled eggs.
My bedroom in the apartment, simple but clean and comfortable and always tidied up every evening upon return.
About the employment, Cleve later told us that just in the past several years, the Cuban government has opened up "entrepreneurship" job opportunities for more and more people, allowing them to own and grow their own businesses if they are registered and pay a a monthly fee/rent.  For the history of his travel company, Cleve has always worked with home-stays because it's importatnt to him to have us connect with life and people in Cuba, and though we can't get away from being tourists because we are, we can get a better sense and be more engaged with people if we are in their home.  And this one is a very nice home; it's probably not how 80% of the people are living, yet it's more realistic than a hotel.  And I love it!
Two more young women (my age-  I'm still young, right?) flew in last night, so now we are a final total of 5.  They are two good friends from Southern CA, though one is now living in Texas; Marina and Corrie.
Cleve took us on a "meandering tour" of the neighborhood for well over an hour.  He showed us a few more restaurant sites, we returned to the Presidente Hotel to exchange more money (we can only use cash here, and its advised to not change all your money at once) and buy a wifi card (government-owned and purchase-able in 1-hour-increments for $2), and then wander back verrrry slowly while he shared a lot off info, and many opinions, about Cuban history, current life, government, and the state of the world.  (We shall be doing a lot of listening).  He's really an amazing person and it seems he's lived a few lifetimes with all the stories and things he has to teach and share.
Next, we hopped into 2 taxis and got rides to Old Havana where we spent the next 5 hours or so meandering, looking at old sites, 2 plazas – one almost completely renovated, which is refreshing to see since so much of once- beautiful and thriving Hanava is run-down and struggling (economically, not in spirit!). Then we sat for a late lunch at a very nice restaurant (not one locals would be eating in, but one that mid-level visitors would enjoy), and it included live music which is always fun.  She was a very talented singer who won our hearts and a few of us are now going home with her CD (not able to get her music on iTunes..)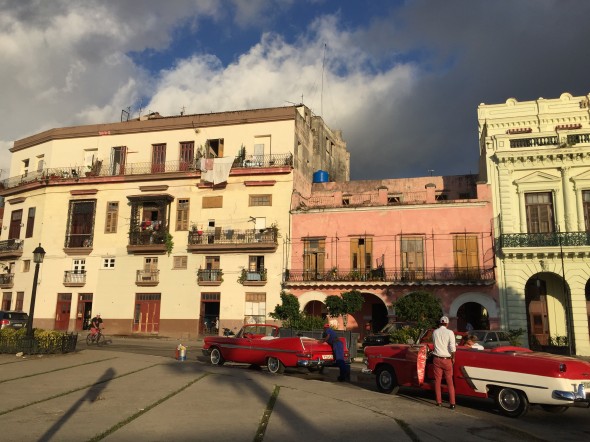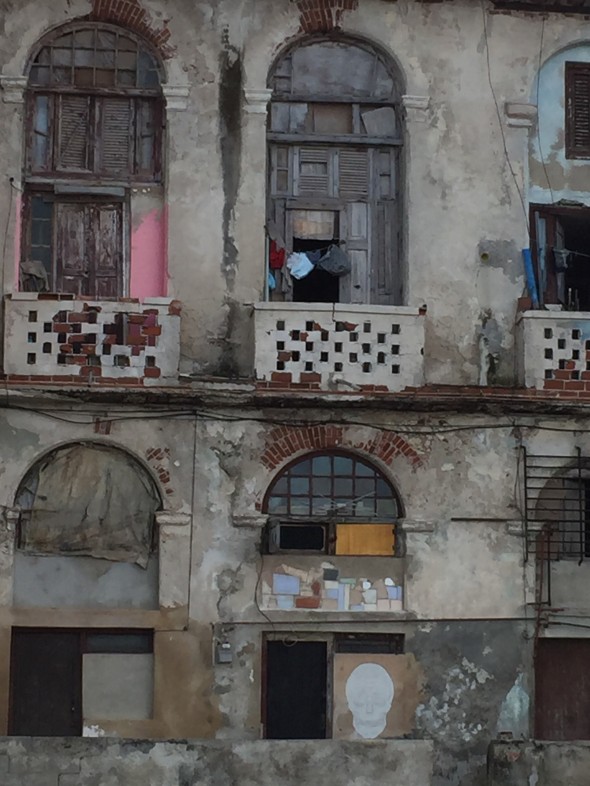 We continued to wander after lunch and I was feeling a bit antsy but a visit to a chocolate shop heading into the heart of Old Havana once the cruise-ship slew of people were out of the mix really made a difference, and we began brushing shoulders with more local folks.  The small winding streets and lively people made for such a fun scene to walk through.  Cleve continued to point out sites of interest, including Ernest Hemmingway's favorite hot spot bar, the Floridian.  I got my photo taken with his statue- I love the look on his face!
Next we stopped into the Hotel Parque Central so we could buy some tickets for shows this week.  Charlotte and I decided to attend the Cuban National Ballet we have both heard is outstanding.  I am not very experienced with ballet but always am up for a quality local event – especially when it's world-renowned, and the tickets are relatively inexpensive.
Cleve hailed us a pink convertible car to take us back out our apartment.  The girls and I decided to out tonight, while Charlotte and Anita went to dinner.  Marina, Corrie, and I took a taxi to a place we'd heard about called La Fabrica de Arte, a huge multi-roomed art and music venue with multiple bars, food, art displays, and even a fashion show.  It had been an old warehouse and apparently a group of young entrepreneurs made it into an artistic space with multiple bars and it hosts various events & music during the weekend nights.  Super-late-night salsa and a live rock band were supposed to happen but I left before it began.  I had had a great time, and there is much more slated for tomorrow!