A Hard Look at Reality…. and the Ballet: 11/26/27 Sunday
Today began with a nice run along El Malecon (sea wall), this time in the other direction.  There were less people fishing and running than there were yesterday, and after a couple miles the paved path ended into a neighborhood.  I kept going another half mile or so because I liked seeing the streets, houses, and people that were out and about.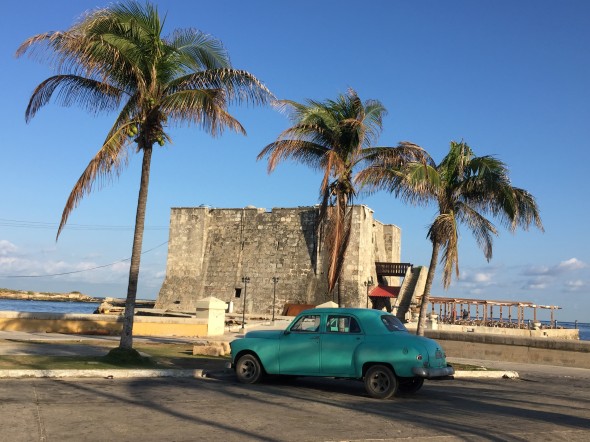 It was a decent neighborhood, quite run-down but now looking back after later witnessing another area of town that was much worse off, it wasn't too bad.  My perspectives are changing…
I saw trees, flowers, even some porches with miscellaneous patio furniture, neighbors out visiting, a small neighborhood market about to open, and some young people saying goodbye to friends as they went off in a taxi.  I saw them trying to take an awkward group selfie, so I stopped and asked if they wanted me to take it.  I used my best broken Spanish…I try hard but I sound so elementary!  I realized once I had left them that I used the completely wrong verb to ask about taking their photo.  I was close, only one letter off, but one letter makes the difference of a totally different word.  Apparently my miming the act of taking a photo helped since I literally asked them if I could "play their picture" (tocar su foto), instead of "take their picture" (tomar su foto).  Oops.  Later today Corrie shared some of her vocab mistakes (ehhh, worse than mine today), and we all howled with laughter at these types of common mess-ups though they can be fairly embarrassing!
At 10:15am we met up with leader Cleve and our Cuban driver Amauri to head to a place called Callejon de Hamel, which is an entire street block of very unique artwork, sculptures, and structures made from reclaimed and found items such as building material, paint, structural remains, junkyard pieces, and more.  There is a theme of African-Cuban history and religion called Santeria, which was brought to Cuba in beginning of the 19th Century by the Yoruba nations of West Africa.  After walking around for a while, taking in all the visual stimuli and marveling at the creativity of it all, we were given seats outside an area designated for an African dance and music show called a Rumba.  Not the ballroom Rumba we think of, though that was derived from this original form, involving bongo drums and other objects being hit with sticks to create a wide variety of sounds while one the of many band members sang.  The lead singer/chanter kept changing; interestingly, one would sing or chant and then sort of disappear into the crowd and another would step forward and take over or change the song.  This went on for two hours and continued after we had left.  There were two dancers during the songs; the young man was extremely fun to watch as he was a great dancer:  a hip-hop style mixed with more traditional African-chanting-dance-moves.  I realize that is definitely not a technical dance term or title; I really don't know what to call what he was doing, but it was impressive.  Plus he was a young, very fit, good-looking Cuban guy so it wasn't terribly hard to watch for the better part of two hours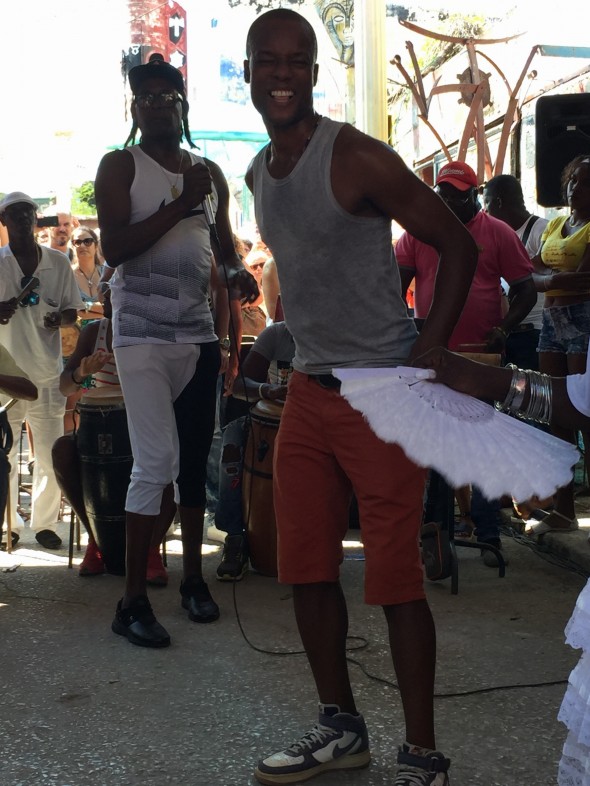 Many shows have the Pull-Someone-From-The-Crowd -Onto-The-Stage routine, and this very unique African show was no different.  They pulled Anita from our group up to shake it with Young Cuban Hottie; she brought her cane and she really did a great job and got a huge kick out of it!  I think he did, too!
We left this location in two cars; there are 7 of us including our local driver/co-leader Amauri.  He drives his car, and then we get a taxi as well. As you might know, the majority of the cars in Cuba are quite old.  Many are from the 50s, and one of the glamorous images of Cuba is the colorful, shiny classic American car from the 50s – like the Cadillac and the Studebaker.  These are prevalent; the Cubans have taken amazing care of them over the years and, to their credit, capitalize on their appeal by using them for tours and as taxis for tourists.  There are also other old cars that are not glamorous at all.  These are more of the reality of the Cuban people, as is the car Amauri owns and drives us in (a Peugeot). It impresses me that people have learned how to fix and maintain all sorts of foreign cars – many of which whose parts are now discontinued.  Even the well-maintained ones used for shuttling around eager foreigners are noisy and clunky and may have some missing parts and idiosyncrasies.  Amauri, bless his heart, has to de-fog the interiors of the windows by wiping them with newspaper, and has to pull up the front windows with his hand and shove a screwdriver inbetween the window and the door to keep the driver's side window up.  He did this amazingly smoothly while driving (slowly) when it began raining really hard at one point.  I also have noticed that the drivers on the road are not crazy.  People drive the speed limit, are courteous, and the only honking I hear are the "toot-toots" of old cars and it's used more as communication than laying on the horn in anger.  Mom, I'm saying this for your benefit as you imagine me driving all around Hanava in a 67-year old car with no seatbelts and fogged up windows.  :-0
We all met up at the only shopping mall in Cuba.  Cleve explained to us that the building was a gift from the French.  He brought us here not to shop, but to show us a typical part of Cuban family life on the weekends.  The place was packed with all ages.  The Food Court was the place to be:  there were play areas designated for kids and every square inch was taken.  Adults were sitting at tables with beers, and everyone seemed to be thoroughly enjoying themselves.  Cleve explained that most Cubans don't have much extra to go shopping on the weekends, but what we witnessed was very obvious family time. The shops I saw were mostly practical:  some apparel but also small stations that sold baby diapers and wipes, drugstore-type items, and appliances.
We left there shortly and headed for Parque Central where there was an open-aire art market and the Hotel where Charlotte and Corrie and I needed to pick up our tickets for the Cuban National Ballet that were were to attend that night.
Charlotte and Anita elected to take a ride, while Cleve walked with me, Corrie, and Marina.  He asked if we were up for taking a route that would show us some of the hard realities of some people's lives here and we said yes.  We walked for about an hour through some very impoverished neighborhoods and scenes. I appreciate Cleve's attitude and desire to educate visitors that are on his trips.  He knows families in these neighborhoods; he brought us into one home and introduced us to another.  He's been doing these small-group educational trips to Cuba since 2000.  He said it's hard to be here so often and not "adopt" some people or families.  He's pretty open with us about his own life story as well as involvement with people he's met and connected with over the past 17 years.
We emerged from the very poor neighborhoods into a bustling city intersection where we crossed into a beautiful city park. As we walked through, I thought about the people we had seen in the very poor conditions not 5 minutes away.  Many of them had been in makeshift chairs outside their homes either visiting or just sitting.  I realize my perspective is just one and is very limited.  But I wondered if they would feel they had access to that (public) park, or if they even really knew it was so close.  Personally, I would want to spend time in that particular more peaceful setting even if I had to go back to a more difficult condition to sleep at night.
I realize I am jaded by my own human condition:  a very privileged one.  I strive to see other perspectives and to try and put myself in other's shoes.  I am struggling a bit with what I see here.  I admire the spirit, hard-working attitude, and creativity of the Cuban people.  I see struggle but I see spirit.  I know there is a complex history and a pride that a half-white girl from California living in Colorado cannot fully know, though can respect.  My heart hurts for things I see that I assume people need, but yet I don't really know if they are lacking or not.  What I have observed is a resourcefulness and peace with life that is not readily found where I'm from.
Cleve talks a lot.  He does, and he knows it.  He's very philosophical and informative, also honest and opinionated.  Amauri is our font of local info; he is incredibly intelligent and intuitive.  Interestingly, he's a well-trained medical & wholistic doctor.  He's been practicing for many years and only recently decided to put his practice on hold to focus on a goal of getting a Visa to be able to visit Florida where one of his children now lives.  He can make more money working as a driver and tour leader as he can a physician. Incredible to me is that doctors here make hardly anything, especially compared to what American physicians make and the social status they have.  It does have to do with the government structure and limitations on income.  Amauri's  wholistic training is apparent when he speaks with you, particularly one-on-one.  He is intuitive and an amazing listener.  He has excellent English and is part of these trips not just to drive us around, but to provide us with accurate local info about anything from culture to locations to current political situations.  He also really connects with the guests and genuinely cares about people.  He's a huge advocate for his country, and speaks well of its structures and institutions.  He bad-mouths nothing and is very diplomatic as well as open-minded.  He'll answer any question we have, political or not, without any spin.  He's really an amazing addition to this trip.
If you're still reading, WOW.  This long entry is for me. I don't want to forget some of these details or how I'm feeling about things right now… so if you're still here thanks for your interest in my descriptions and processing.
And, you get to know there was still more to this day!  Charlotte and Corrie and I had gotten tickets yesterday to the Cuban National Ballet.  We had heard that in the world of dance it's fairly infamous and full of talent.  I'm sooo glad we went.  This was not part or our group or included in any price. In fact, every evening from dinner on we have flexibility to go and do whatever we choose.  The Ballet began at 5pm and ended around 7:00.  The building itself is incredibly beautiful.  The first act was very classic, and displayed the talent of the dancers from the very first minute.  The second set involved only 3 dancers; one woman and two men, and was a mix between ballet and contemporary interpretive dance.  It was amazing and very moving.  I loved it!  After intermission, there was a sort of folk-tale ballet musical (without words) that told a story and was incredibly well-done, clever, and comical at times.  The talent was paramount.  Charlotte and I couldn't have clapped harder when it finished, and the 30 Cuban Pesos we spent on it was more than worth it; an amazing deal.  (FYI, the Cuban Peso is very close to the American Dollar, but when we exchange our money here we pay a fee so you get about 87 Cuban cents to our $1)