The Valley of Vinales, and my first Cigar: 11/30/17 Thursday
Amauri and our van taxi driver arrived about 8:15 this morning to take us all on an 2.5 hour drive west to the Vinales Valley.  It is known to be some of the most scenic & lush green landscapes on the island, as well as home to many small tobacco farms where most of Cuban tobacco is gown and prepared then sent to several cigar-making factories around the island.  The Viñales valley is encircled by mountains and its landscape is interspersed with dramatic rocky outcrops. Traditional techniques are still in use for agricultural production, particularly of tobacco, and that is the main reason why this area has been designated as a World Heritage Site by UNESCO (whc.unesco.org) We had a great time getting a demonstration and explanation of the process of growing, drying, curing, rolling, AND smoking these high-quality organic cigars.  There are many guidelines and restrictions put on the entire process and are regularly checked by governmental officers.  Even while we were there for about an hour, Amauri said some people came into the back of the area while we got the demo.  I just though they were some of the workers or friends that came in to see! (Meaning to say, they were not obvious, nor interfering at all).
The young man who educated us was extremely knowledgeable and experienced; he said he'd grown up on this family farm and had been participating in the process since he was four years old.  He had excellent English and joked good-naturedly with us the whole time.  He was a great spokesman for the process and art of growing and rolling cigars, and was very proud of his family's farm and participation in this industry.
The tobacco plant grows to maturity in a relatively short time, so there are multiple harvests within a year, and there are four sections of the plant itself that are used for different types of cigars.  Each layer of leaves receive different amounts of sunlight and the leaves themselves have different "strengths" of flavor.
A couple other interesting points, to me, were that most Cubans don't smoke cigars.  Though they are not nearly as expensive here as when they are exported and sold elsewhere, but it's still extra to spend that many don't have. Our demo-guy said only tobacco farmers (and maybe their friends) smoke cigars on a regular basis.  Others do smoke them but kind of like "we" do in the US – for special occasions. And also to demonstrate status, some businessmen will wear them in their suit or shirt pocket but not actually hardly ever smoke them.
Secondly, the curing or fermenting process varies between farms because they all have their own special recipes which are mixtures of different flavors such as honey, lemon, cloves and spices, and other things.  (Sounds like a Christmas cookie!  Not quite…) Never chemicals of any kind, and even the middle "vein" of each tobacco leaf is removed before cutting and rolling because after fermenting it holds the most nicotine and is too strong.  They soak the veins of the fermented leaves in water, creating a dark liquid which then used back on the plants as a natural pesticide!
Lastly, many people (just in Cuba?  I don't know) dip the end of the cigar into honey before lighting the other end and it complements the tobacco flavor.
Then he gave us all a chance to try one.  I was terrible with the technique and very hesitant in case I inhaled the smoke (not recommended) but decided why not try it when I'm getting a lesson from a local farmer – when would I ever get this chance again?!  The flavor was interesting in a good way.  The experience was worth it.  I only smoked a small part of the cigar, and I definitely looked like a white girl (well, half-white) tourist but I had fun doing it!
Next we all went to lunch and had some excellent local Cuban barbecue with an abundance of side dishes..  The setting was amazing; the Vinales hills and trees rose up around, small farms surrounded us, and a blue sky with puffy clouds graced us overhead.  Sigh.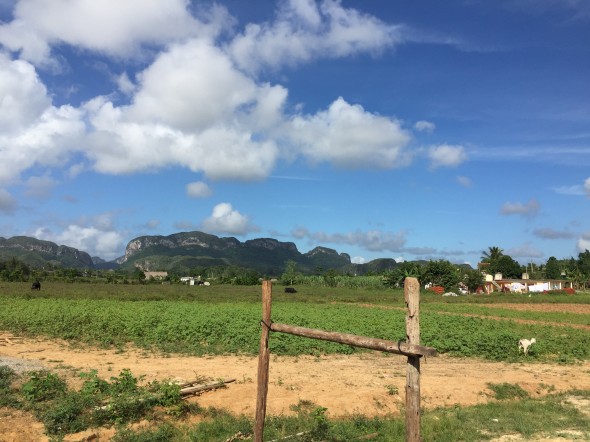 Next our driver drove us to an area where there are many caves, and we entered for 5CUC$ to walk about a half mile and also take a short boat ride through this underground river.  It was beautiful and I was amazed at the access we had.  Not extremely respectful but the two other girls and I couldn't help but joke about the Disney rides Pirates of the Caribbean and Small World….especially when we boarded the boats and saw the pile of life preservers tied down to the front which looked like they had never ever been worn before and would be nearly impossible to access should the boat actually capsize.  Corrie, who's a bit easily-freaked out, said to me "wait, aren't these boats on tracks?"and I cracked up.  Oh the CRAZY world of Cuban tourism – haha!

Before driving back, Amauri showed us a huge mural painted on the rough rocks on the side of one of the valley hills – what a unique piece of Cuban art!  It was done by a pupil of the Mexican Pablo Picasso in 1950 and was restored in 1980.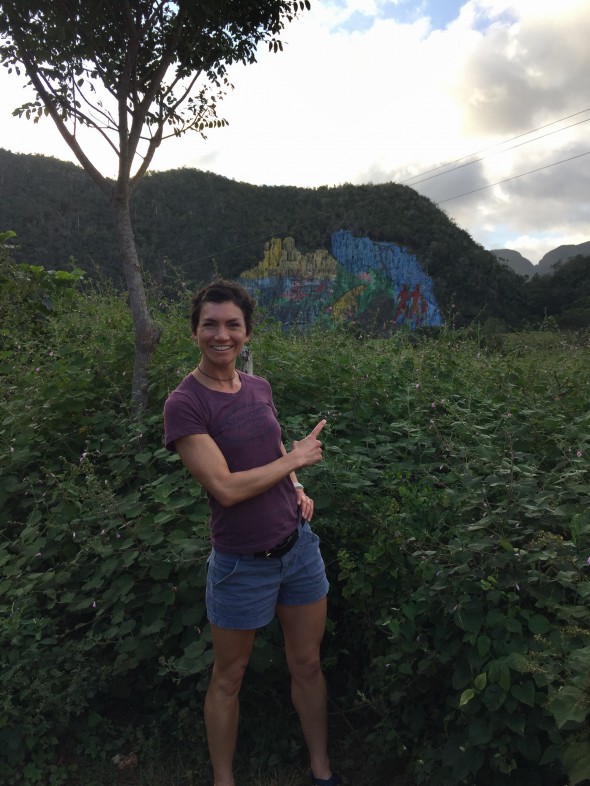 A bit of a sleepy drive home, followed by one more night out to a show called "The Parisian".  It's an old classic, akin to the more well-known "Tropicana", only this one is in a smaller venue (and not quite as expensive).  Think I Love Lucy era, with the huge show stage with a huge staircase and often a swing that comes down from the ceiling with a beautiful woman with some kind of fancy headpiece dangling from it.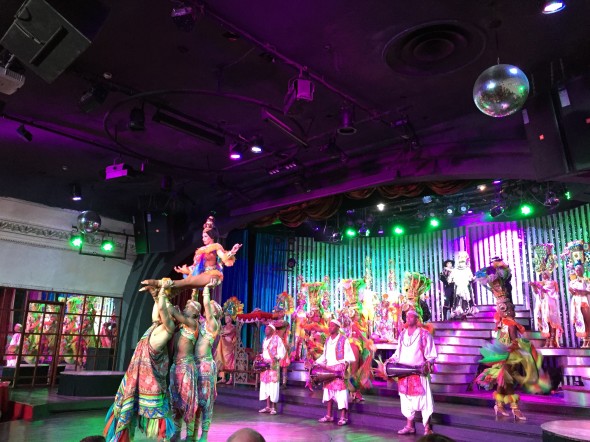 Like the other two shows Charlotte & I have seen, this one did not disappoint.  The dance talent and costumes were captivating.  The stage was not big and I swear there were 50 people on it – with swinging skirts and huge headpieces – all at once during some acts.  I would see this again in a heartbeat.  We enjoyed coffee and flan during the show, and again drove home giggling into the night.