Final Day in Havana: 12/1/17 Friday
I got one last run on the Malecon before packing up and making sure all was ready to go when we had to leave later this afternoon.  We had quite a few hours to spend in Havana before that, though.  Cleve had another group of guests that had arrived and begun their tour, so he spent most of the day with them and we had our gentle, informative Amauri to drive us once again.  We headed to the Cemetario de Colon (Colombus Cemetary) which we were going to see a couple days ago but was closed. It is a miniature city of mausoleums, family vaults, soaring sculpture and ornate gravestones. It covers 136 acres and to walk the perimeter would be a 5k (3.1 miles)!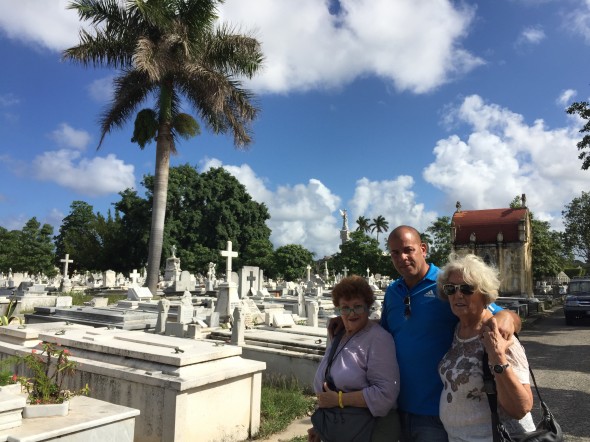 Amauri did a great job of walking or driving us to certain grave sites to explain some of the historically pertinent or more interesting stories.  One of the most popular graves is that of Amelia Goyri.  The story is that in 1901 she died in childbirth at the young age of 24.  She was buried with her stillborn daughter at her feet.   When the tomb was opened a few years later to add another family member, the baby was found in her arms and her body intact.  Now her site is known as "La Milagrosa" (The Miraculous One), and she is considered the protector of pregnant women and newborn children.  Her grave is covered with beautiful fresh flowers, and stands out among almost all the other graves which are in good shape but do not have flowers.  Daily, women pay homage to this site, tapping 3x on her tomb and not turning their back to her as they walk away.
I took few photos today because my phone is full!  Without having regular access to wifi nor a strong connection at times, I have been unable to be sure that I am transferring my photos to my iCloud so I'm not deleting any till I get home.  I only had the capacity for 5 pictures today!  It's ok; I've taken plenty.
Corrie and Marina had an early afternoon flight, so they caught a taxi to the airport after the Cemetery.  Charlotte wanted to make one more run to the art market, so Amauri took her and dropped Anita and I off at the Museo de la Revolucion (Revolution Museum).  Because it is undergoing a renovation, it appeared sparse and somewhat disorganized, but then I started reading.  It is not a very interactive museum; it took patience to walk so slowly around and read a ton (most things were translated into English so this made comprehension much better), but there was an abundance of historic info, photographs, and artifacts from the 50s and 60s that are precious to the Cuban people and key in its young history as a socialist country.  The different parts of stories and repeated educational info I have received throughout this trip came together even more while visiting this museum.  I think it was a perfect last thing to do here today.
Anita, Charlotte, Amauri and I headed into Old Havana once more (I have had my fill of this area!), but for good reason because we had some bags of school supplies and tennis/baseballs to drop off at an elementary school.  You may recall I had said Cleve had sent us each a pre-trip email with a list of items we could bring to donate (if we wanted to) to Adelaide's children's party, as well as to this elementary school.  We met the Principal & Asst Principal who brought in about twenty 3rd and 4th graders and we passed out various supplies such as pencils, sharpeners, fun erasers, coloring books, math flash cards, sidewalk chalk, and also some classroom supplies for the teachers like push—pins, tape, paper clips and chalkboard erasers.  It was a really nice local connection; I was glad Cleve had recommended this experience.
Upon leaving, another torrential downpour had begun and we had no umbrellas, nothing we could do but wait it out under the stone awning of the school.  We needed lunch but really couldn't venture out.  Again, the hardest rain only lasted about 15 minutes so we were then able to walk out and go to lunch.
We said our goodbyes back at the apartment where Cleve met us, loaded our already-packed bags into another taxi, and went to the airport.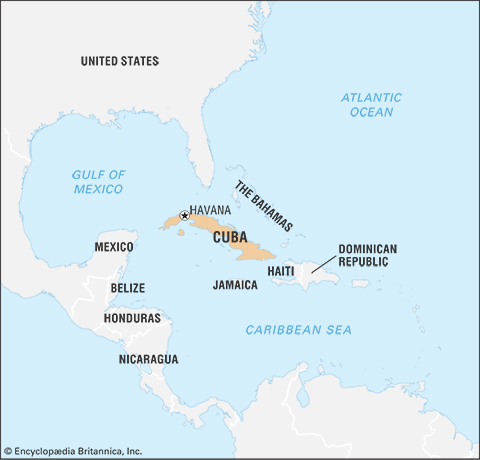 Fortunately Charlotte, Anita, and I had a very smooth process of checking in, going through customs and security.   Adios, Havana…. what a well-rounded, educational, and fun trip this has been.
If you are interested in travel to Cuba and spending a good deal of time in Havana, mixing with locals and not being super-touristy, contact Cleve Ford of TCF Adventure Travel to ask him about trip options to Cuba.  He's been doing it a long time (17 years), is absolutely passionate about the culture and its people, and is a very philosophical, genuine person.