Being a tourist before I become a resident
I spent most of my first week in Bogota GSD-ing.  That's a nice little acronym for "Getting Sh*t Done"!  I like GSD-mode; it suits me.  There was, and still is, a lot to get done as I'm trying to set up a mostly-new life for myself here for at minimum the next 6 months.  It's pretty thrilling to be embarking upon it.  Already a ton of prep and thought has gone into getting me this far:  here.
Early in the week, the other 2 new American teachers and I set out to get our work visas with all the prepped documentation.  Looking back, just about 5 days ago, I think I was actually a little smug about how prepared and organized we were.  Didn't matter.  Welcome to Colombia. That's not a dig, it's just reality.  Firstly, we didn't have all the info.  That was (maybe) no one's fault, but it was a huge roadblock to GSD.
We got up at 6am to navigate ourselves to the Office of Immigration to be there at 7:30 when it opened.  Around 10am we drug ourselves dejectedly out of there and made our way back to our lodging, all the while talking about our Plan B's and C's as if we were never, ever going to be able to get these work visas and our whole plan in moving here was defunct.
After a bunch of frustrating work online (with our employer's help), it seems we got "into the system" and decided to do a re-play the next day.  It took most of the day, but I finally left with a legit work visa!  And after talking to a few other people about their visa experiences in other countries, my story didn't sound that bad at all.  One day "wasted", big deal.  And I learned some things.  And some patience.  (A lesson I keep having to learn over and over and over..)
Next step was applying for a Colombian ID, called a "cedula extrangera" (which designates I'm not a Colombian national) It looks like a driver's license but is an id card.  Once I have a Colombian cedula it apparently makes life a little easier in the way of daily life business.  Most banks in Colombia require one to open an account, as well as easier to open accounts for Internet, TV, landline and cell phone services.  Furthermore, one can travel domestically in Colombia with just the cedula and can leave the passport at home.  That process was involved but after going through the Visa online paperwork, this was just another round and we all navigated it better (and with more patience).
I should be able to pick mine up at the Officia de Migracion next week.
Also this past week, I was shopping for apartments (mostly looking at renting a room in a shared apartment), meeting various people, trying to get my teaching stuff organized (and buying a good deal of supplies I had had to leave at home).  I met with my first client on Thursday evening.  She was assigned to me by my employer (Raisbeck, a language school for business people). She is an economist with JP Morgan and wow, she is a smart cookie.  (I need to teach her that idiomatic expression…) . We had a good first meeting, but I left thinking "What am I gonna do?!"  I need to study so I can keep one step ahead of her for each lesson!  I know I will gain confidence as I go, but I'm relatively new in this field so honestly I'm feeling a little daunted.
I'll meet with this client for 90 minutes twice a week.  I have been told I'll also be assigned a small-group class beginning April 4th.  I hope to get a total of about 20 hours per week, but it seems that may take some time to build up.  It just depends on how many businesses sign contracts for lessons for their employees.
This past weekend I decided to do some exploring, as have some extra time right now since I'm not working much.  Also, Monday was a national holiday.  Colombia is a Catholic country so many of it's observed holidays have to do with that (for example, December 8th is "Immaculate Conception Day").  My employer proudly announced that Colombia has the most national holidays  in the world:  19.  Which is cool, but also means 19 less days of paid work.  (And when I looked it up, Colombia is tied with India at a listed 18 days/year.  Maybe my company takes an extra day somewhere..?)
….Buuut, 19 more opportunities to go exploring!
Saturday I took the "Bogota Graffiti Tour", which takes place in the Candelaria district, a colorful, gritty, and historic neighborhood that is best visited in the daylight.  (Nighttime is not so safe there).  I learned a ton about the history of and social/cultural implications of the graffiti culture in Bogota.  It is a huge presence, and a meaningful one.  Of note, in December 2011 graffiti was de-criminalized, meaning it it no longer illegal (yet not really encouraged..) Fines can be given if art is done publicly without permission, but one cannot be sent to jail for it.  There are many well-known street artists who either are from Bogota, or moved here for the practice and culture of it.  Most of what we saw in the tour looked more like murals – they were amazing and beautiful.  Many had political themes, some which were easily understood and some which take more education – especially as a foreigner.  But we were also shown examples of tagging, stencil, sticker graffiti, and commissioned graffiti (individuals or businesses who hire street artists to "decorate" their outside walls).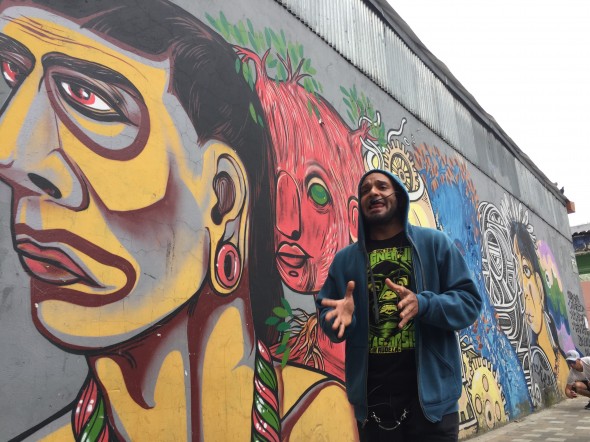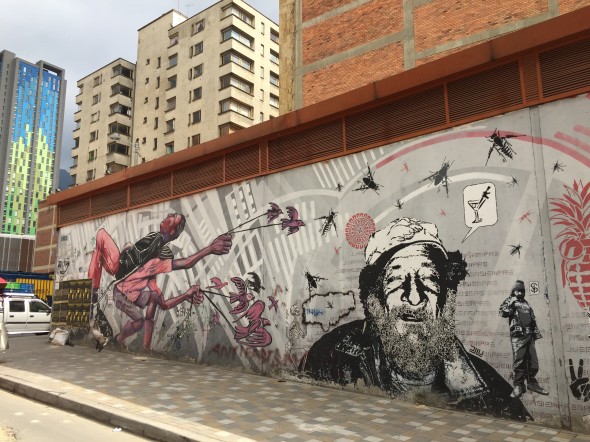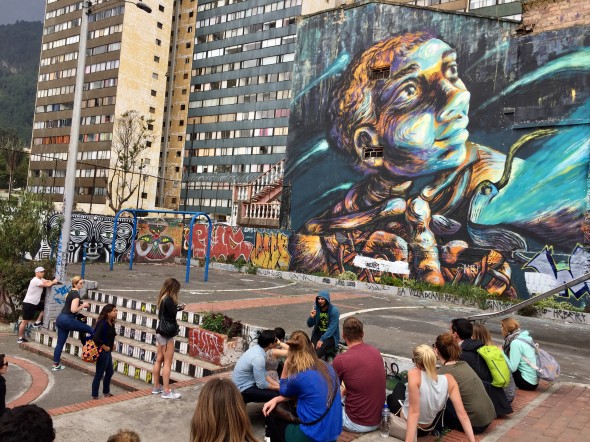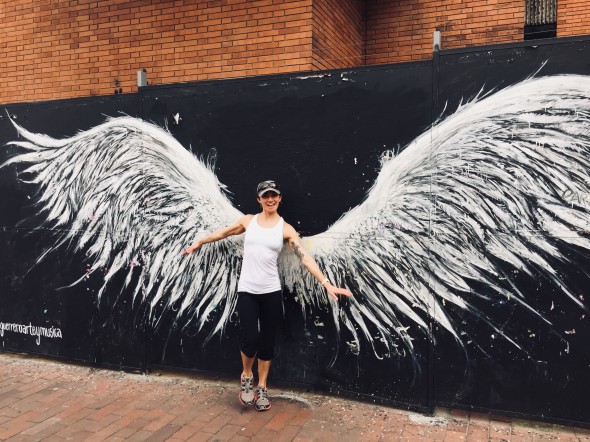 I would highly recommend this 2.25 hour walking tour.  The guide was amazingly knowledgeable.  And it was free!  There is a suggested donation at the end, but it's not required.  BogotaGraffitiTour 
Sunday I set out in the morning to rent a bike.  I had read about a weekly event called Ciclovia, in which many kilometers of roads (turns out a total of about 75 miles!) are closed to traffic so that Bogota-ians can get out safely and more enjoyably on their bikes, roller-blades, or by foot to enjoy exercise around the city.  It was amazing!  So well-organized, and incredibly well-attended.  I saw ages and abilities of all kinds.  All types of bikes.  Many people pushing strollers, some dogs, tens of thousands of bikes and thousands of walkers/runners.  There were vendors, water stations, bike mechanics EVERYWHERE (one of my favorite sights was a well-seasoned bike mechanic helping fix a tiny kid's bike tire).
Reading a little more about this event, I learned that Bogota was recognized in 2003 by the Administrative Department of Public Administration, the WHO (World Health Organization), the Physical Activity Network of the Americas (RAFA / PANA), saying that Ciclovía is the program that contributes to making Bogotá the most active and healthy city of the Americas.  The city has received other awards in the years following, and has inspired other cities around the world to adopt this healthy, community-building event.  It is kind of mind-blowing to see its success; this is an 8.8 million-person city, with a lot of poverty.  What a bright spot Ciclovia ("the bike way") is!
Ciclovia not only occurs on Sundays, but every holiday too.  So were you paying attention earlier?  That's 19 additional days of road closures and outdoor recreation per year!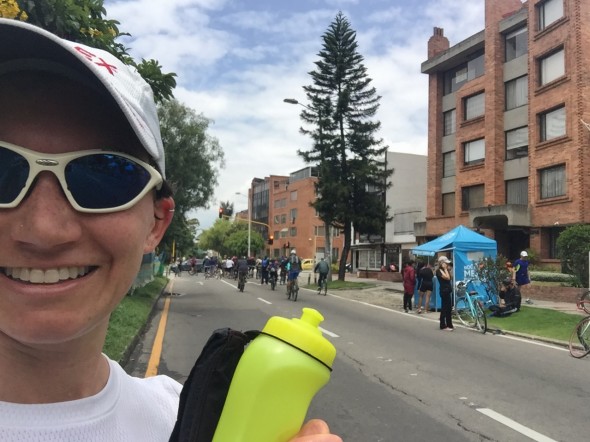 So today, Monday, St Joseph's Day, I headed out for Ciclovia #2 but this time on foot.  It was fun to run the streets without all the busses and traffic.  It was encouraging to see for a second day in a row all the happy healthy people getting to enjoy the outdoors, in the concrete jungle at the base of the beautiful green Colombian mountains.