Race Report: Kansas 70.3 June 12, 2011
70.3 is the total mileage of a half ironman-distance triathlon.  This includes a 1.2 mile swim, 56 mile bike, and a 13.1 mile run (half marathon).  Today was my first race as a professional triathlete, and it was a stellar day.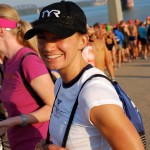 I made the trip with three great people – Lauren Chiodini, Adam Bordeman, and Lucas McCain.  We left in the early afternoon on Friday June 10th, to drive 9+ hours from Boulder to Lawrence, which is on the very east side of the state of Kansas.  We packed loads of tri-gear, food, laptops, clothes, and bikes into Lauren's Forrester and headed east.  It takes about two hours to get to the Kansas border.  Kansas is pretty darn flat, but at this time of year it's very green, and we were also entertained by some unique billboards advertising spectacular stops such as the World's Largest Prairie Dog, Five-legged Cow, and the We Like Ike Eisenhower Museum, to name a few.  One gas station we stopped at had a fishing bait vending machine, which we thought was fun.  Another truck stop had a huge sign on the building that just said "Mittens".  Interesting.
We arrived at our hotel in Lawrence after midnight and crashed out.  The next day, Saturday, Lauren joined me on my short pre-race workouts (a 15min run with some short sprints, followed by an hour ride, again with some short high-intensity efforts just to remind the legs what they're gonna do for hours the following day..)  Then we cleaned up, ate lunch, and I went to the race site for the mandatory Pro pre-race meeting.  It was pretty cool to me, Newbie, to sit in a group of outstanding athletes – many of whom I recognized by face or name, having read about them in triathlete magazines or seen or heard of them because of their athletic accomplishments.  Chrissie Wellington, the most incredible female triathlete, two-time Kona Ironman Champion and never having been beaten,in any Iron-distance race she's done, is also a charmingly friendly woman with an unforgettable smile and an encouraging word for everyone.  I have met her before, through my coach Curt who is friends and training partners with her, and have also had the privilege of swimming with her at my gym, Flatiron Athletic Club.  She came up to me to wish me good luck in my first pro race, which was so nice of her and really encouraging to me.  The meeting was pretty brief, going over the course, reviewing rules, and other details of how race-day would go.
In the afternoon, all four of us went to a movie, because it would be nice and cool in the theater, we'd all stay off our feet, and it'd give us (me, especially) something to do to keep my mind off getting nervous about race day.  We watched Pirates of The Caribbean …geez how many sequels of this is Johnny Depp gonna star in?!  Dinner followed, then back to the hotel to do all the pre-race preparations.  These include putting numbers on your bike and helmet, setting out all the gear you'll need for each of the three sports, filling water bottles, setting aside your food/calories you're going to consume during the race, and then rearranging everything at least 4-5 times, moving piles around the room and checking and re-checking the bike computer, tire pressure, and trying to remember where you stashed your sunscreen.  Then hop in bed and pretend to sleep for about 30 minutes at a time, waking frequently to get up and go to the bathroom because you are so well-hydrated, or to lie there and worry about the things you won't be able to control during the race the next day.  The weather forecast called for 80% chance of rainshowers, and possible thunderstorms on race morning.  I kept waking up and dreading that I would hear rain falling outside.  I had my usual pre-race dream where I just can't get to the start-line on time for the life of me.  It's basically the same dream with different bizarre details each time I have it.
Finally the 4:40am alarm went off and then it's GO TIME!  A very important bathroom visit followed by instant oatmeal and a banana, putting on my race kit (outfit) (Thank you to Tyr, a very generous sponsor of mine, for providing me with an awesome race kit this year, and many other swim/tri products as well!), lathering up with sunscreen (no rain was falling, and fortunately it ended up being a wonderfully cool but not chilly race morning, no rain, no thunder, and the sun came out occasionally – it was perfect race weather!!)
Unfortunately, my pre-race dreams almost came true this time.  I made a very stupid mistake and during my review of the race-day notes I read an old posting instead of going by what the Pro meeting had told me the day before, and I mistakenly thought the Pro Race start was at 6:50am, when in fact it was 6:30am.  I KNEW this, but in my mind I just plain got mixed up.  So I arrived with my bike and my gear with at least 25 minutes to get settled, and was greeted with the National Anthem, which I thought was strange because they usually don't sing that till right before the race starts… Then I ran into a girl I swim with at my gym, and she said "Hey you are starting in like three minutes!", to which I replied, "WHAT?!  Oh S#*T!" She was so kind to grab my bag and set out my transition area for me, also helping me into my wetsuit (this is a very difficult thing to accomplish quickly); I threw on my cap and goggles, ripped through the crowd of Age Group athletes waiting for their start (I'm sure they were so annoyed), and as the gun went off to start the Pro Women who were about 50 meters off the beach treading water, I, in all my Rookie Newbie Professional Idiotic glory, dove into the water from the beach and swam with all my might to catch up to the group.  AAARRGGHH I could not believe I had made this mistake.  I was just so thankful that I hadn't missed the start entirely.  The swim was really choppy because the wind had picked up.  It was certainly not my best swim performance.  But, I actually made up some ground and came out of the water 5th or 6th..running into transition and getting on my bike, intent on catching more girls and working my way up.  The bike portion tends to be my strength and if there is a place for me to gain ground, it is here.
I had a fantastic bike – this course suits me well as it plays to my strength of riding rolling hills.  It is also a very pretty course.  As I mentioned, Kansas is really green at this time of year, and this rural route is quite lovely.  I rode hard, feeling confident in the training I'd done and knowing that I'd need mental confidence to help me pass any girls that were in front of me and gain ground to take into the run portion of the race.  During the run is where a triathlon is typically won or lost, as it is the last leg of the journey, so to speak, and is when everyone is tired from the first two portions of the race.  I made the final turn back into the campground where the transition area was and many spectators, with a huge grin on my face because I had passed three girls and was now in 3rd place overall (women)!  And, I felt strong and was excited to run instead of dreading it. I had done a good job of fueling myself consistently on the bike, and knew I was not in calorie deficit which also gave me confidence that I'd be able to maintain a fast running pace.  (Thank you, GU, for supplying me with top-of-the-line products that really make this kind of racing possible.  You can't race at top level without quality and proper nutrition.  Thanks, guys!)
The run course mostly winds through a campground, which is great because there is a plethora of people sitting out in chairs, relaxing and spectating and they are GREAT cheer-ers.  Something I've noticed is that if you smile at people, they cheer louder for you.  I LOVE spectators – people, no matter who they are, cheering for me really gives me a boost and helps me maintain a good pace, and a good attitude, in any race.
The fourth-place girl was not far behind me, Lauren and Adam shouted many an encouraging word, and Lucas kept me updated through the run on how far (or close!) back she was from me, at one point only about 40 seconds.  I was feeling good, though, and knew that simply maintaining my steady pace without slowing down at all (and hopefully being able to even speed up a bit over the course of the 13 miles).  I certainly was running scared for a while, but settled into my own pace, felt strong and confident, and guess what – she never caught me!  I ran the whole course in 3rd place, crossing the line as the 3rd Pro, with a time of 4:27:17.  Since this is Kansas, they line the end of the finish chute with a yellow-brick-road creation, which is very cute and clever.  I was greeted at the finish by my fabulous personal cheer-ers, Lauren, Adam, and Lucas, and was elated to get a congratulatory hug by Chrissie Wellington herself, and later from my talented coach, Curt Chesney, who won his age group by a long shot.  Stud!!
I was absolutely elated to have placed so well, and perhaps even more excited about my personal performance today.  To earn a "Podium Finish" (top 3) is more than I would have imagined for myself today, though I know I have worked very hard for it.  I am thankful for each and every person in my life- and you know who you are – who gives me support and encouragement, and helps enable me to travel to a race and give it my all, ending up with a great pay-off like today.  THANK YOU!
Chrissie Wellington, First Place woman pro