Race Report: Buffalo Springs Lake 70.3 June 26, 2011
Second triathlon of the season-  Destination:  Lubbock, Texas.  Lubbock is about 600 miles from Boulder, in the northwestern part of the Lone Star State.  The race I did is called Buffalo Springs Lake and it was another half Ironman distance tri (1.2 mile swim, 56 mile bike, 13.1 mile run).  This race has been around for about 22 years, and its course is known for being extremely challenging, due to it's rough bike course (hills, windy flat-ish stretches, and bumpy rough roads), and its usually-hot temperatures.  Living up to its reputation, this year brought near-record high temps.  The forecast predicted well-over 100 degrees, and windy.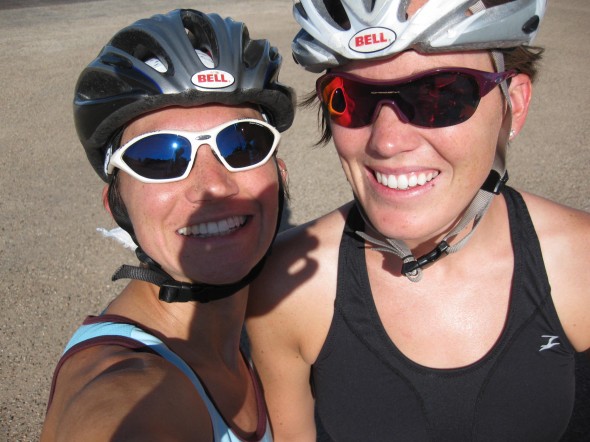 I drove there with my friend Dennis Meeker, who I met at Flatiron Athletic Club pool where we both swim masters.  He is on the Timex triathlon team, a globally wide sponsored team.  We met up with several others from his team once we got to Lubbock.  I shared a room with Jackie Arendt, a girl on the Timex team who I had met very briefly at the race in Kansas a couple weeks ago.  She is a very nice, funny, and talented girl.  This is her first year racing pro, as well, and she earned herself a second-place finish back in May at the St. George Ironman, which I was very impressed by.  She and I hit it off well, which is fortunate since we were to share a small hotel room with a leaky air conditioner for three nights surrounding a race in which we were both competing.  I'm really glad she didn't steal my running shoes or hide my bike or something.  By the end of the weekend, I had given her a new nickname:  Tenacious J.  She and I each have a lot to learn about racing with the "big girls" in the pro realm, but something I think we both have in common is the stick-to-it-tiveness we both seem to pride ourselves on.  Give it your best shot of the day, go the distance, don't give up.  It was a privilege to race against Tenacious J and all the other hard-working pro women out there on Sunday.
Friday, our first night in Lubbock, Dennis, Jackie, and another Timex guy named Andrew went out for dinner and to walk around by the Texas Tech campus for a little bit.  We went to a really cute ice cream/candy store after dinner where it took me four samples to decide on the flavors I wanted to purchase, which ended up being Guiness and Mexican Chocolate.  Soooo good!  It was about 109 degrees outside, at 7 or so in the evening.  We took a leisurely and sweaty stroll on part of the campus while enjoying our rapidly-melting ice cream.The next day, Saturday, dawned bright and windy and freaking hot, as expected.  The fabulous four of us headed to the race site to do some pre-riding, a short run, and to jump in the lake.  Temperatures climbed to around 110 that day and by the time we left the lake, I think we were all a little bit disheartened about what race day might hold…but, the goal is to stay positive and know that you've already done all you can to prepare, so get out of the heat, off your feet, and keep your chin up.
The race start for pro men was 6:25am and just two minutes later for the pro women.  Number one goal today was to BE ON TIME, after my Kansas experience.  Fortunately I was with people whose mottos seem to be "on time means early, WAY EARLY", and I obviously need some mentoring with that.  So we all set our alarms for 3:45am – btw, that is not early morning, it is the middle of the night – and awoke to what I might liken to firestorm-like conditions outside, without the smoke.  It was above 80 degrees (at 4am!!), and really windy.  Ok, here we go.
Drive, park, walk bikes down to lake/transition area…we were there an hour and 45 minutes before the start.  Holy cow that seems unnecessarily early to me, but then again, I am not an expert at arriving on time.  Served me right.  We were so early that there were hardly any bikes racked yet, and we had our pick of port-a-potties.  So we set up our stuff, milled around, I took some photos, and tried to find the balance between staying hydrated and having to run to the bathroom.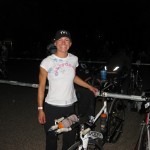 Somehow the minutes ticked away till it seemed time to put on my wetsuit.  Part of the "beauty" of triathlon is how many factors there are that you simply cannot prepare for, or maybe more rightly, cannot control.  It's part of the nebulous challenge of triathlons, especially long-distance ones.  So, true to this, I pulled my left leg into my wetsuit and ripped a huge hole down the seam next to my knee.  Though I had arrived almost two hours early, it would've been silly to put my wetsuit on right away, so now I had about 12 minutes to freak out, ask advice about what to do, run over to the bike mechanic truck and ask for duct tape to "repair" my hole-y wetsuit.  This could've really knocked me off my "race game" but you just have to make do.  And laugh, if possible, which I did.  I mean, I only have a few sponsors and one is Tyr, a huge swim-wear company, and now I was entering the water wearing a jerry-rigged/duct-taped wetsuit.  
Ok, now for the actual Race Report:  My swim went okay.  Obviously my wetsuit situation could've been better.  I came out of the water tenth, which I wasn't too happy about, and as per my usual went into catch-up mode on the bike.  The bike course, as I said before, is really challenging, with hills, bumpy roads, and this day it was extremely windy.  I rode strong, but didn't feel quite as on top of the world as I had during my Kansas ride.  I stuck to my nutrition plan, though, stayed hydrated and fueled and felt really strong finishing up the bike and coming into transition.  I passed three girls in the last 3-5 miles, and knew they would be hot on my heels at the beginning of the run, but it still felt good to sail past them on the bike!  In fact, two of them got ahead of me in T2 (transition between bike and run), which reminds me I need to work on my quickness in transitions.  I was in 6th place within mile 1 of the run, and held that spot.  I had really hoped to move into at least 5th place, but unfortunately I didn't have much ability to push my pace.  I felt it wisest to maintain a steady pace and try not to slow down, and focus on staying hydrated and positive.  Temperatures were climbing, and there is not much shade on the run course.  The worst stretch was a desolate, dry, telephone-pole-lined two miles straight into the wind, and there was no shade.  It was horrible.  People looked grim, but the tough ones maintained their pace, and at the turn-around were rewarded with the hot wind at their backs and only 6.5 miles to the finish (that feels like eternity…).  I was able to pick up my pace a bit, and I did negative-split the run, but the last 2-3 miles were so hot and difficult.  I kept thinking perhaps one of the girls in front of me would fade, but they did not.  I was quite happy to come in 6th, even though my performance didn't make the podium this time.  Oh, by the way, it got up to 112 degrees on Sunday (though it was probably not quite that hot while we were racing).