Race Report: Music City Triathlon July 24, 2011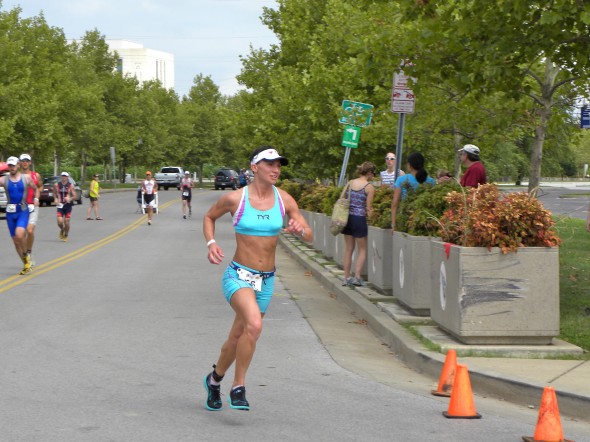 I haven't raced an Olympic Distance triathlon since about 2005, and I was looking forward to this one but was honestly a bit nervous I wouldn't have the top-end speed it takes to really compete well at this distance.  My coach Curt Chesney (Boulder, CO) has done a really great job training me; he has a lot of wisdom about how to train for different events – from sprint to endurance-length events – and I have to say he has been doing well preparing me to be able to race with versatility.
Lucas and I arrived late Friday night before the race, our plane touching down onto the Nashville runway, shimmery with heat and the air heavy with humidity.  These two things would be some of my biggest challenges for the race on Sunday.  Colorado is so dry and even when it gets hot, it feels so different than heat in the south or the midwest.  I was as prepared as I could be for racing in it, but mostly had to just keep a positive outlook and know I'd have to be diligent in my hydration.  Fortunately, this race was going to be done in just over two hours so it couldn't be that bad, right??
On Saturday we took our bikes to a local shop called Trace Bikes, located right next to a place called the Loveless Cafe, whose biscuits I could smell as we walked our bikes in and I wanted so badly to indulge instead of going for my pre-race ride… Instead, Scott Turner, one of the owners of the bike shop, greeted me with a southern smile and immediately went to work prepping my bike to look and act her best on race day.  They treated us really well there, and I want to say THANK YOU for the generous tune-up Scott did on my bike because she preformed like a champ on Sunday!
Lucas and I headed out on the Natchez Trace scenic byway/highway for our ride, for a little over an hour.  The purpose of doing a workout the day before a race is to loosen up muscles that may have tightened up from travel or any other circumstance, and also to get them – and your mind – prepared for a hard effort on race day.  We did several short hard efforts within our easy spin – nothing very long (not over 2 minutes), but enough to remind the legs and the brain how it feels to exert and to pick up the pace quickly, as you might have to do in a race situation.
Immediately after the ride, we threw on running shoes and headed out for a very short run:  15 minutes, with some sprints.  Again, all practice for the next day but not enough to really tire your muscles.  Actually, if you are feeling race-ready, this pre-race workout is a lot of fun.  It goes by quickly, and the short efforts make you feel strong, confident, and super-fit!  I had new racing flats, a gift from a personal sponsor Robin Sharp, whom I met as a client through my work at Frasier Meadows Retirement Community's Wellness Center (THANK YOU ROBIN!!), and they felt light and incredibly fast on my feet.  I was excited!  ….and sweating like a pig.  Holy cow it was hot and humid by the time we finished up our short run.
We went to the race site to check in and pick up our packets and get our timing chips and numbers.  The venue looked fun – the start would be right by the Titan's Stadium, the swim in the Cumberland River.  The bike course was two loops on a closed-off section of Ellington Parkway, and the run course looped in and around downtown Nashville – which is hilly! – and would finish just outside the stadium.
Race day dawned dark and early and hot and humid.  It seems unfair that even when it's barely light outside that it's already hot and sticky!  The race start was actually not that early.  There were two races happening, and the first to go off would be the Sprint distance, followed by our Olympic distance participants.  The swim start was a Time Trial, which meant that each racer had submitted a time when they registered, and were thereby seeded accordingly – fastest to slowest.  I was the 6th person to jump in the water!!  I was a bit nervous about this, but I ended up really liking the swim start and course.  This type of swim start is obviously less congested that a mass start, and I like that a lot.  It is unnerving and can even be scary to start out with a huge mass of bodies thrashing about in the water all around you.
I was in second place (women) after completing the swim, and as per my usual, set out on the bike to catch anyone and everyone possible who was in front of me.  It took me about 6-8 minutes to catch the girl who had swum faster than me, but when I did I said a silent Sayonara in my head because I was determined not to see her  again (from behind anyway)!
I had new race wheels for this event:  Rolf Prima TDF 58s.  Hopefully Rolf Prima will be a full sponsor of mine next season, but this year they really hooked me up with a sweet deal on these wheels, and a local Boulder bike shop – Vecchio's – glued the tires on for me…did a GREAT job.  I was so pleased with these wheels.  They were light, fast, and FUN.  How can wheels be fun, you ask?  When you can ride over 3o mph on a closed-course freeway, on your own legs' ability to pedal and your carbon-rimmed wheels ability to fly, er, roll, it is FUN.  :)
I really enjoyed the bike course.  I hadn't ever ridden my bike on a highway; it seemed like a treat because the road surface was so nice and smooth, there were hills but nothing very steep, and …I was riding in the middle of a freeway with no cars!
I came off the bike in an hour and three minutes, in first place for the women, and ready to rock and roll the run through downtown NashVegas (as I heard it referred to).
My two best friends, Heidi Walter and Vanessa Cummings-Downs, were in attendance spectating this race.  I was so glad they were there, not only to cheer me on but they were able to witness me having a great race!  Heidi was dressed in her "usual" festive costume:  a pink tutu, and a shirt she'd designed herself.  Vanessa has some mad sign-making and glittering skillz which she employed for me this day.  I love these girls, and they did a fabulous job cheering me on, darting in and out of the course at different points to make sure I had encouragement and even some serious guidance (Heidi used to coach a high school cross-country team).
The run was very challenging, though it was "short" to me – only 6.2 miles (that's 20 less than my Ironman distance runs!) – but the "brevity" of the run means you have to run it FAST.  Make your move and make it now; there is no time to make up later.  I had no idea where the other girls were behind me, but no matter – I wanted to make this a fast run and do the best I could no matter who was where on the course.  The air was heating up…it would climb to about 96 this day, and there was a lot of moisture in it.  I sipped ice cold water and dumped as much as I could on my head at every aid station, also wiping my face with the chilled wet towels they had available at the stations as well.  The volunteers took good care of us.
The second run loop was really tough.  It was the same course, but to repeat the three major hills a second time was enough to dampen my competitive spirit a bit.  I pushed through, and even though my second loop was not a fast as the first, I stayed fairly consistent through the miles, and when I spotted that home stretch I picked it up and finished strong.  Two hours and ten minutes – wow, it did seem like longer than that but really, that was short!!  I had so much day left ahead of me!!  Unfortunately, the awards were far-off and we had to wait around for a very long time, but it was well worth it to stand in First Place on the podium and accept my award and to accept the "glory" that comes with the overall win of an event.
Click here to view an article in The Tennessean, printed the day after the race.
http://www.team-magic.com/events/musiccity/index.html
Thanks again to my sponsors!:
Tyr – swim and triathlon gear
Gu – training and race nutrition
Rolf Prima – race wheels
Trace Bike Shop, Nashville – bike tune-up
Robin Sharp – new racing flats
Rusty McCain – plane ticket!