Nashvegas Visit
The last race I did – Music City Triathlon in Nashville, TN – was not only an opportunity to race in another part of the country (a hot and humid part!), and to race an Olympic distance tri, but even more importantly it was an opportunity for me to see two of my very best friends, Heidi Walter and Vanessa Cummings-Downs, and to meet Lucas' family and some of his long-time friends since he is from Nashville and grew up there.  It is an all-around great city, and they are really genuine, hospitable, and fun people.
I had a fantastic weekend – couldn't have been better, really.  I had a great race – a win! – and I got to spend time with some absolutely wonderful people.  Heidi Walter, answering to the silly nickname of "Monster" since college, has been one of my dearest soul-mate friends for many years.  We met back in junior high, but became very close in junior college running cross-country and track together.  We bonded over practices that almost made us throw up, spurring each other on by promising one other that we'd never have to do another season of this if we'd just get through this one, and the fact that we could go eat pizza and ice cream with the calorie deficit we'd created during practice (but tell Coach we just eat whole grains and carrot sticks

.  We've gone on hundreds of runs together, many during which we'd wax eloquent about life's ups and downs, speculate on our futures, laugh till our sides hurt (while running), sometimes slow down to lament about tough stuff one or both of us was going through and maybe even stop to cry on each other's shoulders.
Monster was there the day I discovered the inner fire of real competition… We entered a local race, arrived 5 minutes after the start, were supposed to run it as an "easy practice run" according to our Coach, and for some reason I started picking girls to "catch" and so we kept increasing our pace to pass each and every one of them…at first Monster encouraging me and laughing, and then staring at me in wonder while I gained momentum in my desire to BEAT THEM ALL!!!  And we did.  We came in first and second.  I won a huge bouquet of flowers from a local florist, but just as we had arrived in a whirlwind of tardiness, we left in a whirlwind of giddiness and I never got those flowers but what I won that day was ever so much more beautiful – a healthy competitive spirit.  And it was prompted by, has been encouraged and sharpened, yet tempered by, my girl Heidi (Cavender) Walter, an amazingly strong and talented runner who earned herself an athletic scholarship to Lipscomb University in Nashville, TN.  So it was really fun for her to come to visit the city of her alma matter and see me race triathlon for the first time!
Vanessa (Cummings) Downs is another friend whom I first met in junior high.  She was one year my senior, but we swam together in high school, went to the same church youth group, and then worked in a bakery together — I think the glue of our friendship was created with cookie dough.  We found depth in our friendship during a couple years in junior college as well – both needing a solid, loyal, yet silly and fun friend to go through life with, at the time and for th e future.  I am so grateful that Vanessa and all her amazingly varied talents and skills and level-headedness has been a part of my life for many years now.  She supported me at both my Vineman races/wins in 2008 and 2009, and is a very talented sign-maker and cheerleader, as well as food planner/organizer/chef, navigator, photographer, and is an all-around-pretty-much-good-at-everything and is super-helpful but oh-so-humble.  I can't speak highly enough of this girl.
So, to make a short story long, Vanessa flew in from California to Memphis, TN where Heidi lives and they drove to Nashville – two free-as-birds woman sans children! – and came over to Lucas' mom's (Teresa) house to meet up with literally a crowd of people they'd never met.  …I had never met this crowd, either, so it could have been very interesting (read: awkward) but it was just the opposite.  Lucas and I had flown in to Nashville on Friday night.  Saturday was filled with getting bikes ready, pre-race workouts, race check-in, errands, and then meeting up with not only my Girls but more of Lucas' family (mom Teresa, step-dad Daryl, brother Clint, grandma Nanny), and a handful of friends he's had since elementary school.  Southern boys are tight with each other, apparently.  Honestly, they are good people all-around.  I had heard a lot about these guys, and their wives and families, because they have been very important in Lucas' life.  I think it is so valuable and rewarding to keep relationships with good people who have known you for a long time, and seen you through many different stages (bad haircuts, break-ups, questionable decisions, and moments of glory…)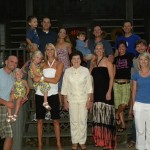 And in apparent, if not stereotypical, Southern form, we all had local bar-be-que, baked beans, coleslaw, and homemade brownies for our pre-race meal.  (Hey, I'm giving it some good credit because I had a great race the next day!)
Sunday was hot and humid, and if you want to read race details, check out my earlier blogpost "Race Report:  Music City Tri".  I thoroughly enjoyed the course, but even more so, I had a blast seeing Heidi and Vanessa after the bike and throughout the entire run – they must've run at least half the amount I did, the way they navigated back and forth, and up and around hills and corners and the big bridge the racers crossed twice…Heidi sporting her infamous tutu and a special shirt she made just for the occasion (she is so fun because she's incredibly creative, artsy, and ridiculously SILLY!), and Vanessa jumping around with a big sign she glittered up with the words "I Freaking Love Running" …which is a phrase I've used many times, and I gather the intention of this sign was to inspire and spur me on, reading through the glitter, held by my friend, while sweat dripped into my eyes and I gritted my teeth, trying to maintain race pace.
Crossing the line as the first female was thrilling – it's such a rush, especially when you have great people there cheering for you, and their excitement alone makes you an automatic super-star.  Lucas' mom, her friend Dawn, Nanny, Heidi-Monster, and Vanessa rushed to greet me, hug me (in all my sweaty glory), and take a bunch of photos.  When Lucas came in (we had started at different times), they did the same for him.  It was a blast! 
We stuck around for awards of course, then spent the afternoon at Lucas' dad (Rusty) and step-mom's (Mary Ann) house in downtown Nashville with a bunch of friends.  That night, Heidi and Vanessa and I had Girls' Night Out – we dressed up, went out to a nice dinner and dessert, and had a grand time talking and laughing like we always do when we get together.  It was wonderful.  The opportunity to see them and spend this kind of time, and to have had them there to support and witness my sport that I am passionate about pursuing right now, was a huge blessing and one I will not forget about for a long time.
The next day we slept in, then went to the Pancake Pantry, which is a place Heidi had taken both Vanessa and I before, when we came to visit her while she was in college there, and then said our sad goodbyes.
Lucas and I had another day till we had to leave the city.  We went on a ride where he showed me a few different parts of Nashville including some of the outskirts where some big-name singers have huge estates (Alan Jackson, Jimmy Buffet, Barbara Mandrell), and we rode through Percy Warner Park – a really cool huge chunk of land with roads and trails for running and riding on – bigger than NYC's Central Park.
That night we went out with some of his cousins and had a great time at dinner and afterwards in East Nashville – locally deemed "East Nasty", on the east side of the Cumberland River.
Tuesday we had breakfast with Lucas' sweet grandparents, went for a hot and humid run on a trail around a small local lake, and then packed up our bikes, bags, race awards, sweaty clothes, and a bunch of fun memories, and flew back to the beautiful Rocky Mountains.
It sure is fun to be away – especially when spending time with great people is involved – but it's so sweet to come back to a place with giant clouds, blue and black skies (a thunderstorm was rolling in as we landed), and those amazing mountains my heart loves.