August Training Weekends…and spectating a Pro Cycling Race!
Training Weekends, heading towards Ironman Wisconsin…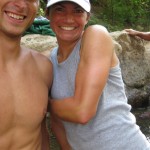 One cannot accomplish these big goals without a sidekick.  Or, at least, it's really not as meaningful to share the journey.  I am blessed to have a great number of people in my life who support me, encourage me, and see value in what I'm pursuing.  I want to send a "shout out" to my mom and dad, Nancie and Jerry in Ukiah, California, whom I haven't seen since Christmas because my training and racing pursuits have kept me so busy this summer; my brothers Jeff and Jay who apparently brag out me in their friend circles, and are great friends to me themselves; my Grammy and Grandpa, Uncle Rob, Aunt Teresa, cousin Kiley – whom I saw in Long Beach a couple weekends ago; my boss and others at my workplace; my friends far and near who put up with my lack of punctuality, sweaty presence, and minimal available time to hang out; and my sidekick and boyfriend Lucas McCain who continues to set aside time and energy to support me.  It takes a village to raise a triathlete!
The last two weekends have been some of my biggest, regarding training volume and importance.  It's imperative I get good sleep, manage my time well, and stay healthy.  Every day is a disciplined pursuit of my goals.  Some days it's forefront in my mind and fairly easy to stick to the workout plan; other days I question why I place so much emphasis on this crazy three-sport sport.  Ughhh, it takes so much out of you every day.  Get enough sleep to wake up and feel motivated to give it your all for whatever workout is on the schedule.  I continue to be thankful to have found a coach, Curt Chesney, who writes me a great weekly plan and motivates me with his own performances as an athlete.  Not having to spend time or energy on thinking up my own workouts is so worthwhile.  Then, doing the workout "to the best of my ability" – at least for that day, and it varies with motivation and energy level – then planning for transition time (shower, change, eat, transportation to the next thing), then going to my "real job" which is a real people-oriented job and demands the ability to motivate others, then any other errands or daily-life chores that need to be done.  Exhausted at the end of the day.
Last weekend I swam an hour Masters' swim practice, followed by a 5.5 hour ride into the mountains – mostly on my own – followed by an hour run which fortunately was accompanied by Lucas on his bike, cruising my by side as I pushed out a moderate-to-hard effort hour run.  It was SO helpful to have him on bike, carrying my water and encouraging me, while I ran.  He had already done his own workout that day.  So afterwards, we drank chocolate milk (a favorite recovery drink!), and went down to Boulder Creek to sit in it for about a half hour.  Submerging your legs and hips in cold water really aids in helping your muscles recover from hard workouts.  It helps them be ready for another effort the next day by reducing inflammation. (read more about ice bath recovery here)  We had a lot of fun sitting on the side of the creek, submerged in cold water.  There were quite a few people inner-tubing down the creek (it's still high enough to do so); we joked with some, and gave others a push-off as they floated near our hang-out spot.
Trying to combine recovery with pleasure, we ordered a large pizza for dinner (well-deserved, right?  Calories in, calories out…), and watched a funny movie to relax and unwind.
Sunday is typically Long Run day.  This was one of my longest:  2.5 hours.  With fatigue in my legs, I set out for an hour, planning to meet Lucas for the remaining 1.5 hours.  Again, he really helped my motivation to maintain a consistent pace.  I was so very glad when we were finished!  We headed to church, then to a friends' BBQ for a couple hours, a fantastic relaxing reward for a lot of hard work over the weekend.
————————————————————————————————————————————————————
Skip ahead to this past weekend, 8/27-8/28.  Lucas had a 1/2 Ironman distance race of his own, in Provo, Utah.  It would have been great if I would have joined him to support and cheer him on, but we both agreed that two weeks out from my A-Race Ironman (Wisconsin), I should stay put in Boulder and focus on my training, recovering, and not taking any extra days off work.  I did my best to support him in small ways before waving goodbye as he drove away…awwww.  He will be doing a full Iron-distance race at the end of October in South Carolina, and I will surely be there supporting and cheering him on!
He put in a more-than-impressive performance at the Utah Half (see results here); his fitness is definitely there – he's worked hard and it's showing.  I was proud of him and love that we can train together and appreciate in what we are each investing, as well as supporting each other (re:  investing in each other!)
He drove home after the race (brave!), and I got to see him that night, hearing the race details recounted, which is always fun.  Give me the play-by-play!!  Sunday morning he was willing to go out for a spin on his bike alongside me again while I did my run.  It was a hard run, and his presence was GREATLY appreciated!  We sat in the creek for a short time afterwards, again to help reduce any inflammation Lucas had incurred from his hard race effort the day before, and from my training that weekend.
Then we met up with some friends of mine, Susan and Brian – from Boulder – and we all drove to Denver to watch the end of the USA Pro Cycling Challenge that has been traveling through Colorado over the past week.  Think Tour de France, on a smaller scale, but through the beautiful, mounatinously challenging – and uber-fit – state of Colorado.  Spectators all around the state came out in droves to cheer and watch the amazing athletes wind their way through mountain highways.  Check out the route, host cities, and dates of the tour here.
The riders ended with multiple loops around Civic Center Park and the capitol building in Denver on Sunday, August 28th.  Susan, Brian, Lucas, and I had some good front-row spots on the road and we cheered our hearts out and tried to spot specific cyclists as they sped by; the whirrrr of the wheels is such an exciting sound!
Amongst some of the favorites in this Tour were Cadel Evans, this year's winner of the Tour de France; the infamous Schleck brothers (Frank and Andy) who have had multiple appearances and stunning performances in the Tour de France; Tom Danielson, a local Boulder favorite and a talented high altitude racer; George Hincape, a legendary figure in world cycling; Levi Leipheimer, one of the most accomplished professional American racers of all time; and Ivan Basso, a sports hero in his home country of Italy and one of the world's top climbers.
We had such a great time spectating – it was so exciting!!!  I felt like a little kid as I watched some great cycling legends I've only ever before seen on television.  It was truly inspiring.  I certainly hope Colorado will host a cycling stage race tour again next year!