Spectating Beach 2 Battleship Ironman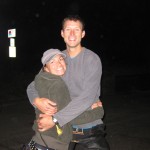 It's not often I get to play the role of Spectator – usually the events at which I'm present are because I'm participating. I've been very fortunate all through my life to have family and friends around me that are willing to support me by going with me or showing up to my races. It has meant a lot. I certainly have watched and cheered others on in events, but this past weekend was my first Ironman race to spectate. Lucas has been training for the better part of this year, including other races of various lengths, for this the Beach to Battleship Iron-distance race. It is put on by a local race director in Wilmington, North Carolina, and mainly locally sponsored. It had a different feel from the Ironman branded races – a feel which I really liked. A little more personal, in ways that feel important. I have raced the Vineman Iron-distance triathlon in northern California before, and it had a similar "more local" feel. The distances of all the disciplines are exactly the same, as well as all the complex challenges of completing a race of that magnitude.
We'd done some really solid training together over the past months – many times Lucas pushing me with his strengths, and I'd have to say me pushing him on occasion. It's been a good journey; we make a good team with this stuff.
I arrived in Wilmington, NC after a long layover followed by a mechanical problem and therefore a majorly delayed plane, ugh. I got in around 1am on Friday and drove a rental car 25 minutes to the coast where we were staying and where the swim start would occur at Wrightsville Beach the next day. Lucas had been there since Wednesday, doing all the pre-race check-ins and the variety of things one does in the final days before a huge race they've spent months and months prepping for, some of it including stress management. It can easily get a little hairy in those last couple days when you realize how much you've invested into the chance you get to prove if all your hard work was "worth it". This obviously varies with the athlete's perspective on competition and where they are in their quest for success – and what success even means to them. It really is a gift in many ways, yet even a burden in others, to have cultivated the drive to push your physical and mental limits to the very edge. This is something I've been learning over time, and especially this year in my first season of racing professionally. Priorities and feelings about what sacrifices are "worth it" shift and change, all the while I have been trying to maintain a healthy balance in my personal life. Everyone deals with these aspects differently. I try to look to those who I've seen successfully manage a healthy work/training/racing/relationship/physical and mental state. It's definitely an accomplishment to do so, and it's also what makes me think, at this point, that I want to get the most out of these years I will race pro, and then move on…


Saturday, race day, broke chilly and damp. Rain was forecasted but at least it wasn't coming down when we all headed to the start. It's so discouraging to begin a full-day race when it's already raining!! We awoke at 5am, and I drove Lucas to Transition 1 to drop off stuff for his bike, then we quickly swung by our condo to get his wetsuit and headed to the Swim Start on the beach. I fortunately found a parking spot with the help of some of Lucas' good friends from South Carolina, Wes and Rhea, who were there to lend their support in spectating. There were actually quite a few people there who Lucas knew – from different times in his life including his hometown Nashville, college basketball team, and days spent living in S Carolina. It was fun to meet these people — each person in our past who we choose to maintain contact with through the years are ones that really have contributed to who we are (and are becoming), and it's a sweet opportunity to meet those types of relationships of the person you love. Lucas' dad, Rusty McCain, was also there to race. He's done 6 Ironmans in the past, and has inspired Lucas many times during his journey of racing triathlon. It was so cool to get to watch them both race. Rusty's wife Mary Ann was also there as a champion spectator (she's done this routine a million times!)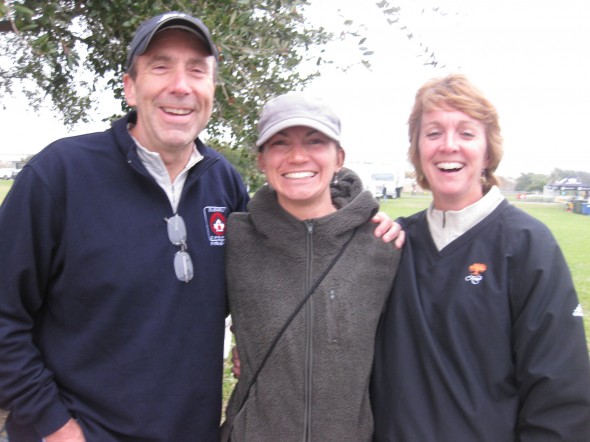 It was a thrill to watch them start, and then jump in cars to drive to T1 where we would see them exit the water and run through changing tents (many people were changing clothes completely or adding layers since the day was so chilly, and wind and rain were still forecasted). Lucas had a stellar swim and got off on the bike looking happy and ready for his race to really begin, the bike leg being his strength. I didn't go out onto the bike course, but Wes and Rhea did and they would keep me updated through it of how he looked, also sending me a picture and delivering a very important message from me to Lucas to keep him going. I'm sure it was this message that really kept him focused

I met up with Mary Ann and some other wives from Nashville spectating their Iron-men, and we took a short ferry trip over to where we could see the athletes finish the bike and go onto the run course. This was a really interesting course, but a little tough to spectate – especially following multiple people doing a variety of paces. I saw Lucas get off the bike and head out onto the run. Apparently it had been really cold and very windy on the bike – I was so glad that I was not racing this day! Those are two of my least favorite elements and can really challenge me not only physically but mentally. Give me sun, heat, and even humidity and I'll be much happier. Anyway, I was proud of Lucas' bike performance and he looked strong starting the run. I ferried back over to the mainland to be able to see him pass by a few more times on the course.
He ran a very solid marathon – really consistent and obviously had not pushed too hard on the bike. This is wise, but hard to find that balance which comes mostly from experience, patience, and knowing your body. He looked good all the way through, though of course I knew that he was pushing to that uncomfortable limit and it is such a fight in those last few miles especially. As he came into the finish chute Wes, Rhea and I were going crazy with excitement, seeing the race clock numbers….he had broken the 10-hour mark, which is a fantastic accomplishment. His final time was 9:56:18. So proud of my Cowboy!!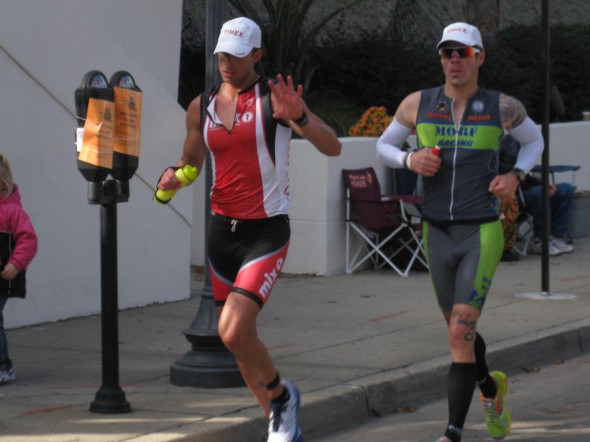 We came back to the finishline (by ferry) again later to watch Rusty come in, who also set a personal record (PR) for himself, breaking his best Ironman time from 10 years ago. The McCain boys were so happy and so proud of each other – it was such a cool thing to see. It was freezing and windy and we were all exhausted, and we finally made it back to Rusty and MA's hotel to hang out in a warm place and all chat about the race day. Then Lucas and I drove back to our condo and crashed out! Happily!
It was a great trip – always fun to get an opportunity to see another part of the country (I had not been on the beaches of the East coast), to meet important people from your loved one's past, and to be able to give back to someone who has really helped support you in your training and racing endeavors.