Race Report: Ironman Arizona Nov 20, 2011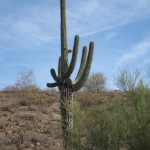 Last race of the year! I didn't talk a whole lot about racing in Arizona, because for a while I wasn't sure I would be doing the race. I was injured back in September, even before doing Ironman Wisconsin, and had to take some weeks off running after that race. I worked hard to rehab the injury, having help from a couple different local therapists. It was a patience-trying time; I had to recognize and accept that I had an injury that truly was going to hold me down for a while. There were some things I could do to help myself, and I did, but I also had to let time pass and really let my body recover and heal. It's much harder (for me, and countless other impatient athletes) to not do, rather than to do. Sometimes you simply have to step back and let things happen instead of make them happen. This is a lesson I've been taught before but continues to arise, and thankfully by now at least I seem to get the point earlier in the process.
I had registered for Ironman Florida, which was the first weekend of November, and ended up withdrawing from the start list when I realized I just wouldn't be race-ready after recovering from the hip bursitis. Ironman Arizona was only two weeks later, but it seemed enough to make the difference in feeling sufficiently trained and also mentally ready to put myself out there competitively. This was a very new process for me – as a pro, it is a benefit to be able to register for and withdraw from races without monetary (or any other) penalty. Pros can also register for races much later (closer to the race date) than amateurs can. This does take a lot of pressure off of deciding to race or not race, especially if you are deciding based on having been injured.
Since I have done a good amount of traveling for races and therefore taking time off work and spending money, I wanted to make this trip the most streamlined as possible. Lucas attended with me, and we left Boulder Thursday night after work, arriving very late in Phoenix. We picked up our rental car and drove to a hotel in Tempe (courtesy of some of my "sponsors", Rusty and Mary Ann McCain – THANK YOU!), and crashed out. Friday Lucas assembled my bike and we headed to the race expo site for me to check in and try to get in the water for a practice swim. The course was closed until the next day, when there was an organized practice for race participants only. I had heard this water was pretty cold, so I was anxious to get in and see just how horrible it was going to be! Instead of swimming, I checked in and saw a few other people I know from previous races. One person I ran into was Amy Latourette, one of the organizers of Vineman Iron-distance triathlon in Sonoma County. I won that race in 2008 and 2009, and had kept in touch with Amy after that. She and the other organizers of that race are such good people – it's such a great event and I recommend it to anyone who is interested in doing an Iron-distance race! I will definitely go back some day and compete there again. It was great to see her and introduce her to Lucas (who is planning on racing Vineman in 2012!)
Lucas drove us out to the Beeline Highway where much of the bike course would take place on Sunday. Ironman Arizona has a pretty flat course, and is known to have the potential to be very fast. It can get windy out on the highway, but fortunately it wasn't too bad this weekend. The course is three loops, so it is very spectator-friendly. This can be good for the racers (gathering energy as they pass by large groups of cheering people 6 times during the bike portion), but it can also be a mental challenge. The course scenery is pretty monotonous, and it also gets very crowded. Imagine almost 2,900 athletes riding their bikes (fast) in a 37-mile stretch, round and round and round…you truly have to be vigilant in staying over to the right and passing concisely and with caution.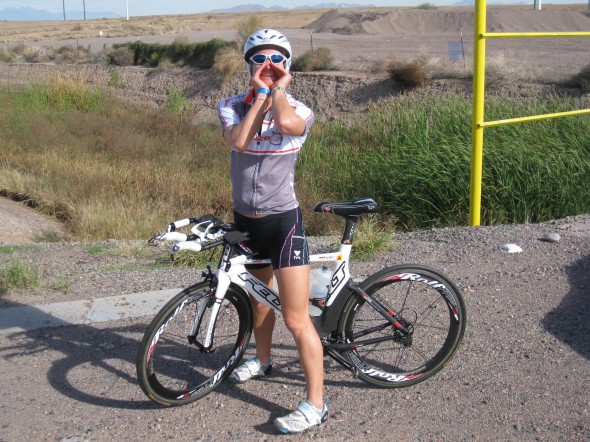 After the practice ride, we headed to a grocery store for some necessities and snacks, and then back to the hotel for down-time. Thanks much to Lucas, I've gotten a lot better about not doing too much in the days before a race and really taking down-time and rest seriously. It makes sense – pushing your body to the limits on a regular basis, you truly have to treat it well if you are going to expect anything near greatness from it! In the past, I've really pushed too hard without enough rest and recovery. I've been very fortunate to not have been sick or injured more than I have been. My body has been good to me and has put up with a lot! I am recognizing more and more the value of "less is more", of quality hard work, and adequate rest. I'm very grateful to be realizing this now, and have the practical support of my boyfriend (and coach Curt Chesney, and family), to put it into better practice.
Race Day (Sunday) we awoke at 3:30 am, did the regular race-prep: bathroom, breakfast, suit up, put race tattoos/number on, sunscreen, bathroom, pace around the room, bathroom, gather up bags, leave!!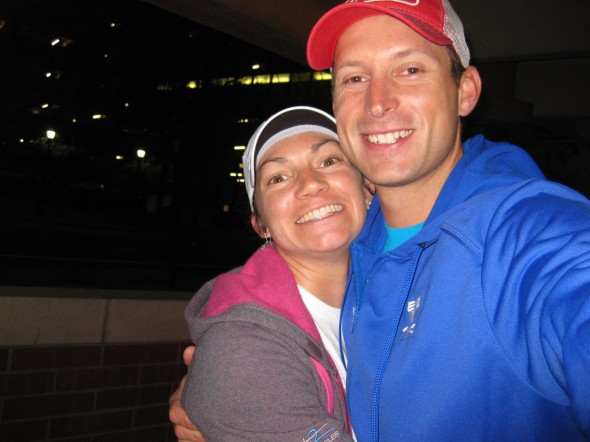 We parked and walked up to the race site where I put all my nutrition (collective term for water bottles packed with specific and precisely-calculated calories, Gu energy gels, salt tablets) on my bike and added some things to the Run and Bike bags I had dropped off the day before. I had ample time, but it goes quickly. Especially if you stand in line for a port-o-potty and then wrestle on a full-length wetsuit while you're getting kind of nervous….drop off your Morning Clothes and head to the water to start!!
My swim went really well – 58:23. This is about 2 minutes faster than I've swum in a couple years! I was very pleased. I want to say Thank You to one of my main sponsors, Tyr, for the full-length, long-sleeved "Hurricane" wetsuit they outfitted me with. It fits well and kept me warm for the chilly water (about 61 degrees). I had no concerns about discomfort once I entered the water on race morning.
Bike – 5:06:28 (21.92mph) The three-loop course was pretty flat, fast, kind of boring (though you're not really looking for a lot of entertainment with your head down and drool coming out of your mouth!), but I did really enjoy seeing Lucas and a couple other spectators I knew many times during the race. I felt strong and efficient on the bike. I've been thankful to have a really great bike fit from Retul in Boulder, and my Felt B2 bike has performed well with me for three seasons now. I was diligent with my nutrition, knowing how crucial that is for being able to perform in the run. The temperatures of the day were really nice – the high being in the mid-70's. There was a pretty good headwind coming back in on the third loop, and that was frustrating. I was tired and the constant aero position was wearing on my shoulders. It was interesting to feel that difference – I've done much hillier courses in the past where you truly can't stay in aero position the entire time, and this time I rarely came up out of that position. It takes a bit of a toll on your body and energy level – especially if you're not prepared for that (just like anything). I had to go to the bathroom but have not mastered peeing on the bike, and I could not let myself waste time to stop and pull over to use a toilet. So, I bucked down and tried to ignore that discomfort. By the last few miles of the bike, I was so uncomfortable. I felt I had ridden well but I couldn't wait to get off my bike. I ran straight into a port-o-potty in T2, and I took my time changing into run gear. I just needed to not rush and get a little more comfortable (in body and mind) before heading out on the marathon. I wanted to do a solid performance, and I knew I was not going to be placing in the top 5 or even 10 in this race. There were a lot of pro women competing (more than in any other race I've done), and a lot of very talented ones. In a way, this took a certain pressure off me – I knew I wouldn't likely be in contention for a top place, so it was more about me racing my own race and focusing on a respectable time. My biggest goal here was to break 10 hours, which I have come close to several times but have never managed to do. I knew it was possible here, on this fast and flat-ish course, and with the crucial rest time I'd taken on top of the solid training I've had all year. It was high time to go after the sub-10 race time.
Run – 3:29:10. I continue to run the Ironman marathon pretty consistently, but know this is an area in which I really need to improve if I am going to expect to improve my overall Ironman time and remain competitive in the professional field. In this race, I had done a good job sticking to my nutrition plan during the bike, and therefore I was fueled for the run. The temperatures of the day were not very hot, and the course was pretty flat (with a few significant yet short hills). These factors contributed to me being able to run well without a lot of discomfort or fatigue for more than the first half. Around mile 16, I began to feel a sharp pain on the side of my left knee. It was significant, yet not inhibiting my ability to run. Basically I just had to make the decision to remain mentally strong and keep running. I had been keeping track of the time and even if I slowed to 10 minute miles for the remaining 10 miles, I would still come in just under 10 hours total (my goal). Though my knee was really hurting, I felt that I could continue on and didn't even need to slow down much. I also figured that slowing down would just "drag out" me finishing this race and being able to STOP, so that was motivation to try and maintain a decent pace.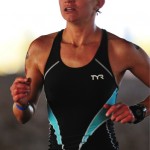 I crossed the line at 9:40:22, so so so glad to be finished – not only with the run, the race, but the season. I've had a great season overall. I am incredibly thankful to have had the opportunities to train under a talented coach, push my body and see results, learn a ton about training and racing as a professional athlete. It is time to take a break from focused training for a while, catch up with some friends and family, rest, get festive for the holidays, maybe gain a few pounds – aaahhh! Sounds good to me. Thank you for reading my lengthy blogposts and race reports. I have loved having this website and opportunity to write about my experiences. I know at least my parents Nancie and Jerry, and my Aunt Lynnie are regular readers.

I'll keep writing, and I have great expectations and high hopes for the 2012 Triathlon Season.