Race and weekend Report: Rev3 Knoxville May 6, 2012
I want to start off by tipping my hat, or my aerohelmet, to Rev3 productions because they do a great job.  If you are not familiar with their name (short for Revolution 3), they put on triathlons of differing lengths around the country, on par with the Ironman-branded company.  They haven't been around as long, and many of their events don't have quite as large of a field, but man I hope they stick around because they are attuned to detail and to the athletes' needs.  Their event locations are fun destinations, they do quality work, put on a good event that can involve the whole family, and as an athlete I can say they were great on communication and assistance.  I happened to need a few things leading up to and just before the race, and whenever I reached out I got a quick, friendly, concise response and they did whatever they could to help me out.   If you are looking to try out triathlon or just for a next race for which to register, try out a Rev3!
Lucas and I arrived in Nashville late Thursday night after a smooth flight on Frontier Airlines (a plug for them is that we can fly our bikes for the same charge as regular luggage, which is quite a bit less than other airlines).  Lucas' dad, Rusty, met us there with a giant hug, and we spent the night in Nashville with him and Lucas' step-mom Mary Ann.  The next day we put our bikes together, did a few errands, and hit the road for a 3.5 hour drive east to Knoxville.  It was a beautiful day.  Tennessee is so green this time of year – and they told me it stays green till the fall when it becomes quite possibly even more beautiful with fall-colored foliage.  The rolling hills and blue sky made for a lovely drive, and we all joked and talked which made the travel hours fly by.
Knoxville appears to be a very nice city, home to the University of Tennessee and Neyland Stadium where I am told over 100,000 people can spectate the Vols and it is sold out for every game; and, that they have a magnificent marching band – so I want to go back for a football game some day!  Fact about me:  I am not a football fan, but I am a huge marching band fan!  And the collegiate spectator enthusiastic atmosphere sounds like a lot of fun.  The expo and finish area was in the World's Fair Park, which was constructed for the 1982 World's Fair, held in Knoxville.  It was a great venue, right near a greenway (path) system and the Tennessee River, where the swim took place.
20 seconds into our pre-race short ride, out on the course to test some of the hilly topography on our bikes, my back tire blew out big time.  Now, this isn't usually a big deal, it's annoying and we all would stop to wait while I fixed it, but my race wheels are "tubulars", which means they don't have tubes inside the tires.  The tires are specially glued to the rim of the wheel, then inflated.  The risk of flatting is much less on these types of tires, so they are good for racing.  But if you do flat, you are in deeper trouble.  Some people carry extra tires and can fix the whole thing with special adhesive tape, but…I do not.  On top of this, my bike has a very small frame and it's wheels are 650 centimeters in diameter, as opposed to the much more common 700c.  650s are much harder to come by at bike shops.
So, less than 24 hours before the race things looked grim.  We called 5 local shops to no avail.  Mary Ann called their friend Howard in Nashville, who also rides 650s, and he agreed to let me borrow his wheels (he even had nice race wheels!).  Very fortunately, Lucas' mom and brother and his family were driving to Knoxville that afternoon so they could spectate the next day.  With a bunch of telephone coordinating, we got it all lined up for the 650 race wheels to be picked up and driven to our hotel.  This was wonderful, as it literally saved my race.  But I did have to wait till that night to receive the wheels and make sure they worked (they did).  We had to get special permission for me to turn in my bike the next morning (race morning), because the athletes are supposed to do that on Saturday.
Whew – it was a little stressful.  But I am so thankful that Lucas' family 1)  has great connections and 2) are so willing and generous with their time and support!  A huge Thank You again to:  Rusty and Mary Ann McCain, Howard Newsome, Teresa Dillehay, Clint and Amanda McCain, and to Lucas himself who kept me calm, was so available, and is the reason I had all these connections in the first place!
Sunday morning dawned with pleasant temperatures and moderate humidity.  We got to transition, turned in my bike with her borrowed shoes, and headed down to the river.  I was excited to race for the first time in my Freak of Nature wetsuit – got a couple comments on it as I was waiting to get in the water (anyone who recognized it knows it's an incredibly expensive suit – one I certainly would not have if I had not received it for free from my sponsor, Tyr.)  I was hoping that it would have a secret motor that would take 5 minutes off my swim time, but it did not.  I think that motor is up to me, hmm… I had a decent swim in the river of about 65 degrees (great temp for swimming in):  28:49.    The transition area was in a parking garage a fair distance from the water (for running in bare feet and a half-way pulled down wet suit).
I headed out on the bike course, excited to greet the hills.  It was very hilly – I'd liken it to the Ironman Wisconsin course, with possibly more extended climbs in some areas.  The terrain was as beautiful as it was challenging.  Ya'll know I love hills, so this course suited me.  I would've liked to see a little faster bike split, as I've been training hard at this portion of triathlon and feeling strength gains in this area, but was happy with a 2:32:46.
T2 (second transition) – I ran awkwardly in my cleats on the parking garage surface.  As I rounded the aisle to park my bike, I looked up and saw my Cowboy pointing at me and grinning as he yelled, "I see you Garcia, you had better come and get me".  I needed no further prompting or invitation…I hustled to change my shoes, don my hat, bib number, and hand-bottle (with calories inside), and ran out into the sunshine and growing humidity.  The first couple miles of the run course were somewhat downhill, and my legs turned over well.  I was going to try to hit some pretty fast mile splits…but I didn't entirely reach that goal.  The heat and humidity, to which we Coloradans are not acclimated – especially this early in the year – and the big hills in the course later on, slowed my pace and even though I tried to mentally push through, I continued to slow gradually after about 8 miles.  I ended up with a 1:33 (7:07 average pace), not a PR by any means.
My overall time was 4:41 which won the female division of the half-ironman distance.  If you read my earlier blog, I explained that Rev3 highlights one of their races at each event to have a pro field and offer money prizes.  In Knoxville, it was the Olympic distance race (which went off before ours, and finished much more quickly than ours).  The finishline announcer made a comment about my time and place and he suggested that I go pro.  Sheepish grin….um, yes, I should shouldn't I?  No more sand-bagging.  Hmmm, no, that is NOT why I did this race.  It was fun to win but I did this distance simply because I wanted to – it suits me more than I shorter race, even if there is no money to be won.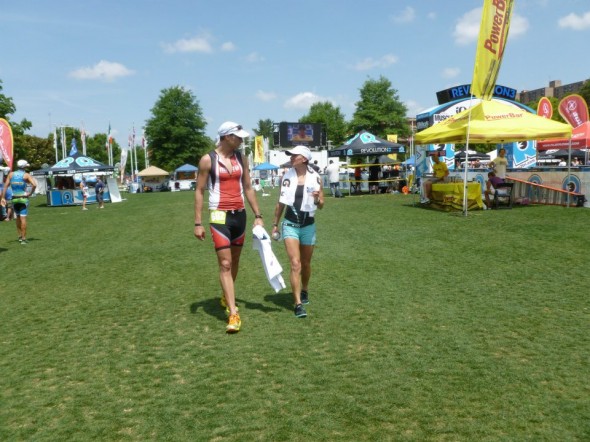 I am so glad Lucas and I went to Knoxville – it was such a great trip, we both raced well, spent some quality time with his family, and I got to see another beautiful part of the country (and his home state, which means so much to him).  Thanks again to my sponsors – Tyr, Gu Energy (always using their training and racing nutritional products, my favorites being their Roctane line, specially formulated for endurance activities), Zeal optics – new glasses with which I loved racing!,  and to Lucas' family and Howard.  I love my Rolf Prima race wheels but am going to have to figure out how to be better prepared in case of the unexpected flat.  Check out a Rev3 race, go to Knoxville, or look up the McCain family if you're ever in Nashville – they are extremely hospitable and fun people!