Race and Weekend Report: Ironman Coeur d'Alene June 24, 2012
Another great opportunity to celebrate success and learn from mistakes.  Man, I can't seem to shake that last part!  Every race there is something new to learn – and that is positive.  What gets frustrating is the repeated "Aw, man I shoulda….." fill in the blank.  Ah, well, it's the human experience isn't it?
This trip was made more special by not only having my great supporter and "manager" Lucas, but my parents Nancie and Jerry also joined this trip.  They drove from northern California to Spokane,WA where Cowboy and I flew in with gear and bikes and they picked us up.  We made the 30ish minute drive to Coeur d'Alene, Idaho together.  This is a lovely area of the country; I really enjoyed seeing it.  We were in the mountains, but not quite as high in altitude as Boulder.  The weather was refreshingly cool and mostly cloudy in the mornings, turning into sunny afternoons in the mid-70s.  A thunderstorm one evening, some rain another.  It was great!  Race morning was probably the chilliest, with some sprinkles, but again it turned warmer and nice by early afternoon.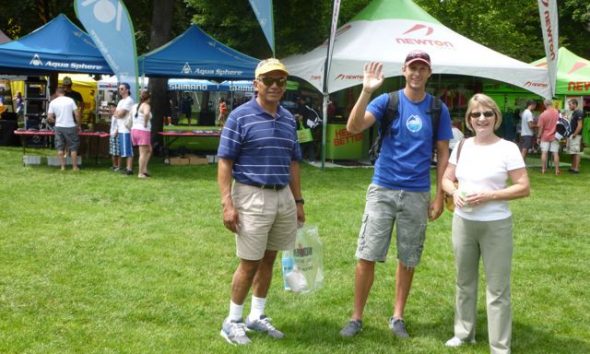 Pre-race prep is getting smoother and less hectic.  Even packing for this trip took less time than usual, as I did less scurrying about trying to remember all the pieces and parts to bring…and left less things to last-minutes, such as errands and borrowing items and paying bills that would be due while gone…so many things to juggle!  I had rented a house in CdA which was only about 5 blocks from the main downtown strip and where all the race hubub was going on.  It was a quaint older building which housed other apartment rooms as well, and a very friendly, chatty, knowledgable "inn-keeper" named Bea, whom I fondly referred to as "Our Gal Bea".  She lived in the building with a room right across from ours; once when we called her to report a leak in the fridge, she said "I'll be right over" and before I could even hang up the phone she was knocking on our door.  Talk about a timely response!
Two of Lucas' good friends, Wes and Rhea Spratt from South Carolina, were also in CdA for the race.  I had met them both last year when Lucas raced Beach to Battleship in Wilmington, NC and they came to watch and support.  Such great people!  Wes was racing this time, and Rhea there to support.  They had rented a house that turned out to be only two blocks away, and we joined them for some hang-out and dinner one night.
The day we arrived we did the regular race check-in, expo, look around the town, etc.  Friday Lucas and I donned our wetsuits and jumped into the very chilly mountain lake for a practice swim.  The temperature reports we heard ranged from 35 degrees (quite dramatic) to just over 60 degrees (more realistic, albeit cold no matter what).  I had borrowed some neoprene booties and a hoodie, some equipment I have never before used, never having swum in such cold water.  I laugh at myself because on Race Day I was the ONLY pansy pro on the start line wearing these extra accessories…but, I was warm!  I'm not sure I would wear the hoodie again, as it was a little restricting under the chin when swimming and breathing hard, but the booties were awesome and kept my feet from being ice cubes as I started the bike leg.
We rode part of the course, and drove another section of it, feeling out the climbs and descents and checking out the landscape (beautiful).  These pre-race "duties" were all the more enjoyable with the great company, building excitement, and lovely setting.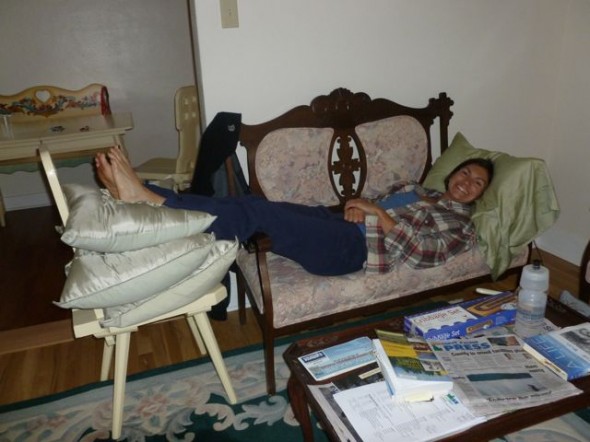 Race morning was quite chilly and completely overcast; even a few sprinkles fell.  I arrived with plenty of time (at least when I make mistakes, I don't usually repeat them…I just find new ones!) to put the bottles on my bike, add a couple things to my Bike and Run bag, dance around with nervous anticipation in the port-o-john line, ask for the official water temp (59), and get my Freak wetsuit on.  It was a beach start, and the pro field all lined up till the gun went off BANG!..Here we go, just another day at the office.
The swim was a bit choppy, and certainly cold.  My hoodie was more restrictive under my chin/neck than it had felt in practice sessions.  I drafted a bit, then lost the girl.  I was not feeling very confident that I was having a great swim, and I did get into a little blunder with a small group of women pros who started to shortcut the turnaround (you had to get out onto the beach, run a very short way, and dive back into the water for the second lap), so that was frustrating.  But it was a decent swim in the end.  Upon finishing, the wrist of my wetsuit got stuck on my watch (which I regret to have been wearing), and I struggled to get the suit cap and booties off, carry it all with me without losing any pieces into the Transition Tent, and then put on socks, shoes, helmet, arm warmers, and gloves with frozen and cramping hands.  It was a total debacle, and I ended up wasting not only seconds but precious MINUTES before finally getting onto my bike (in 7th place) and out onto the course.  I have never been really smooth or quick at transitions, but it's becoming a real problem.  You'll see why when you finish my blog and see what happened at the finishline…
Swim split:  1:01:56
The bike course was hilly – I say hilly and I mean fairly long grades, not just rolling hills – and we had a headwind for a good portion of it during the second loop.  I had worked my way into 4th place, and perhaps I pushed too hard on some of the climbs, but around 3 hours and 45 minutes into the bike, I felt fatigue in my legs and a lessening of motivation…I took in some extra calories, and tried to summon my mental strength after being passed twice, falling into 6th place and feeling very negative…finally at the turn-around we ceased to have that headwind, the extra calories were helping, and I picked up my pace.  I didn't regain my position, though.  Within the last 5 or 6 miles, there was a significantly long "No Pass Zone", due to a narrowing of the course and a heavy stream of athletes.  I understand there are safety concerns, but this IS a race, and it was very frustrating to get stuck behind a few athletes who were not riding very fast, and I could not pass them for fear of incurring a time penalty.  Finally I came into Transition, deciding to put the disappointing bike performance behind me and determined to make this a positive and successful marathon.
Click here to see video clip:  Whit Bike IMCDA 2012
I was extremely encouraged to see Lucas and both my parents along the sides of the road just outside of Transition as I headed out onto the run course.  The decision to stay positive and not let this run be just a Drudgery to get through was the best choice I'd made all day (much better than wearing that watch or trying to put on arm warmers with frozen hands; possibly even a better decision than relieving myself ON my bike — first time!  Do I get a medal for that??)
Bike split:  5:32:47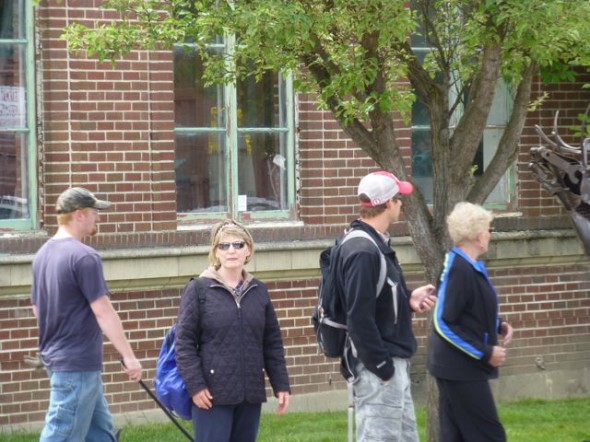 The run course was fantastic – it had a neighborhood section full of spectators, a downtown section also full of cheering people, a fairly long stretch out and back along the lake (beautiful), and the aid stations were awesome – people cheering and playing music and the volunteers are so great

 I stuck to my nutrition plan, the day was not overly hot and I stayed hydrated easily, I dug deep and utilized all that run training I'd invested in and ran some very steady-paced miles.  I made my way from 6th to 4th and then to 3rd!   (Unfortunately for her, the very talented pro athlete Heather Wurtele who was in first then second place during the bike and into the run incurred a major penalty and was forced to drop out of the race.  I feel for her, but on the selfishly positive side, it sure did help my position!)
The cheering crowds were so fun – I tell you what, you smile and give a few waves or thumbs-ups and people love it; they cheer even louder and they remember you when you pass by again.  Seeing Lucas and my parents was even more of a boost.  Lucas borrowed a stranger-turned-immediate friend's mountain bike and rode out onto the less-populated part of the run course, surprising me with encouragement and a photo op (which he posted on Twitter).
In the last two miles, I had gained significantly on the 2nd place girl and was closing in – being cheered on my the crowd.  At that point, with the fatigue of the day, I almost wished everyone would STOP telling me to "Go Get Her!" and just say, It's cool, Whit, go ahead and jog it in.  I did pick up my pace but not quite enough to catch her and though I could see her in front of me as we ran down the final stretch, I lost to her by 21 meager seconds!!!  (See why that overly-long T1 was so humbling and disappointing in retrospect?).  I did earn a significant run PR (3:20), and was very happy with that, and with 3rd place, winning $5000 on the day.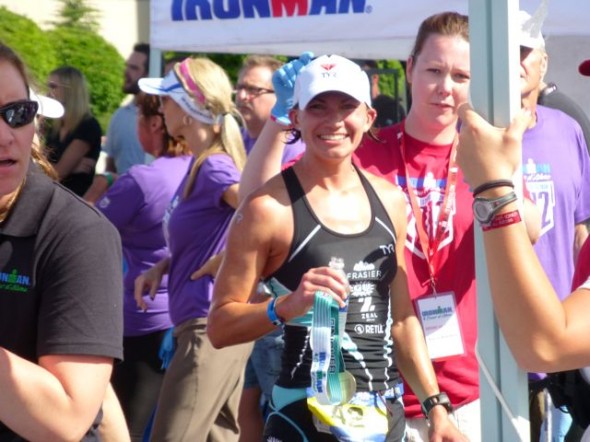 I was whisked away for drug testing (all three of the top female finishers were), and once that was done, I could go collect my things and get home to rest and eat pizza which Lucas and my dad lovingly went to get for me.  Everyone had been so helpful and so good to me.  I am so thankful for such a support crew.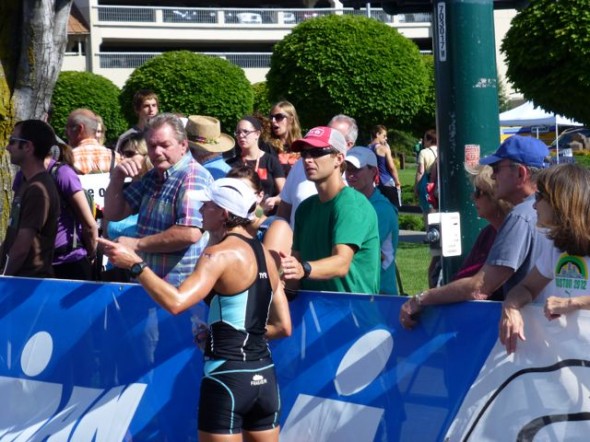 We all went back around 11pm to watch the last finishers coming in (cut-off is midnight).  This is such a special thing to do – it's so cool to cheer in those folks who for whatever reasons have been out there ALL DAY LONG, and they earn their "You Are An Ironman" announcement as they cross that line.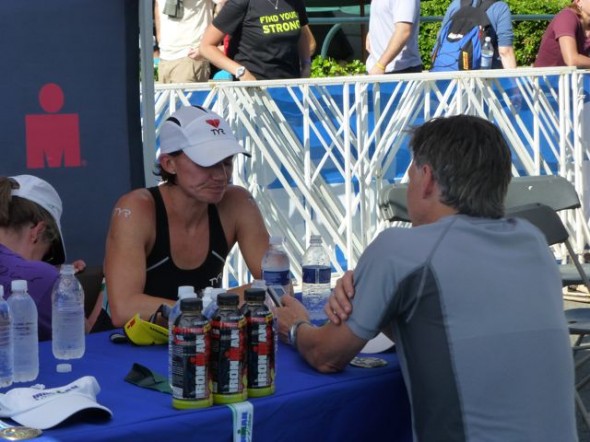 "Continuous effort — not strength or intelligence — is the key to unlocking our potential."
- Liane Cardes