Vineman Re-visited
I did the Vineman full iron-distance in 2008 and 2009, winning both years.  Those were glorious races!  I had trained hard, but in 2008 I did not in any way expect to place as overall female winner.  It was so thrilling so be escorted by the lead motorcycle, and receive thunderous cheers from so many people I did not even know (aside from the thunderous cheers of my family and friends who were there to support me).
I went back the next year to "defend my title", and succeeded, bettering my time by 23 minutes as well.  Besides that I had great victories at this race, I also loved the course.  It is a beautiful area of California, Sonoma County, wine country/rolling hills/brown hillsides with green foliage and rows and rows of vineyards.  I grew up (from 10 years old up through 19), and my parents still live about one hour north of this area, in Ukiah, California.  So it is coming home to attend this race.  Lastly, but not least(ly), the race directors and organizers are FANtastic.  This race is not owned by the World Triathlon Corp (the "Ironman" brand), and has been going on for 23 years now.  It is excellently-run, and it feels special.  Not that Ironman-brand (or other brand) races don't feel special, and each year every participant's experience can vary and have the potential to be incredibly special.  But this one, the Vineman, has a friendlier feel…a little more local feel…and yet it is incredibly professionally run, and draws a very competitive crowd.  Race director Russ Pugh and coordinators Amy and Dave Latourette, amongst many others, have done a fabulous job keeping everything top-of-the line and very quality each year.  I became friends with Amy and Dave (sister and brother) after winning in 2008.  We have kept in touch, and have run into each other in a handful of races around the country that Dave is competing in, or that they are both spectating.  They are top-notch people and I am thankful to have met them!
So there's a little of my background with this race in particular.  It holds a special place in my heart.  So when last year Lucas said he wanted to do this one l said YES do it!  We put it on our calendar right away.  He trained for the full distance, and I planned to do the Half Aquabike for training, as I would be racing the Boulder 70.3 the very following weekend.  This worked out perfectly, as our wave starts were an hour and a half apart, so I was able to take him to the start, see him go off and come in from the swim, start my race, finish up while he was still on the bike, settle in with the McCain/Garcia Family and Friends Spectating Crew, and see Lucas come off the bike and do the entire run and finish.  Perfect!
What is an "Aquabike", you might ask?  It's simple.  It's a triathlon without the run.  Aha – perfect for those who hate running, who love to swim and get out of the water fast, who have had a running-related injury, who love to race hard on the bike, and who like to be done earlier in the day!  It has become a legitimate event, with series and championships.  Vineman Aquabike boasts the largest field in the country (maybe the world?), and has been offering the event since 2005.  They offer the Full Distance (same as iron-distance in the swim and bike), and the Half Distance (same as half iron-distance in the swim and bike).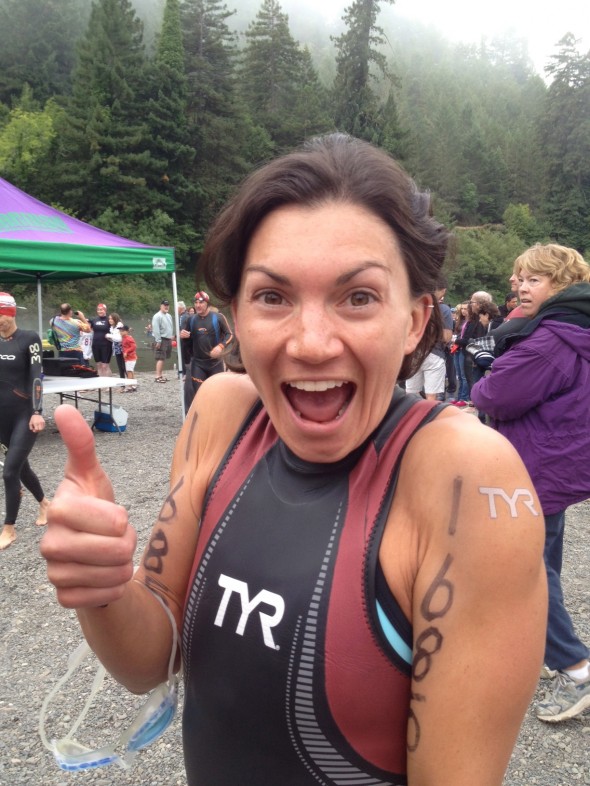 Lucas trained hard and completed the full iron-distance course on what became a very hot day, and with a very unfortunate set-back during the bike.  On the second loop, a race participant somewhere in front of him hit a waterbottle in the road which caused their bike to go out of control and crash off of a bridge.  The race was stopped just at that point, while a LifeFlight helicopter flew in and landed on the bridge, collecting the cyclist and stalling the race for about 15 minutes.  In a circumstance such as this, no one really grumbles about being stopping and made to wait, even though it is during a race and one toward which each person has trained months and months in order to perform their best on this day.  One is thankful that they are safe, and their heart breaks for the victim of the accident.  However, it did in fact add 15 minutes to Lucas' bike time and allow so many people who he had passed to catch up to him and then everyone just re-started together at the same point.  So that in itself is a bit frustrating.  Lucas had a very good attitude about it.  Amazingly, we got a PHONE CALL from him while he was held up waiting for the helicopter to take off again.  He borrowed someone's cell phone and called his father Rusty, by whom I was standing at that moment, to let us know the reason for the hold-up.  It was very nice to know what was going on out there, and why we would be waiting longer for him to come in…also a relief to know that he was okay.
Lucas' dad Rusty, step-mom Mary Ann, family friend Cliff, and my parents Nancie and Jerry, family friend & SuperFan Lynn Story, and myself were all posted up under a large oak tree with camping chairs, drinks, a great spread of food, and armed with cell phones and notepads for calling Lucas' brother Clint who was himself posted up at home in Nashville at a computer – updating us with splits and which guys in his Age Group to look for (and not to cheer for – haha!) Lucas' own SuperFan Mother, Teresa, was also back in Nashville, diligently tracking his progress and calling concernedly when she knew he hadn't met the run splits he had wanted to later in the race.  We had a great time altogether, rooting for my Cowboy.  I was very proud of him.  Even with a very hot day, an unfortunate set-back on the bike, nutrition issues and dehydration during the run, he gave it his ALL, and he kept a good attitude.  There are things to learn in every race, and in an iron-distance race, you have ALL DAY LONG to earn and learn those lessons.  It's what you take away with you that really matters.
We both will be on the course together at our next big race:  Ironman Wisconsin on September 9th.  A little rest and recovery, and hit the training again so we are ready for it!