Race Report: Ironman Wisconsin Sept 9, 2012
For our last triathlon of the year, Lucas and I returned to Madison, this time both of us to race the Ironman held there on September 9th.  Something different we had both been looking forward to was a Homestay which had been set up through a contact I had with Ironman (corporation).  There are people and families in Madison that open their homes to host athletes for the race.  I am sure all of the host volunteers are hospitable and kind, but we were lucky enough to land the BEST of all the host families!  My Ironman homestay contact email-introduced us to Bret Newcomb, partner of Newcomb Construction in Madison, WI.  His wife, Rachel, owns and operates a local fitness center called Fourier Fitness.
Bret and his 14-year-old son, Gus, who is a very talented young triathlete himself, met us at the airport late on Thursday night.  We all chatted easily, sharing stories on the drive from the airport to their (beautiful) home in Middleton, a suburb of Madison.  Bret is super-friendly and we felt immediately comfortable with he and his wife, Rachel (also super-friendly and cool!).  Their children, Gus (14), Gretchen (11), and Sadie (4) were very nice, well-behaved, smart and fun kids.  The dynamic of their family really impressed Lucas and I; we admired how everyone demonstrated respect to each other, and also got along well and had fun together.  It made us feel very comfortable and at ease.  We also got to meet Bret's parents ("Grandpa Bob" and Chris, who lived right on the bike course and on race day would be out there cheering wholeheartedly for Lucas and I with huge handmade signs!)
We had been to Madison the year before, when I raced and Lucas supported.  He had decided to compete along with me this year, having raced Vineman only 6 weeks prior.  We did most of our usual pre-race prep and "rituals", this time assisted by the Newcombs.  They even leant us one of their cars to use for the weekend!  Having locals who are familiar with the area, any last-minute items (new bike tires, ice packs..) or help (fixing a race wheel), and acting as chauffeur on race morning (they know the best route and where to park) is SO helpful and really takes a lot of stress out of the picture.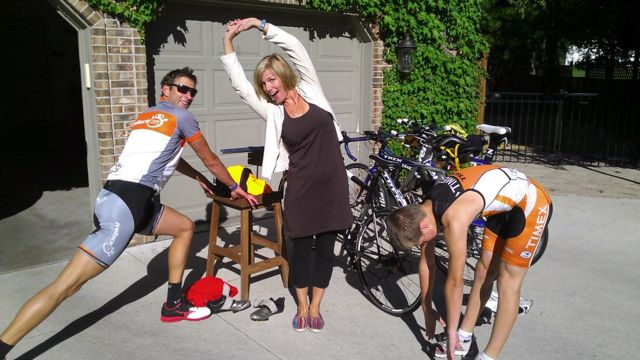 The day before the race, Bret and Gus joined Lucas and I for a short ride and brick run.  The topic of transitions came up, and I explained how I really needed to improve mine.  Gus and I found a something to bond over as he relayed to me how he used to have slow transitions and his coach had taught him some ways to cut time.  Once we were finished with our brick run, Gus showed me some pertinent transition pointers, and we practiced together for about an hour in their driveway.  It was so helpful!  I am very grateful to my new Transition Coach for the time and tips he gave me!
Though the night before we had some heavy rain and thunder, race morning broke mostly clear and a bit chilly.  Bret and Gus were volunteering at the swim, so we all four piled into the car and headed to the race start venue.
I had a decent swim in Lake Monona, though it felt better than the time indicated.  The transition run up the well-known "Helix" to the convention center where the Transition Area is (inside) and out onto the high parking lot where the bikes are racked.  It is thrilling running up the Helix, still in wetsuit, with crowds about 3 people deep lining the entire way and cheering loudly!  I was in 6th or 7th place out of the water.  Not my best swim, and I'd need to make up some time on the bike to get into a better position for the run.  I missed my Cowboy on the sidelines, cheering and yelling my splits to me!  But I smiled thinking of him, still in the water having started with the hoards of Age Groupers 10 minutes after the Pro wave.  I hoped he was having a good swim, and would enjoy the upcoming hilly bike course.  We would not see each other till the run, due to the 10 minutes separating our swim starts, and the "lollipop" of the bike course.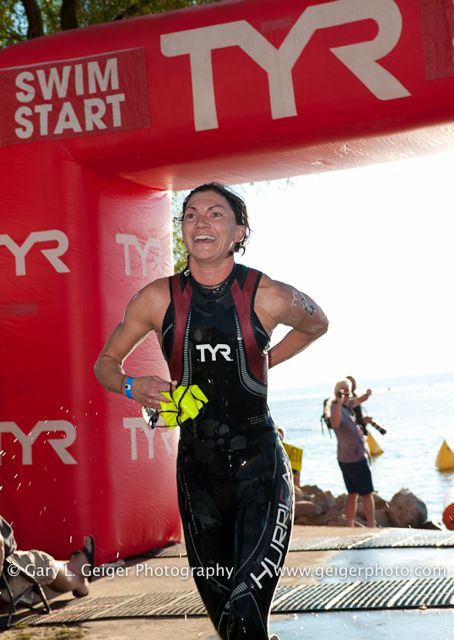 I felt strong and excited on the bike for a the first half.  Then I began to fade.  This can and HAS happened, so I didn't freak out but tried to stick closely to my nutrition plan (despite losing one of my precious bottles of pre-mixed special calories over some railroad tracks).  Things always come up in ironman distance triathlons – problems to overcome, irritations to shake off, and spirits that dip and soar and you can't let it take you down or carry you off when they do.  This is one of the brilliant things about ironman triathlons, but it is a dangerous thing to assume you will have things under control for most of the race.
As my energy dipped, so did my spirits.  I was passed by a pro woman who I tried to at least keep in my sight, then I was passed by a second woman.  This time I was angry.  I let the legally-required amount of time and distance elapse before passing her back.  I was not going to lose two places; the bike is supposed to be my strength!  Or at least this is what I believed on this course in particular, with all it's curves and hills which I love.  Bad timing for me:  I re-passed the girl just before the longest and steepest hill on the course and I had to power up it to stay ahead of her (and to show her how strong I was on the hills – trying to intimidate her!).  This was not a wise move, because I blasted my heart rate up too high to maintain for very long, and remained "in the red" for the entire hill.  She passed me  shortly after the crest.  I was almost heartbroken!  I felt resigned and just wanted to get the rest of the bike course over with, which is not a positive or strong way to knock off the miles that yet remain (about 40 miles at this point for me).  I knew I had to pull my head out and keep as positive as possible, sticking to the nutrition plan, and trying to reel those girls back in.
I did not reel them back in.  I felt a bit better and my bike cadence and power improved, but it was not my best bike performance and was slower than what I had biked the course in last year, so this made me quite disappointed.  But then, there is still the marathon to contend with…I could make up time and places there if I ran well, and my coach and I had planned for me to improved on my time from IM Coeur d'Alene (which was itself an ironman-run PR).
My run felt great for the first 6 miles or so.  Then the fatigue started settling in, which is normal (I was lucky to get 6 miles of feeling so good!).  But here is where I made my fatal mistake:  it was not nutritionally-related, I did not go out too hard…the mistake I made was that I gave in, mentally.  When the going gets tough is when your race really starts (this means you have multiple "starts" in each ironman race!)..I was already disappointed with my swim and bike performances, I had dropped to 7th place by this point in the run, and I just thought "You know what, I don't care.  I don't want to fight this battle to gain places or time.  I just don't care and I just want to be done".  (Sounds like a tantrum, doesn't it?!)  I have entertained the apathetic thoughts before, but I usually pull myself out of them and find something – anything! at times – to motivate me to push on and perform to the best ability my body has to offer that day.  (Sometimes you cannot help what your body is doing and no mental strength will make it different; this was not the case for me today).
Once I flipped the switch in my head to Negative/Apathetic, all the current discomforts became glaringly obvious:  my feet hurt (I was wearing racing flats for the first time in a marathon-distance run); my legs were heavy, my shoulders drooped, the air was getting hotter, the hill up ahead looked huge, my mouth was dry…  7th place was just out of the money prizes, and I was 4 places down from what I had come in last year.  I was so disappointed and I just plain gave up – which is even more disappointing!
For the first time ever, I considered pulling out halfway through the run.  I reasoned to myself:  "Why trash my legs when I am definitely not going to come in the place that I had prepared for and expected?"  Then right on the heels of that question to myself was "Don't give UP, Whitney.  You may have given IN to pain and discomfort and disappointment – and that's too bad – but don't give UP on this race or on yourself."  And I thought of Gus.  And Bret and Rachel…we had come all this way to stay with them as hosts for our race, we had bonded with them, Gus had taught me all he knows about Transitions in their driveway…damned if I was going to quit this race early and have them wonder what the heck my problem was.  I mean, really, my feet hurt??  So do everyone else's.  It's hard?  Yes, yes it is; it's a freaking Ironman.  Suck it up.  …I couldn't give up when these nice folks had given Lucas and I their whole weekend, their entire basement, a lot of food and resources, and they'd told their neighbors and friends they were hosting some pro's.  …A pro that DNF'ed because she was TIRED???  No, I couldn't do that to them!
So I kept on.  And I'm so glad I did.  Anything can happen over the course of such a long race.  In the past, I have gained places, I have found new energy, someone else has dropped out;  all those things change the game.  Today none of those things happened and I crossed the finishline in 7th place.  Four places down from last year, and yes, I was really disappointed in my performance.  BUT, on the bright side, my favorite person crossed that line soon after me.  Our fabulous, loving, kind, generous host family, were all there at the finish to cheer and greet us with big hugs and photos.  I was all in one piece, and so was Lucas.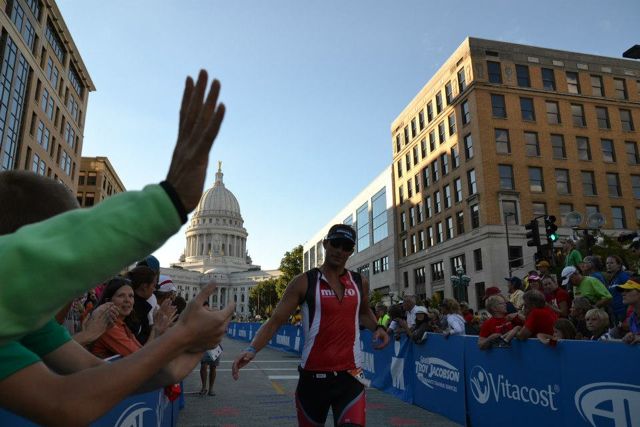 We smiled tiredly at each other, knew we'd re-cap the details later, held onto one another for a sweet "victory" hug, and would unravel the lessons to be learned a little later…after some food and rest with some great people.
And now Lucas and I are both ready to embrace fall and winter and whatever lies in the coming year.  We had a long, full season of focused training and racing and we are ready for some time to catch up on things that are neglected during "the season", including down-time, catching up with friends and family, and other activities than swim/bike/run.  Not sure what next year holds…we'll keep you posted!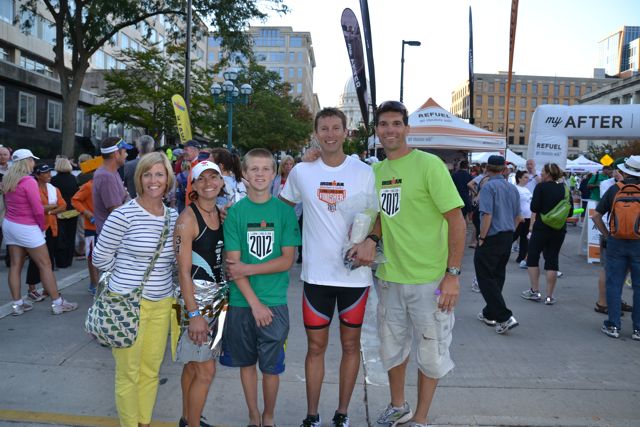 THANK YOU Bret, Rachel, Gus, Gretchen, Sadie, Grandpa Bob, and Chris!