StumpJump 50K
What is a 50K??  Fifty kilometers is roughly 31 miles.  The StumpJump running race took place in Chattanooga, TN, and was almost entirely on trails.  Running distances beyond a marathon (26.2 miles) are called "Ultra-distance".  The most common distances in this category are 50k, 50 miles, 100K, 100 miles.  (I guess race directors are either on one side of the Metric or American-crazy-measuring system or the other.)
I have never before run 31 miles.  The longest I can remember ever running was 27.2 miles and that was several years ago during a trail marathon (26.2 miles) where I got off the marked course and did one extra mile!  So, why did I do this event?  Well, because…I am me!  And I have a sidekick who is similar!  50K?  Shoot, we can do that!  It's not like we're off-the-couch athletes..we've been training for iron-distance triathlons since January this year.  Though for the record, trails are truly a different animal than road (more fun, dirty, bumpy, ankle-spraining potential is higher, post-race quad soreness is through-the-roof…just to name a few reasons)
Lucas' father, Rusty, and his wife Mary Ann had been training for this particular event (Mary Ann had done her first 50K earlier this year and CRUSHED IT!!!)  We decided to join in the fun.  "Hey guys, can we come?…"
We flew into Nashville on a Thursday night, drove  about 2.5 hours with Rusty and MA to Chattanooga (during the drive I was schooled on how to pronounce this city's name with the proper southern softness…I ended up throwing in the towel and referring to the place as "Noogs"), went to packet pick-up and looked around a bit.  We relaxed in our hotel for a couple hours, contemplating our strategy for the race the next day…
Lucas: So, I say we start out conservatively and see what we've got.
Whit: Yeah, sounds good.  And then we start passing people!
Lucas: We should hike the steep parts to conserve energy; it's just as fast and more efficient.
Whit: Yeah, and then we bomb the downhills!
Lucas: Let's go buy some new shoes to wear tomorrow.
Whit: Ok, great.  And I am going to wear a brand new sports bra I've never even tried on.  Hope it won't chafe terribly.  Are you going to band-aid your nipples?
Lucas: What?? Why?
Whit: Let's go downtown and eat french fries at 10pm tonight.
Lucas: Did you tell your coach we were doing this race?
Whit: Nope.
Two of Lucas' good friends from Nashville (who are now my good friends as well), Sam and Jessica Miller, also joined us in Noogs.  We shared a hotel room.  Did I say that they are now my good friends as well?   'Cuz when you share a hotel room with another couple during a race weekend, you get close pretty quickly.  Can you say pre-race bathroom rituals.. yikes.  Well Sam and Jess and Lucas and I are all pretty similar on many different planes, and we had a GREAT time together.  They were so much fun.  And I think it might have been their fault that we ate fries at 10pm that night.  Or maybe it was Sam and Lucas' fault.  Well, I'll admit, I ate them too…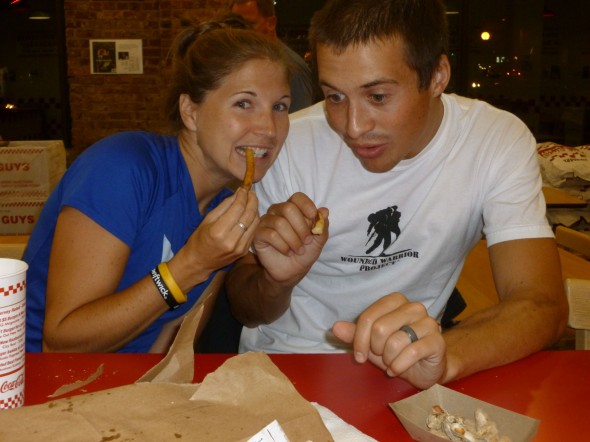 We awoke to a chilly morning with a 5:30am wake-up call.  On the road at 6:30, about a half hour drive up to the mountain where we would be running.  It was raining up there.  There had been a chance of rain later in the morning but it looked like we'd be starting out in it, which is always kind of challenging mentally.
I over-dressed, of course.  That's like my M.O.  Check the weather the night before, set out realistic race outfit.  Get up race morning and step outside.  Notice that it is quite a bit cooler outside than my cozy bed was, just moments ago.  Load up race bag with multitudes of extra clothing.  Begin race with said extra clothing.  Mile 1:  Almost entering heat exhaustion, strip off outer layers and wrap around waist for a aerodynamic and suave running-style look.  Keep mittens on, not because hands are cold any longer but because have discovered functionality of snot-wiping.  Cross finish line looking like athletic homeless woman.  (My sponsors are like, "Hey, glad you have our logo buried somewhere down there where no one can read it").
Okay, enough making fun of me already!!  I had a FANTASTIC time running this race, no matter how many extra clothes I didn't need to be wearing.  "The race takes place on the beautiful singletrack trails of Signal Mountain and Walden Ridge, featuring a liberal dose of Tennessee mountain stone and over 4400 feet of elevation gain" (quote from the StumpJump website).  It truly was one of the most beautiful and thrilling trail systems I have ever been on.  Though it was rainy and misty, there were still some wonderful views from up top.  The footing was difficult in parts due to very slick rocks from the rain, but it just added to the challenge and the experience.  So did the 5oo-foot-long hanging bridge about 4 miles into the race – very bouncy!!  Click here for map
There was a helicopter overhead to send us off, mostly it seemed to blow leaves and water around onto us!  There was also an 11-mile race which began at the same time and utilized some of the same trails.  We all started together at 8am (EST).  Lucas and I began conservatively; I think we were both probably realizing it was going to be a lot of hours of running…could we sustain it?  Of course walking and hiking were options – we were doing this for fun and had no certain expectations except to finish it.  We ran about 5 miles together and then got separated.  I was feeling good so I began to increase my pace when I could.  There certainly were sections I walked/hiked – because of steepness or slick, wet rocks.  I passed several girls as I ran… about mile 18 or so I came upon a girl who was running at a good clip and passed her but she stayed on my heels.  We started chatting.  Her name was Nancy (my mom's name!), and she was from Memphis (best friend lives there!)  So we were instant friends.  But then I had to drop her.  Sorry, Nancy.  In the next couple miles, I came upon two more girls who were running strong.  I thought I should pass them.  I had no idea if I would be able to sustain my pace but I figured go for it now.  You always have to look strong and confident when you pass your competition, so I said Hi and ran past them.  One looked pretty surprised to see me!  …And I never saw them again.
My left knee and right hip flexor began to give me a lot of grief.  The downhills were becoming painful.  I gritted my teeth and remembered all those Ironman runs that hurt like hell.  This was different – it really was more fun and the scenery was certainly a change from the road.  But pain is pain and it's not enjoyable!  With four miles to go I wanted the darn thing to be over; I was not having fun anymore.  I slowed and I did some walking…then I got nervous that Nancy & Friends were going to come up on me.  So I made it to the end, coming in 2nd place female!  I was amazed!  The first place gal was also from Colorado (Broomfield), and was a sponsored trail-running athlete.  She came in 10 minutes in front of me.  Click here for race results article
Lucas finished not long after me, tired and happy.  He looked great.  We hobbled around taking in the glory of completing our longest run ever.  We put on warmer, dry clothes and hung out at the Finish Line with Sam, Jess, and some other friends.  Rusty came in, looking like a champ with a big smile on his face.  He paused before the finishline to hug each one of us, as well as a random woman who was standing near us!  She was taken aback but had a huge smile on her face!
Mary Ann came in a while later, finishing with a fellow runner-friend.  They, too, had big smiles but behind them were some gritted teeth and a small growl:  "That was the hardest freaking things I've EVER done!"  Troopers!  So proud of them.
————————————-
The next day we traveled back to Nashville, and stayed with Lucas' mom Teresa.  It was a chilly, partly-cloudy day, and when we arrived she already had a fire going in her beautiful and cozy log cabin home.  Lucas and I practically fell out of the truck, so stiff and sore from sitting for hours, hobbled into the house like two old folks, and spent pretty much the rest of the day on the couch by the fire or at the kitchen table eating yummy Southern cookin' and playing dominoes.  Teresa is so hospitable and she looooves having her kids around!  Lucas' brother Clint and wife Amanda, and their son Brayden, as well as Lucas' grandmother "Nanny", also came over to visit with us all.  It was so lovely.
That is close to my perfect weekend.  A physically challenging event shared with family and friends in a new and fun location, followed by rest and relaxation with more family and friends…and a bunch of good food.  :)
Thanks for reading, and think about trying a 50K!  (even if you drive it)