Pedal The Plains
September 21-23, 2012 was the inaugural weekend for a new event in Colorado.  It was executed by the folks that put on the well-known "Ride The Rockies" 6-day bike tour in the Rocky Mountains of Colorado.  In 1986, The Denver Post (newspaper) created the premier bicycle tour, and it became so large that in 1989 a lottery system was developed.  Last year, planning began for "Pedal The Plains", a 3-day bike tour that would showcase "the other side of Colorado" – the Eastern plains.  Apparently the idea was the state Governor, John Hickenlooper's.  He saw a need that the small, rural communities on the eastern side of Colorado and the products which they provide for much of the rest of the state (and many parts of the country), should be highlighted and better appreciated.  He wanted to combine an event of cycling with education about a specific part of this great state, which is mostly known for its majestic mountains and the quaint mountain-towns throughout the range.  He hooked up with the right people, because the Ride The Rockies team knows how to plan, organize, and put on a great bike multi-day bike ride.
Lucas' company, Prerace.com, did all the registration for and was a sponsor of Ride The Rockies this past June.  He was able to participate in the cycling tour for three days, then had to get back to work.  While he was participating, he was also writing blog entries for RTR, two of which even made it into The Denver Post.  Click here to read.
I drove to the little town of Granby on a Wednesday night in mid-June to pick him up and bring him back to Boulder, after he had completed that day's leg of the journey.  He had called me each evening to report on how things were going, and he was always so enthusiastic and happy.  The days were hard – riding between 70 and 100 miles each day, on mountainous roads and passes.  The organization of the even was stellar – everything was thought through.  They provided support, camping, portable showers, access to prepared food, and every local amenity was always available.  The towns through which the route went were so excited to see the cyclists, and every night there was a live band and local booths of food and products.
I enjoyed the beautiful drive to Granby, and then I was so excited by seeing the live band and all the tired but oh-so-happy and satisfied riders sprawled about on the park grass where the music and food were.  I wanted to stay!  We had to go, but I told Lucas that I'd really like us both to do this event next year if possible.  The route changes each year; click here to see this year's route.
Later in the summer, Lucas asked me if I'd like to do a similar event, but it would be out east – flat!  It happened to be the weekend of my birthday.  At that point, I had no ideas or plans for celebrating the day of my birth and this seemed like a fabulous way to do it, and also get a taste of what I saw at RTR back in June.
We had the honor of attending a special banquet the night before the tour began, as Lucas was a rep from his company (who, again, did all the registration for the event), and basically just a V.I.P, in general with a very pretty and exuberant girlfriend.  (heehee!)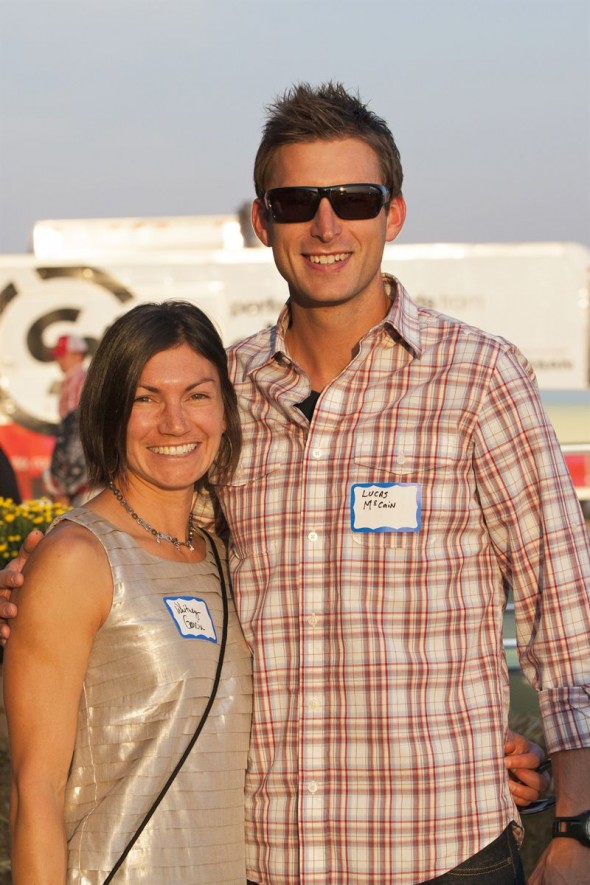 The banquet was held in a huge barn on a dairy farm in Fort Morgan, CO.  There was a hay ride that gave a tour of part of the land, and they had wonderful food provided by local farmers.  There were speakers from the surrounding communities, as well as state and local officials (such as Gov. Hickenlooper).  An explanation for each dish served was given, telling us where it had come from and why it was special.
It really was educational, and I was moved by the pride and passion demonstrated by the local food providers, families, and farmers.  They love this land.  They believe in what they do.  I'm sure they like the mountains, too, but they have chosen the flat-land for their homes and it gives them great joy to cultivate the land and provide for others with its blessings.  It was really cool to hear about, and honestly did give me more appreciation for the groceries I buy.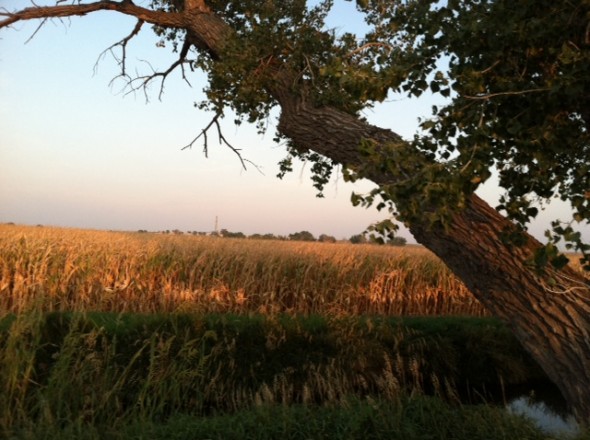 The next day, Friday, was the first leg of our journey.  It was a short one; only 26 miles!  I am not sure why the route was so brief that day, but it did give us an opportunity to rest up for the next one which would be 120!  There were aid stations and also "educational stops" along the way.  Lucas and I stopped once, in a tiny town that had some booths of local products, and also just some people out cheering and probably wanting so see the spectacle of 900+ spandex-clad people coming through.  "Educational stops" included things like touring a barn and climbing up on a combine.  In addition, there were occasional signs posted along the side of the road pointing out and giving facts about landmarks or parts of the landscape.  (Do you know what a cover crop is?  Or how many pounds of food and gallons of water a single dairy cow consumes per day? …I do, now!)
Click here to see the PTP routes.
Since we finished so early in the afternoon, we had time to roam about the small town of Yuma…which didn't take too long.  But there was a festival going on downtown, music, tons of food, a pie-eating contest, and a petting zoo.  The one-feature movie theater was showing The Expendables 2 for $5, and re-fillable popcorn plus soda for $4.  So after walking around the festival and sampling some local foods, we went in and relaxed in the movies.
The next day there was a choice between an 86-mile route or a "Gran Fondo" (which is a cycling race of more than 100 miles).  Though this event was "for fun", Lucas and I couldn't help but sign up for the 120-mile race!!  We had a blast.  It was long and hard, but we rode with a strong group of cyclists, including an ex-pro named Ron Kiefel (also the founder of Wheatridge Cyclery in Denver), who was a nice guy and also helped our peloton (main group of cyclists, in the front of a race) form and maintain organized riding patterns that keep pace up higher than a single rider could maintain alone, for extended periods of time.  It is a very efficient way to ride long distances quickly.  We only made one stop during that almost six hour time period, to re-fill water and get food at an aid station.
Our whole group, minus one couple, decided to stop as a group, refuel quickly, and then hit the road as a group again.  Even though this was a race, sticking together would make the ride faster and more efficient for everyone (who could hang on!).  Unfortunately for us, the couple did not decide to make the group stop and they rode away by themselves.  Of course they have the choice to do so, but it was kind of frowned upon by the rest of us who decided as a group to stop.  We figured we'd catch them because typically the peloton is stronger than any two riders on their own…so we thought, but they rode well and we never caught them.  Grrrr… anyway, good for them.
I hit a wall between mile 95 and 100 and started falling off the back, unable to maintain the pace.  Lucas looked back at just the right time (before I lost the group and would have never made it back to them alone, as I was saying how the pace is much faster when you're in the group).  He slowed and came back to bridge me up.  He let me draft him (as a 6'4" guy who rides especially well on flats, he creates a great draft for a bike-munchkin like me!), and then put his hand on my back and gave me a firm push so I could pedal hard and re-join the group.  His efforts really gave me renewed energy, and we continued on.
I still was tiring, though, and then I got a flat.  The group had dwindled from about 30 to 20 to 12 to 5, and then was basically blown apart by mile 110.  I didn't really care about being competitive anymore; any thoughts I had entertained about winning (yes, I did entertain some…and was humbled!) were gone and I just wanted to finish and be done and go eat food and lay under a tree with my Cowboy.  ..He was ahead of me somewhere…
A support van came up behind me, and I thought they were just going to help me change the tire, but they just switched out my entire wheel with a new one and said I could re-swap at the end.  I felt quite important

  What is really funny is that Lucas also got a flat, his only within the last half mile of the finish, and the support van guys did the same for him!  We ended up crossing the line together, each earning 3rd place in our respective fields.  It was a great experience, and a good day.  What a fun birthday thing to do!
That evening we went to the festivities where they gave awards, had a live band, and great local food.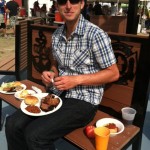 Sunday was the last day of the tour, and we rode 83 miles.  There was a strong headwind for the first 20 miles, and riding was very tedious.  There are no challenging mountain passes in this tour, but the wind that whips around the flat fields of the east are extremely challenging – physically and mentally!   It was a great relief when we turned and the wind was at our backs.
All in all, it was an educational and challenging experience.  I would recommend it in a heartbeat, and felt very proud to live in this great state which offers so much variety in the way of geography and hard-working people who are proud of their land and what it offers us.