Thankful for Grandparents, memories, and Exciting NEWS!
The Thanksgiving holiday this year was a good chance to visit my grandparents and aunt, uncle, & cousin who live in Southern California.  My childhood was growing up in Long Beach, CA, and I spent a lot of time with my grandparents, creating a special relationship and some wonderful memories.  They have taught me good life lessons simply by how they have conducted theirs, and how they have treated others.  Now having worked in a retirement community for eight years, I thoroughly understand the importance of taking as much time as you can to spend with your elders as each year rolls on.  I blow out an additional candle on my birthday cake each year…so do they.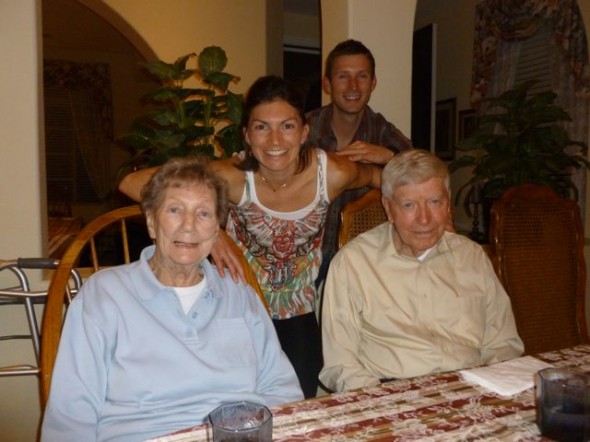 My Grammy, Louise, was born in Illinois in 1929.  She met my Grandpa, William (Bill) and they married in 1952.  He was in the Navy, and gone a full year during their engagement.  He was later was in New York  for an IBM work training when their first child, my mother Nancie, was born.  Five years later, my uncle Rob brought the family total to four.  Louise and Bill have lived in their home in Long Beach, near the California State University,  for the entirety of their marriage to this day.  I love the story of them buying the house:  They were trying to get the loan and my Grandpa's monthly salary was $15 short of the required monthly income…my Grammy had to go get a letter from Grandpa's boss which stated that the following month his pay would be increasing – a whole $25 dollars more, so they got the loan and they got the house!  And I have so many wonderful memories of time spent in that house!  After my Grandpa retired, they purchased a motor home and would take me and my brothers on outings – sometimes all of us together, sometimes each of us alone.  Some of my fondest childhood memories of are those trips, including details like to not having to wear a seatbelt as we lay in the beds in the back of the RV while Grandpa drove, and how the couch transformed into a bed:  livingroom by day/bedroom by night – WOW!  So impressive to an 8-year-old!
Lucas got the chance to meet them, and Uncle Rob, his wife Teresa, and their 15-year-old daughter Kiley, very briefly this past summer while we were in southern California for a wedding.  It was very important to me that they got to spend a little more time with him this Thanksgiving, partly because they are all important and special people to me, and partly because…..
COWBOY AND I GOT ENGAGED!
It's been quite a journey for each of us….our respective lives, that is, up to this point, and I imagine the Journey with its ups and downs and challenges will continue, but we've decided to commit to doing it together.  We have both learned a lot about life, love, and the pursuit of happiness (and how that's not always the point), and I think I can speak for both of us that we are very excited, happy, at peace, and thankful for the chance we've each received to create and participate in a healthy and long-lasting marriage.  Thankful to God, thankful to our families, friends, and to each other.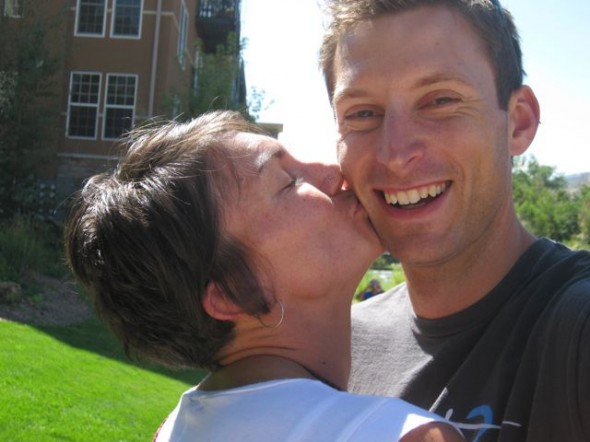 We are planning a very small wedding this coming summer in July (a month with no races!) in Breckenridge, Colorado.  It is our vision to bring our families and a few close friends up to the mountains for a few days to experience some of the things we most love about living in Colorado:  hiking, biking, fishing, cute and quaint mountain towns, wildflowers, and relaxing in the majesty of the peaks, ranges, and wide open skies.  And maybe a thundershower!  We are very much looking forward to this special time, as they witness us make our vows and we invite them to keep us accountable for them throughout the years to come.