Race Report: St. George 70.3 May 4, 2013
First race of the 2013 season was great!  I have never been to St George, Utah before, and it was well worth the trip.  It is located in the Southwest corner of Utah, 2,000 feet above sea level, and only 45 minutes from the phenomenal Zion National Park.  Lucas and I drove from Boulder, which is about a 9.5 hour drive.  The day we left Boulder it was snowing– a lot!  We carefully drove several hours into the mountains in the snow, making it to Grand Junction around 1am, getting some much-needed sleep, and heading out for the remainder of the trip the next day when it was sunny and beautiful.  Utah has such amazing landscape; the drive was very interesting and enjoyable.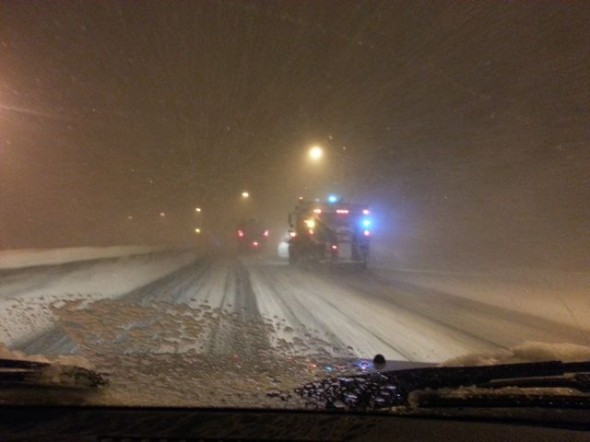 We stayed with a local resident of St. George named Ellen, who was a very enthusiastic hostess!  She said she was living vicariously through the athletes of this event, and had not only opened her home for us to stay in but had also volunteered a couple full days of her time to other parts of the Ironman event.  She had a beautiful home and generously provided all we needed while we were there.  It really is a fun experience to stay with a host-family.  Locals know a lot of helpful things, as well!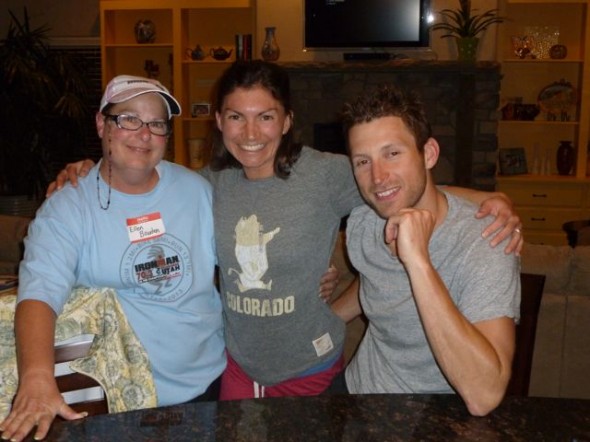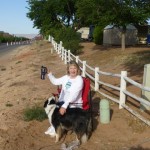 My parents, Nancie and Jerry, drove from Northern California to come watch Lucas and I race.  They towed a trailer so that they could extend the trip to visit some of Utah's incredible National Parks for some days after our race.  It is always so good to spend time with my parents; they have been very supportive of my racing and really of my life in general, and I am very thankful for them in my life.  They're great cheer-ers too!!  We met up with them for dinners and spent the night with them in their RV-campsite the night after the race which was a lot of fun.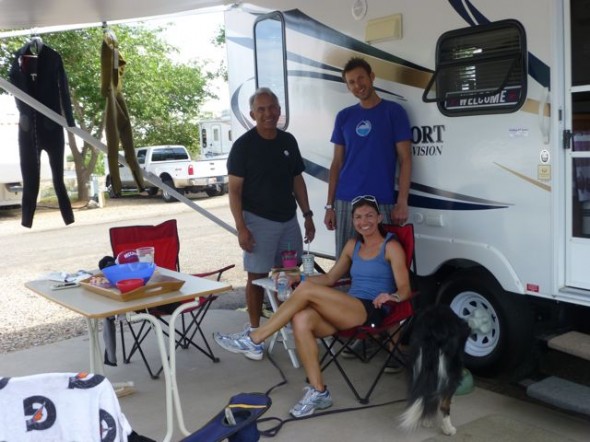 St George has hosted a full Ironman for the past 5 years; this is the first year it's been a half Ironman event.  Due to the very up-and-down landscape and likely potential of wind and heat, even early in May, the course is extremely challenging.  The Ironman athletes that have gone before me during the years it was a full IM event have my utmost respect and accolades for completing a full distance race in the rigorous landscape of St. George.  I absolutely loved the bike course, with all its climbs and descents.  The most beautiful part was towards the end, a 14-mile climb up Snow Canyon, a state park, which was very difficult and rewarding with it's views and the descent after the climb – a very fast shot back into town for the transition onto the run.  My bike split was 2:30:03 (avg 22.4 mph).
The run course was also very hilly, a few big climbs, then a turn-around, and repeat.  The first 3 miles are up and out of town – and I mean UP. But the reward is that the last 3 miles are DOWNHILL, and even when you're really tired it's easier to run (faster) downhill! My run time was 1:30:37 (avg pace 6:55)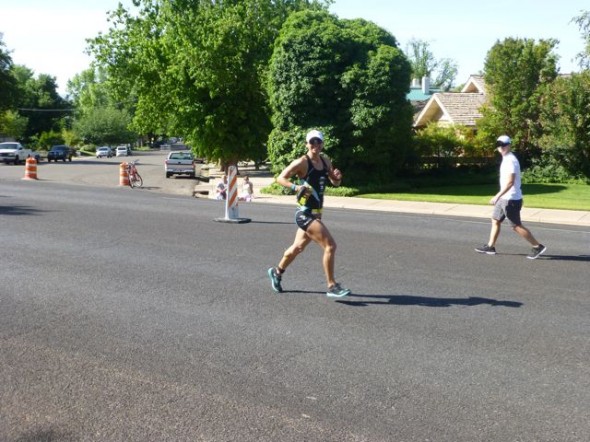 The swim (first leg of the event) was held outside of St. George, in a nearby town called Hurricane (named for its ferocious winds!), at Sand Hollow Reservoir.  We swam in a pristine, cold-water reservoir in a state park surrounded by red rock and bright red sand.  It was breath-taking.  My thoughtful and cute mom collected some of the sand for me-  it was the consistency of coarse sugar, and a beautiful rosy red color.  I have it in a baggie on my dresser now.  ;)  The water temperature was 60 degrees – quite chilly but not too bad once you're in and swimming.  Wetsuits necessary!  I had a pretty good swim for me, at 28:23. (1:21 min per 100 yds)
This race was dubbed the U.S. Pro Championship for 2013.  One draw of this particular race was that it awarded more points than most races for those pro athletes who are looking to qualify for the Hawaii Ironman Championships.  The top placing in St George would win more money and more points, and therefore it drew even more pro athletes than most races do.  Hence the steep competition.  Lucas and I chose to race this one because of timing, location, and we hadn't done it before.  When we learned of it being this "Pro Championship", I started to get nervous…then I heard of more and more (women) pros who were going to race and it became so heavy with competition that I lost my nervousness and said, Hey pressure's off!  Just race my own race and do the best I can for the first one of the season, and with how much else is on my plate currently. I was very pleased with my performance.  Going home with race money winnings is FUN, but it's not ever what has driven me to compete.
Lucas and I joined up with our friends Matt and Molly Smith the day after the race, and together we visited Zion National Park before continuing the looong drive home, arriving very late on Sunday night.  It was a wonderful, well-rounded trip and a good start to this competitive season.  It peaked my competitive spirit again; and even with a full plate of work, family, friends, wedding planning, and who knows what else, I am happy and excited about training and racing this year.  I am happy to balance it all…and let it balance me.
Thank you to my helpful, generous, and supportive sponsors:
TYR – swim and tri gear, including my rockin' wetsuit and race kit
GU Energy – practical training and racing nutrition that never makes my stomach hurt and helped me not to "bonk" during this race!
Frasier Meadows Retirement Community - my wonderful and supportive workplace
Retul – innovative and cutting edge bike fitting.  I got a new bike in March and was re-fit to the geometry and I love it!  Retul did a great job making me me fit to my bike in a more aerodynamic, powerful, and competitive way.
Rusty and Mary Ann McCain – Lucas' dad and step-mom – helped us purchase our brand new Trek Speed Concept bikes this year.  They are FAST and even better, we look good on them!  :)
Robin Sharp – a wonderful friend and past personal training client of mine – she buys my running shoes for me!  Thanks, Sneaker-Lady!
Nancie and Jerry Garcia – nothing specific, I just know they've bought me a lot of stuff and supported me through and through!  Thanks to my wonderful parents!
Teresa Dillehay – Lucas' mom is never too far away to keep tabs on our races and follow along online, if not in person.  Thanks for all your love and support, "Momma T"!
Lucas McCain – if at all possible, always by my side to and from competitions, supporting me and helping me with everything from treat stops during a long road trip, extra pillows for my sleeping comfort, and help with bike maintenance.  And this race he drove me back to the house to get my wetsuit at 5:20am while I FORGOT to bring to the race start!