Return to Wonderland Trail, Mt Rainier 2017
Keep close to Nature's heart… and break clear away, once in awhile, and climb a mountain or spend a week in the woods. Wash your spirit clean.    John Muir
August 9-12, 2017
Looking back on last year's trip on the Wonderland Trail, I started my blog entry with this John Muir quote.  I feel like the sentiment is so perfectly stated and relevant that I decided to open with it again.  It is so valuable to "break clear away once and a while" and be in the outdoors- breathing it in, feeling small in comparison to gigantic mountains and landscapes, and letting nature reform and restore aspects of self that get pushed down in the busy-ness of daily life.

I went on the Aspire Adventure trip last year with my friend Kristyn Tobey; we went as participants and had a blast.  It was so well-organized and we met truly wonderful people.  I have stayed in touch with a few of them, including trip organizer/owner Abram Dickerson.  Last winter I asked him if he'd consider having me along for his 2017 trips as volunteer staff.  This meant I wouldn't be a paying participant but I'd get to run some portions of the Wonderland, and I'd act as staff in some capacities:  helping set up and break down camp each day, help clean up from meals, accompany other runners on portions of the trail.  He agreed to have me along on the second week (this year they held two back-to-back trips), as long as I took a NOLS Wilderness First Aid Course in preparation.  I gladly took  a course – held at the local REI – as I'd been wanting to do that for myself as well.  I really enjoyed it and would highly recommend this weekend course to anyone who spends time outdoors adventuring in any capacity – simply hiking in the mountains, and especially if you go solo.
I flew into Seattle on a Wednesday, and met up with Abram and Nick – both leaders from last year.  Another runner, Carolyn, from last year was also on this trip, as a participant again.  It was like a little reunion!  Later I would reunite with another friend of mine, Bacchus Taylor, whom I had met two full years ago on the Camino in Spain.  He's the one who told me about Aspire Adventures to begin with; I owe it to Bacchus that I've now had two amazing experiences in Mt Rainier National Park and have made some lifelong friends.  And snagged some beautiful photos.
We drove to "base camp" right outside the National Park, and met up with our group of runners.  This was the second of two trips this year, and our group was the smaller of the two, with a total of 6 runners plus 4 staff.
Part of what makes Aspire so special is their attention to detail.  They understand long distance running, running in the wilderness, and catering good food because after a full day of running trails we don't want "regular camping food" for dinner!  The first night, dinner was grilled wild-caught salmon, roasted asparagus, fresh bread, and Dutch-oven potatoes.  Wine and beer aplenty.  We started to get to know one another over dinner, then packed for the first day of running the Wonderland:  the longest day at 33 miles loomed ahead of us, but there was an air of excited anticipation.
There was a heat wave going on; the week prior it had been in the 90s, so at least this week it was down about 10 degrees.  The evening was a bit sticky, though, and I wasn't ready to get into my tent very soon after dinner.  We were camped right next to a stream, so I threw on a suit and jumped in a deep swimming hole.  It was so refreshing!  I swam around until I couldn't stand it and was covered in goosebumps.  This is part of "washing your spirit clean" without indoor plumbing!  I loved it.
The next morning (Thursday), my role was to break down camp while Bacchus drove the runners to the trailhead about a half an hour away.  Nick or Abram would be the "Sweep" (starts with the runners at Point A), and later I would be the "Super".  The Super runs from Point B (location of end-camp that day), meeting up with and accounting for runners along the way until they come to the Sweep.  The Sweep runs behind the last runner.  So when the Super meets up with the Sweep, they should be able to account for all runners and know their locations.  Got that? 

Bacchus and I drove all the gear and camping stuff to Day 1 camp location at Mowich Lake.  It took several hours to drive, stopping once for groceries and drinks.  Aspire is a very well-oiled machine when it comes to packing ice chests, labeling bins, and keeping food and gear organized.  They truly think of everything!
Unfortunately Bacchus and I weren't able to drive all the way into the campsites, so we had to haul every single piece of gear (from bags to tents to iron pots and pans to firewood, propane tanks, water jugs, the pop-up tent…and more) about 100 yds from the vans to the sites.  It was tedious labor, and it was hot.  However, it was gratifying.  It felt so good to get things set up and in order for the runners that would be coming in starting around 5pm after running a tough 33 miles.  I remember being one of those runners last year, and so enjoying and appreciating all the setup and thoughtful details attended to by the Aspire staff.  Including a portable shower, and appetizers and drinks set out on the picnic tables (complete with lovely table clothes and little white lights!) upon arrival into camp.
After camp was set up, Bacchus gave me the go-ahead and I changed and headed out on the trail.  I was psyched to be back on the Wonderland, in all its glory!  Due to heavy snowfall in the Pacific Northwest this past winter, followed by the recent heat wave, there was a river crossing in which the log bridges had washed out.  So we literally had to cross the river by foot, and it was rushing quickly.  It was intimidating, even though it wasn't much deeper than mid-calf.  Fast-moving water is so powerful, and must be respected.  The Aspire Crew told me that on the previous trip, some of the runners had taken a very long time to finish the 33 mile day, and they had to help three or four runners cross this river in the dark, around midnight.  That sounded pretty scary.  But our group all got across in the daylight, which was sketchy enough!  I plunged through, slightly nervous but knowing how to move upstream at a diagonal and not to let any fear cause me to make poor decisions.  Move with intention, and get across.  And don't worry about wet shoes – it's just gonna happen!  I met up with each runner, including Abram as the Sweep.  He gave me the ok to keep running, as I still had daylight and was itching to go as far as I could on that beautiful trail.  My goal was Golden Lakes, 10 miles out from our Mowich Lake camp.  I turned around there, and headed back to camp.  The last 3 miles up to camp were totally uphill.  I was fading…after all the gear-schlepping earlier, my body was letting me know it was quite tired.  I had to hike most of those last 3 miles, finishing in the dusky light.  I quickly showered and changed, and joined the crew who were finishing their homemade pasta and meatballs dinner (sooo freaking delicious; especially after 20 miles)
I slept HARD.  Friday morning, we all enjoyed wonderful breakfast burritos with all the trimmings, packed up our individual sites, and hit the trail.  I was to act as a Sweeper this day.  I got to do some solo running before reconnecting with a few of the women who I was to make sure stayed the course.  I ran most of the rest of the day with a talented young runner from Arizona named Brianna.  She was currently in medical residency, and was doing this trip as part of a week's vacation she was afforded.  The day before she flew in she had gotten like 4 hours of sleep.   She had a great, easy-going attitude, and every day she had a different fun-patterned running skirt.  I really admired her quiet strength and how much she appreciated being outdoors and pushing herself.  She got a little too low on calories toward the middle of our day, so we did a bit of walking and I got to know her better during conversation.  She was able to eat, drink, and feel a bit better so we picked it up quite a bit and ran it in to Day 2 camp:  White River Campground.  We had run about 28 miles.
Saturday, Day 3:  White River to Longmire.  Wow, was it the last day already?!  This was so much fun.  Every morning you wake up and roll over in your tent and wonder how your body is going to do it again… you get up and see that everyone else is feeling similarly, you get your strong coffee (always thanks to Nick!), and amazing homemade breakfast (a la Bacchus and Abram), pack your stuff, and off you go.  The comaraderie is special and inspiring.  This last day I helped pack up camp and actually was a driver.  Another local helper/driver named Dana had joined us (Bacchus had had to leave), so she and I took the two Aspire vehicles from camp to Box Canyon which is a mid-point of Day 3.  We would set up an aid station there (only Day 3 gets aid stations), before she left.  We had car trouble on the way there; the Aspire truck she was driving (towing a trailer) overheated and we had to pull over.  A really nice couple stopped and helped us get the engine to cool down.  Thankfully the rest of the route was mostly downhill so we went slowly and made it fine.  We set up the Aid Station – it looked so pro!
Dana left and I stayed to greet the runners and provide support.  After the last runner came in, Abram and Nick stayed and I went on with the last runners.  We did a good amount of walking/hiking because they were tired by then!  A total of about 20 miles of walk-running brought us to Longmire:  the start and end to the big 93-mile Wonderland Loop.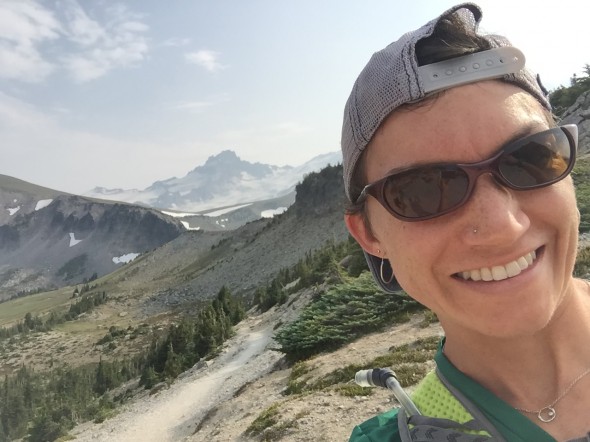 Abram and Nick were there making an amazing dinner of fish, meat, and veggie tacos.  Drinks and apps were all set out, as were camping chairs.  It was a celebration.  Everyone had done so well, and we were all very grateful there had been no mishaps – no injuries nor wrong turns… it was a very smooth trip.
I will stay in touch with the Aspire Crew – they are truly amazing people.  They all love and respect the outdoors.  They make it so that others can be in the wilderness, enjoying and learning from it in an organized and proactively-safe fashion.  I would highly recommend this organization to any runner or fast-hiker who wants a 3-day adventure with lots of good food and comaraderie with other trail runners.