Countdown to first race of 2012
Just a quick Hello and some thoughts before first race of this year. Lucas and I are heading to Knoxville, Tennessee this coming weekend to race a Rev3 event. There are two races happening: an Olympic and a Half-ironman distance. When I registered for this race I didn't understand that only one of these events has a professional field (and prize money). In Knoxville that event is the Olympic Distance. I found this out a few weeks ago – and was thrown into a bit of a tailspin thinking I'd have to switch over to the shorter distance, for which I am not as prepared as I would like. The Olypmic Distance is a very fast race. My strengths are in the longer distance races, plus that is what I've been training for. My eyes are set on two full-distance Ironmans this year; those are my priorities. So for me to do the shorter race in Knoxville would not benefit me much. After some consideration (read: freaking out, calling Lucas, emailing my coach, wringing my hands, then taking their input and making a more calm decision I was comfortable with), I decided to stay on the half-distance roster and do my best no matter what. Who cares if there is money to be won, or not, or if all my Big Pro Friends (haha) are doing the other race. I mean, the ability to earn some money is always helpful so you can pay yourself back for all the travel expenses, but I never used to race with money as a motivation – and I don't want to still. It's icing on the cake, and my favorite part is the cake anyway.
And this way, Lucas and I can go head to head, which has become somewhat of a friendly joke between us. I am not so good at trash-talking, so this past week my coach stepped in to do some for me. Also, my dear friends Heidi Walter and her husband Wade came for a visit this past weekend, and while they were here we did a mini photo shoot with the Garcia-McCain loving competition as the subject matter. See photos below!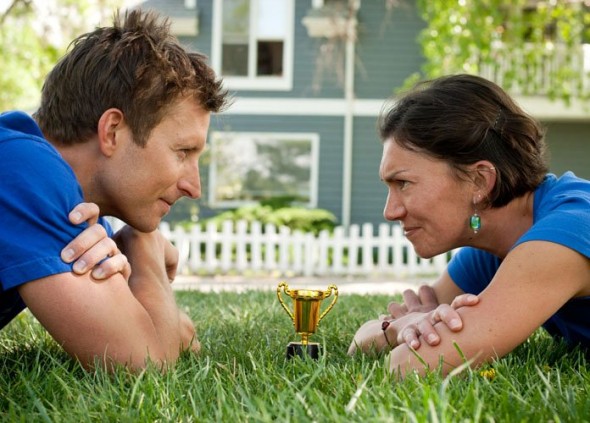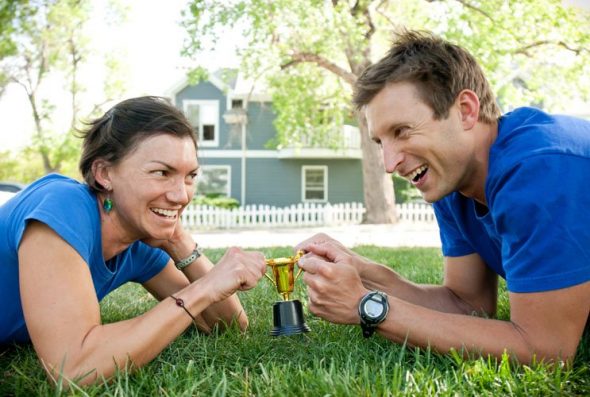 Lucas will start 10 minutes before me, so I will have a tall, tan, handsome "rabbit" to chase after during all 70.3 miles of the race on Sunday. Watch out, Rabbit!

(Note: there was an example of my trash-talk)
The weather looks to be in my favor: mid-to high 80s, though that will be a challenge because though Boulder has had some lovely warm days, it's not been close to hot here yet so no one is used to racing in the heat. The course looks challenging, with a hilly bike and some difficult false flats, hills, and an uphill finish on the run. The swim is in the Tennessee River which will be 66-68 degrees – cool enough for me to wear my new top-of-the-line Tyr wetsuit, "The Freak of Nature" (it's really called that)!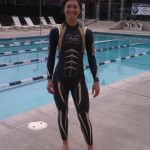 No matter what, it's time to shake off any cobwebs and jump back into tri competition for the year. Lucas and I have a full, yet reasonable race schedule laid out before us, commencing in September this year so we can have a fall season of fun and adventure.
One more thing – a couple weeks ago I had the honor of being interviewed by an internet-radio host, ultra-cyclist, and creator of Race Across America, George Thomas, who brings cyclists and now triathletes onto his show to talk with them and allow others to get to know them "over the air". The interview was a lot of fun; I was nervous beforehand and at the beginning, but George was easy to talk with and made the interview roll smoothly. It is about 50 minutes long! If you are so inclined, go to this link and you can hear it.
http://www.blogtalkradio.com/overthetop1/2012/04/12/over-the-top-radio–ladies-night
Scroll down the page a bit and click on "Over The Top Radio – Ladies Night" (Wed April 18, 2012) and click on the heading or the Play button.
Thanks, as always, for reading, and for your interest and support.