Race Report: Kansas 70.3 June 6, 2013
I have raced the half Ironman in Lawrence, Kansas twice before.  I love this venue!  Everyone thinks Kansas is so flat and boring, but on the eastern end of the state, it is beautifully green with rolling hills.  This race starts and ends in a Clinton Lake State Park camp ground, and provides a fun and pretty bike route, and a run within the campground so the spectators are plentiful.  I've "historically" had good results at this race!
This year four of us who are coached by the legendary Curt Chesney travelled to this race.  We all had different goals, but it was kind of like being on a team since we joined up for meals and pre-race workouts, gave each other encouragement, and celebrated together after the race.  Besides the Chesney-coached clan, Lucas and his father both raced.  It was a lot of fun to meet up with Rusty (Lucas' dad), and Mary Ann (step-mom) in Lawrence and do this race "together".  We have had the opportunity to do this multiple times now, and it's really fun and special.  I don't think there are many father-son combinations racing Ironmans together.  And racing them WELL.
Lucas and I drove – about 18 hours total – from Boulder to Lawrence.  Last year was the year of flight travel, this year it is the year of the road trip – which is really fun!  We were excited about a new book on tape which turned out to be a flop (I think we made it through about 43 minutes total…ugh), but it provided us with some quality time stuck together in the car for hours…did I say stuck?..

 The travel was easy on this trip, though, no weather to contend with — like the drive to St George which started out in a snow storm, and fortunately we did not run into any thunderstorms which can happen frequently out on the plains.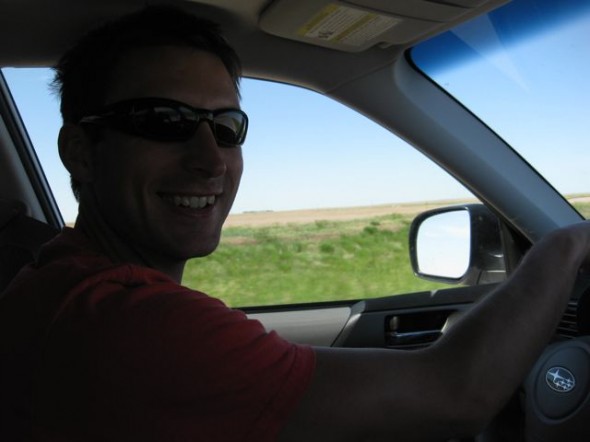 I had a good race.  My swim was a PR (25:56) so this put me in a better spot to begin with – usually I have to play quite a bit of catch-up on the bike.  (A shout out to Tyr, my swim sponsor, who has provided me with an awesome wetsuit aptly named The Freak!).  The bike course plays to my strengths in that it has many rolling hills.  I had fun pushing the hills and cruising along.  (bike split 2:28:31) My nutrition was right-on for this race.  THANK YOU to my sponsor Gu Energy!  Your Roctane and Gu gels truly power me through these races!  (Favorites:  Tropical Roctane powder and Peanut Butter gu —mmm almost as good as a PB&J sammy – haha!)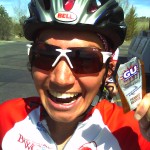 The run in Kansas is pretty flat and fast (sea level — for us Boulder-ites this is a "treat").  There is one significant hill which you have to repeat twice. I beat my PR run by about 10 seconds (1:26:31)!  Very pleased with that; any kind of faster is better!
Click here to see course maps for Kansas 70.3
We all finished on the quintessential Yellow Brick Road that lines the last 50 meters of the finish line chute, and I was pleased with my 4th place finish.  I swear, the women pros just keep getting faster…and I am trying to hang in there!  I must remind myself of all the other things that take my time and energy, and are so worthwhile.  I am thankful for my health, fitness, coach, sponsors, desire to train and opportunities to push myself at races.  I am also thankful for my fiance, faith, family, friends, job, where I live, and an in-born positive spirit.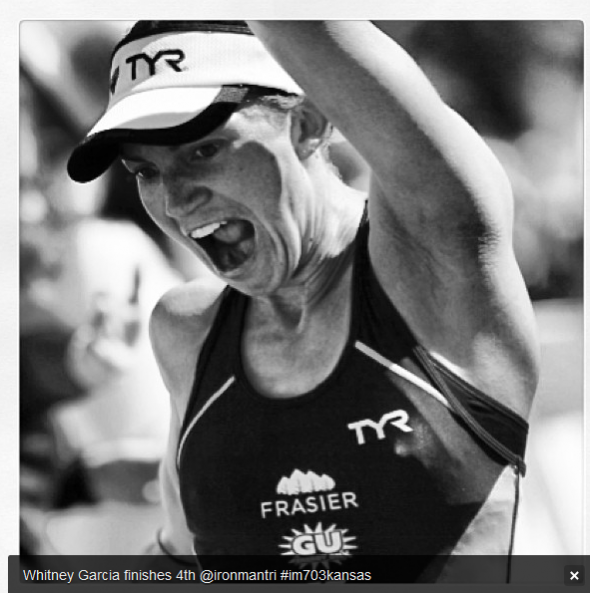 Thank you for reading and being a supportive fan!
Stay tuned for the WEDDING POST and more races to come this summer and fall….!